Sports
Parker lifts Spurs over Raptors in 2OT
Mon., Nov. 26, 2012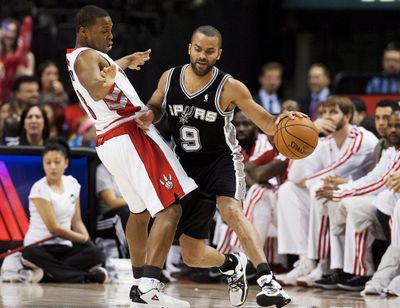 NBA: Tony Parker scored six of his 32 points in the second overtime, Tim Duncan had 26 and the visiting San Antonio Spurs beat Toronto 111-106 on Sunday, their fourth straight victory over the Raptors.
Manu Ginobili scored 15 points, Danny Green had 13 and Boris Diaw 11 as the Spurs won their third straight and improved their NBA-best road record to 7-1.
DeMar DeRozan led Toronto with 29 points, while rookie Jonas Valanciunas had 22. Kyle Lowry scored 20 pointsfor the Raptors, who have lost their past three games by a combined seven points.
• Nets improve to 6-1 at home: Joe Johnson scored 21 points, Brook Lopez had 15 and the Brooklyn Nets beat the Portland Trail Blazers 98-85 in New York.
Brooklyn has won five straight games at Barclays Center. The 6-1 beginning on its new home court is the Nets' best start since the 2002-03 season when they won 18 of their first 19 at home.
Wesley Matthews scored 20 points and J.J. Hickson had 19 points and 10 rebounds for the Trail Blazers, who were without LaMarcus Aldridge. The All-Star forward was out with a stiff back.
• Celtics outlast Magic in OT: Kevin Garnett had 24 points and 10 rebounds, Paul Pierce added 23 points and Rajon Rondo was one rebound shy of a triple double with 15 points and 16 assists as the Boston Celtics outlasted the Magic 116-110 in overtime in Orlando, Fla.
The Celtics won their second straight and earned their sixth consecutive win over the Magic. Orlando led by as many as seven in the fourth quarter, but had 19 turnovers. It was the seventh straight game in which the Magic have had at least 15 turnovers.
• Knicks end skid with rout of Pistons: Carmelo Anthony scored 29 points in just 32 minutes, and the Knicks ended a two-game losing streak with a 121-100 victory over the Detroit Pistons in New York.
Steve Novak scored a season-high 18 for the Knicks – 5-0 at home.
Cal Poly earns upset over No. 11 UCLA
Men's basketball: Dylan Royer scored 18 points and Kyle Odister came off the bench and added 15 points, including the game-winning free throws and Cal Poly upset No. 11 UCLA 70-68 in Los Angeles.
Chris Eversley had 15 points and 10 rebounds for the Mustangs (2-2), who erased an 18-point deficit in the second half and earned their first win against UCLA in six tries.
• UCLA guard Tyler Lamb has decided to transfer. The Bruins announced that Lamb has been released from the basketball team. The junior will leave school at the end of the fall quarter.
Lamb started 32 games for the Bruins last season and played in all 34 games as a freshman. He averaged 5.8 points, 2.3 rebounds and 1.9 assists in two seasons.
• Orange crush Colgate for 46th straight time: James Southerland scored 18 points, Michael Carter-Williams had eight points and a career-high 13 assists, and No. 6 Syracuse beat visiting Colgate 87-51.
It was the 165th meeting between the upstate New York foes, and the Orange (4-0) won their 46th straight against Colgate (3-4).
Carter-Williams assisted on nine of the Orange's first 10 baskets.
• Spartans survive Rajin' Cajuns: Keith Appling scored 19 points to help Michigan State survive a scare and beat Louisiana-Lafayette (2-4) 63-60 in East Lansing, Mich.
Appling, who has scored at least 17 points in every game except one this season, was 4 for 11 from the field. He also hit 10 free throws and added six rebounds and five assists for the No. 15 Spartans (5-1).
• No. 23 Colorado hands Air Force first loss: Freshman Josh Scott helped break open a tight game by scoring 13 of his 20 points in the second half, and No. 23 Colorado handed Air Force (5-1) its first loss of the season with an 89-74 victory in Boulder, Colo.
Andre Roberson had 18 points and 13 reboundsfor Colorado (5-0), which is off to its best start since also opening 5-0 in 1989-90.
• Bryant earns first win over ACC: Dyami Starks scored all 17 of his points in the second half, including a tiebreaking basket with 1:44 to play, lifting Bryant (3-2) past Boston College 56-54 in Boston, for the school's first win over a team from the ACC.
Bryant moved to Division I four years ago and had lost all four previous meetings with the Eagles (2-4). The Bulldogs had been 0-5 against ACC teams.
Hawkeyes top No. 12 Mountaineers
Women's basketball: Jaime Printy made all 17 of her free throws and scored 19 points as Iowa rallied from a seven-point halftime deficit to defeat No. 12 West Virginia (3-2) 79-70 at the FIU Thanksgiving Classic in Miami.
Thirteen of Printy's free throws came in the second half, when the Hawkeyes (5-2) used a 24-8 run to lead 67-60 with 2:12 remaining.
• Gray leads Duke past Xavier: Chelsea Gray scored a season-high 22 points, freshman Alexis Jones had a career-high 14, and No. 4 Duke routed Xavier (3-2) 82-59 in Cincinnati.
Elizabeth Williams added 16 points and Haley Peters had 13 for the Blue Devils (4-0), who came in with five players averaging double figures.
• Stanford defends top ranking: In Stanford, Calif., Chiney Ogwumike had 16 points and 11 rebounds and No. 1 Stanford (6-0) beat Long Beach State (3-3) 77-41 in its first game holding the top spot in the poll in nearly eight years.
The Cardinal, who extended the nation's best home winning streak to 81 games at Maples Pavilion, travel to Spokane to play Gonzaga on Sunday. Game time is 2 p.m.
Svindal wins super-G to complete sweep
Skiing: Aksel Lund Svindal of Norway won a super-G to complete a sweep at Lake Louise, Alberta.
Svindal also won Saturday's downhill, making him the first man to win both events at Lake Louise since Bode Miller in '04.
Svindal was timed in 1 minute, 34.96 seconds, beating Adrien Theaux of France by 0.85 seconds. Ted Ligety of the U.S. was fourth in 1:35.87.
• Zettel edges teammate to win slalom: Kathrin Zettel of Austria held off training partner Marlies Schild with a blazing final run to win a World Cup slalom in Aspen, Colo.
Zettel finished in a combined time of 1 minute, 42.46 seconds to edge Schild by 0.67 seconds. Lindsey Vonn (intestinal illness) did not compete.
Local journalism is essential.
Give directly to The Spokesman-Review's Northwest Passages community forums series -- which helps to offset the costs of several reporter and editor positions at the newspaper -- by using the easy options below. Gifts processed in this system are not tax deductible, but are predominately used to help meet the local financial requirements needed to receive national matching-grant funds.
Subscribe to the sports newsletter
Get the day's top sports headlines and breaking news delivered to your inbox by subscribing here.
---