News > Spokane
Brown to lead WSU-Spokane
Speculation about legislative leader's next job ends with return to Spokane
Fri., Nov. 30, 2012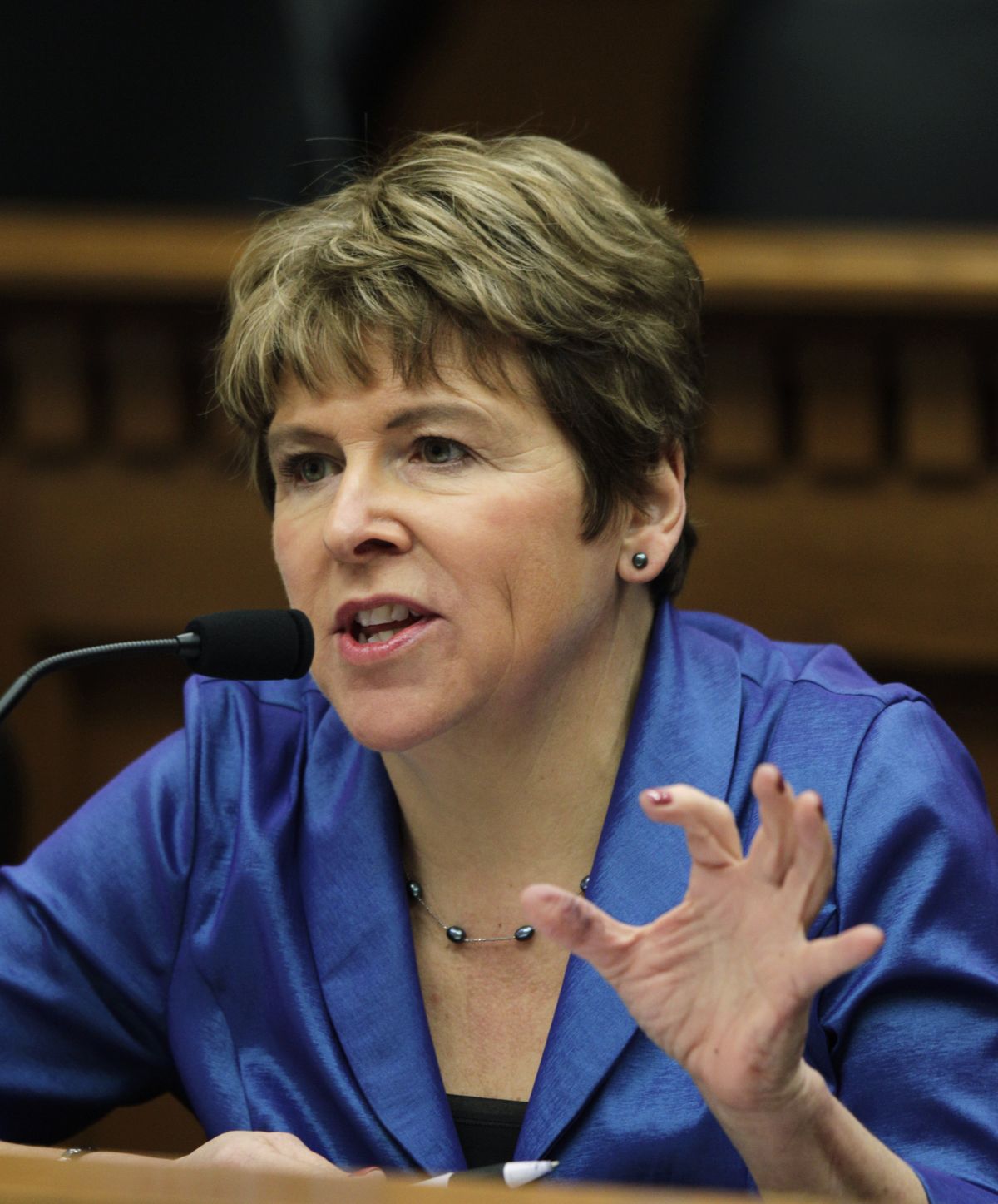 Brown
OLYMPIA – As she packed up memorabilia from 20 years in the Legislature, Lisa Brown was preparing Thursday to take charge of a dream for Spokane that's even older.
In January, Brown will trade her role as Senate majority leader for the job of chancellor of Washington State University-Spokane.
WSU President Elson Floyd informed some of Eastern Washington's top political leaders Thursday afternoon that Brown, 56, was his choice to run the Riverpoint campus and its fledgling medical school program – a program that she helped midwife by pushing key appropriations through the Legislature for projects like the Biomedical and Health Sciences Building now under construction.
"It's going to be as challenging as being the leader of the Senate Democrats," she said, although possibly with fewer cats to herd.
She'll replace Brian Pitcher, who has served as WSU-Spokane chancellor since 2005. Pitcher, 63, will remain at WSU-Spokane in a "leadership role" and advise the university on its other urban campuses in the Tri-Cities and Vancouver, Floyd said.
Brown's next job has been a subject of speculation around the Capitol ever since she announced in July she would not run for re-election to the Senate seat she's held since 1997 in central Spokane's 3rd District. For the past seven years she's been the Senate majority leader, holding together a diverse group of urban liberals and rural moderates as the state bumped through the recession. Earlier this week, a rumor circulated that she'd be budget director for incoming Gov. Jay Inslee, on whose transition committee she serves.
"I thought I might migrate to the West Side and get involved in policy, perhaps land at Dan Evans," she said, referring to the School of Public Administration at the University of Washington named for the former governor.
Taking the reins of the WSU-Spokane campus was something she discussed with Floyd over the past several months, and they concluded "we share the same vision to take this to the next level." That includes a continued increase in the number of slots for programs.
Spokane's civic leaders were pushing for a medical school when Brown entered the state House of Representatives in 1993, she recalled: "What we thought 20 years ago was we could grow our own med school."
But turf wars over degree programs among the state's public universities made that impossible. Later, cooperation among the public four-year colleges, the community colleges and Spokane's two public universities at Riverpoint led to a new model for an interdisciplinary med school that has programs being offered by all the institutions. Brown has taught at Eastern Washington and Gonzaga universities and knows administration and faculty at the others from two decades in the Legislature, where she spent years on committees that wrote budgets.
On Thursday, as legislators were in Olympia preparing for the 2013 session that starts Jan. 14, Brown and her staff were cleaning out the Senate majority leader's office so it could be occupied soon by Ed Murray, D-Seattle. Papers were packed for the state archives, posters and pictures taken off the walls, awards boxed and some Spokane-themed memorabilia was being passed along to other legislators from the 3rd District, including Marcus Riccelli, Brown's former legislative aide who won a House seat this month that opened up when Rep. Andy Billig ran for Brown's position.
"Is this real or a reproduction?" Riccelli asked, holding up a bright orange bumper sticker that said "Maggie!" Real, said Brown, who carefully packed her collection of vintage campaign buttons and stickers in a box. It was for longtime U.S. Sen. Warren G. Magnuson, whose last campaign was in 1980.
In an earlier interview, Brown said she was ready to get on with a new chapter of her life but would miss being part of the action in the Legislature.
"I love being part of developing the strategy to make something happen – or sometimes to keep things from happening," she said. "Every year there's something I learn. It's really like going to grad school."
In her first year, she worked hard to move a bill through the Legislature, only to have it vetoed by Gov. Mike Lowry. "I learned you don't take the governor for granted."
Last year she relearned something else when three Democrats joined with Senate Republicans to stop the Democrats' budget bill. Democratic leaders knew that was coming, although they hoped it could be staved off, she said.
"I guess I kind of forgot the kind of collaboration you can get when it's not a campaign year, like 2011, you can't get in a campaign year, which 2012 was," she said.
Democrats and Republicans generally agree on about 95 percent of any budget, she added. It's the last 5 percent that generates all the debates and conflict.
A year ago Brown talked about running for lieutenant governor but decided against it when incumbent Democrat Brad Owen made clear he'd seek re-election. She might run for political office in the future, but "I don't have a game plan related to that right now." 
Local journalism is essential.
Give directly to The Spokesman-Review's Northwest Passages community forums series -- which helps to offset the costs of several reporter and editor positions at the newspaper -- by using the easy options below. Gifts processed in this system are not tax deductible, but are predominately used to help meet the local financial requirements needed to receive national matching-grant funds.
Subscribe now to get breaking news alerts in your email inbox
Get breaking news delivered to your inbox as it happens.
---