News > Spokane
Police say man had knife at STA Plaza
Suspect allegedly threatened woman, baby with large weapon
Fri., Nov. 30, 2012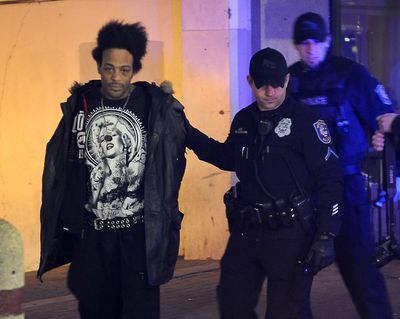 A man is accused of threatening to kill a woman and her baby at the Spokane Transit Authority Plaza and lunging at them with a large knife.
Police eventually deployed a stun gun to stop 38-year-old Tedzo Carzan Baker after he refused to obey their commands and reached for the knife as he yelled "you want this," according to court documents.
Police said one of the victims in the attack was at the downtown Plaza with her infant around 5:20 p.m. Monday, sitting in front of the security office on the first floor, when Baker overheard a conversation she was having and became upset.
He pulled out the knife and began circling the victim, threatening to kill her and her baby before lunging at them, according to police. Another person stepped in to stop the attack and also was threatened.
At the same time, an STA security guard came out of the office and yelled at Baker to stop, threatening him with pepper spray. The security guard told police he had been watching Baker prior to the attack after the guard noticed Baker was armed with the knife and was talking to minors, court documents say.
Baker fled through the Plaza's Riverside Avenue exit and was stopped by police in the alley by 111 N. Wall St.
Baker is in Spokane County Jail on three counts of first-degree assault in connection with the alleged attack. He is being held on $125,000 bond.
Local journalism is essential.
Give directly to The Spokesman-Review's Northwest Passages community forums series -- which helps to offset the costs of several reporter and editor positions at the newspaper -- by using the easy options below. Gifts processed in this system are not tax deductible, but are predominately used to help meet the local financial requirements needed to receive national matching-grant funds.
Subscribe to the Coronavirus newsletter
Get the day's latest Coronavirus news delivered to your inbox by subscribing to our newsletter.
---