News > Nation/World
NYC lawyer: Iranian cameraman concerned for safety
Tue., Oct. 2, 2012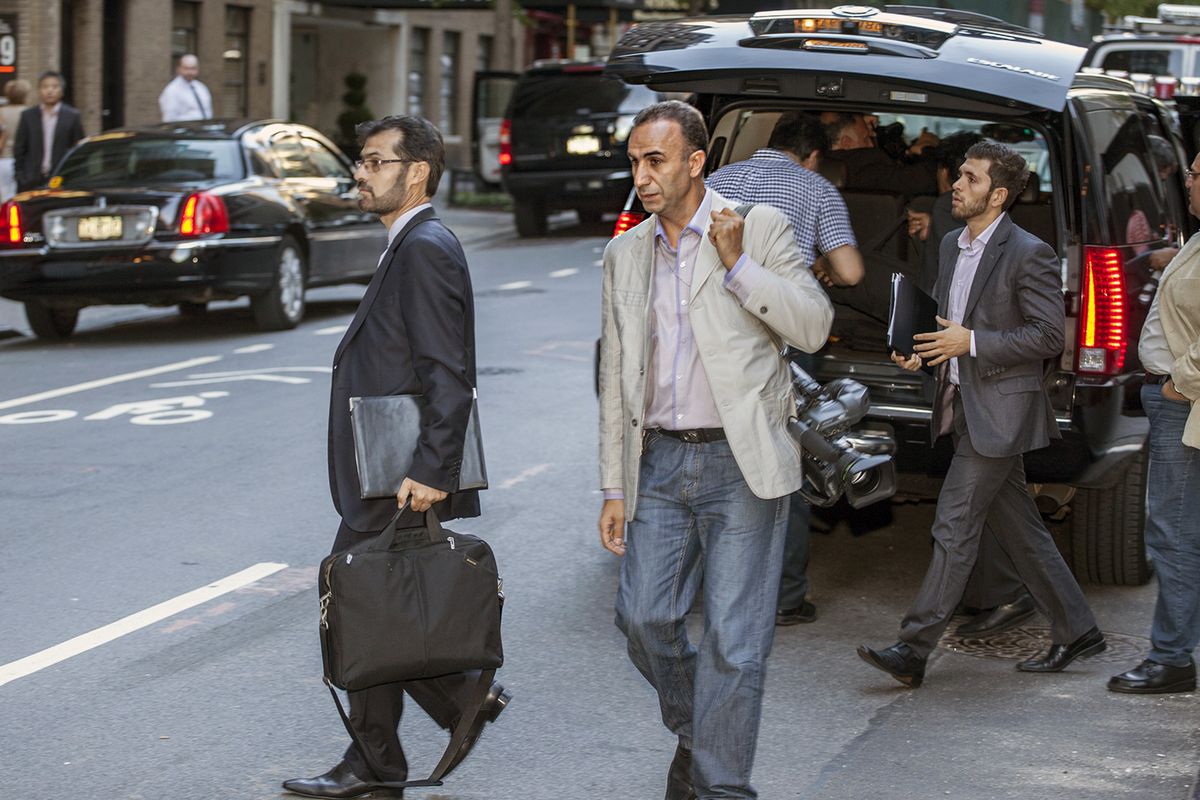 In this Sunday, Sept. 23, 2012 photo, Hassan Gol Khanban, cameraman and videographer with the Iranian News Agency assigned to the Iranian Presidential detail, center, arrives at the Warwick Hotel in New York. Khanban, who was in New York covering the Iranian President's visit to the United Nations General Assembly, is seeking asylum in the United States. (Gary Krauss / Associated Press)
NEW YORK (AP) — The lawyer for an Iranian cameraman who accompanied President Mahmoud Ahmadinejad to the U.S. for the U.N. General Assembly and is seeking asylum said Tuesday that his client did so because he was concerned for his safety if he went back to Iran.
Paul O'Dwyer is representing Hassan Gol Khanban, who is in his 40s and has been a videographer with the Iranian News Agency for years. Khanban has traveled abroad with Ahmadinejad before.
O'Dwyer said his client had been asked to do things by the Iranian presidential delegation that he had refused to do and was concerned about what would happen upon returning to Iran, which prompted his defection.
"He was feeling threatened because of what he thought would happen when he went back," O'Dwyer said in an interview with The Associated Press. "There were demands made on him by the presidential detail while he was here to do things that he did not want to do. He was obviously very, very concerned about what the repercussions to him would be when he went back to Iran for disobeying those orders."
O'Dwyer said his client's wife and two young children have left Iran, as well. Khanban "is very, very concerned obviously about his family. His immediate family who have left Iran, and his extended family who are still in Iran, and obviously he is concerned for himself," he said.
O'Dwyer said an application for Khanban's asylum has been submitted to the Department of Homeland Security's Citizenship and Immigration Services.
Local journalism is essential.
Give directly to The Spokesman-Review's Northwest Passages community forums series -- which helps to offset the costs of several reporter and editor positions at the newspaper -- by using the easy options below. Gifts processed in this system are not tax deductible, but are predominately used to help meet the local financial requirements needed to receive national matching-grant funds.
Subscribe now to get breaking news alerts in your email inbox
Get breaking news delivered to your inbox as it happens.
---