News > Nation/World
Prosecutors: Minn. man steered recruits to Somalia
Tue., Oct. 2, 2012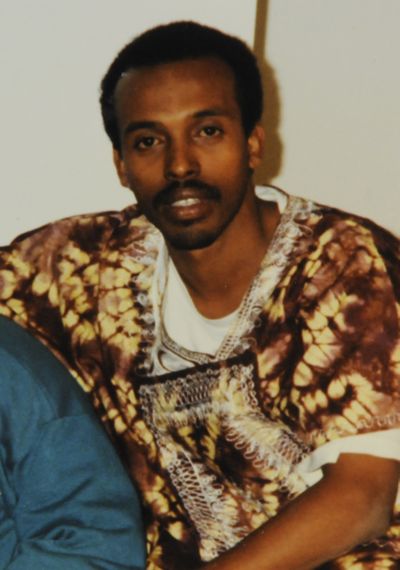 MINNEAPOLIS (AP) — A man who worked as a janitor at a Minneapolis mosque directed young Somali expatriates back to their war-torn homeland to fight as part of a pipeline that funneled men and money from Minnesota to a terror group, a federal prosecutor said Tuesday.
Mahamud Said Omar, 46, faces five terror-related counts for financing and supporting al-Shabab, a U.S.-designated terror group linked to al-Qaida that's at the center of much of the violence in Somalia.
Omar's defense attorney, Andrew Birrell, said during opening statements that his client is a simple laborer who has struggled to adapt to life in the United States. Birrell said Omar never planned anything against the U.S. and lacks the financial means to fund al-Shabab.
"He has never organized anything," Birrell told the jury.
Since 2007, more than 20 young men are believed to have left Minnesota for the East African nation, presumably to take up arms with al-Shabab. The departures shook the Somali community in Minnesota, the nation's largest, and led to charges against 18 men, including Omar, who faces life in prison if convicted.
Assistant U.S. Attorney Charles Kovats told jurors many of the young men who returned to Somalia, some as young as 17, came to the U.S. as children to escape violence and lawlessness that has gripped the country for two decades.
"The defendant turned them around and directed them into this pipeline — back into the violence of Somalia," Kovats said.
In his opening statement, Kovats linked Omar to men who left Minnesota in 2007 and 2008 in groups of "ones and twos" so as not to raise suspicion.
At least initially, many of the Minnesota men appeared to have been motivated by patriotism. In late 2006, Ethiopian soldiers were brought into Somalia by its weak U.N.-backed government, and many Somalis saw that as an invasion. By the fall 2007, some were holding secret meetings in Minneapolis mosques and restaurants, plotting ways to fight the Ethiopians, the prosecutor said.
"They didn't want anybody to find out and get in the way of their plan," Kovats said.
According to prosecutors, Omar gave money to men who traveled to Somalia in 2007 and visited Somalia himself in early 2008, staying at an al-Shabab safe house while he was there. Several others from Minnesota were staying there at the time, including Shirwa Ahmed, who the FBI says was radicalized in Minneapolis and who is the first known American citizen to carry out a suicide bombing.
Prosecutors say at the safe house, Omar gave the Minnesota men provisions and hundreds of dollars to buy assault rifles because al-Shabab made those who had lived in the West buy their own weapons, believing they had money.
Kovats said three of the men who were at the safe house will testify about how it was a place where the terror group vetted new members to ensure they were ideologically committed and weren't spies. The safe house was run by a woman and was for al-Shabab members only.
"If you weren't al-Shabab, you didn't get in the house," Kovats said. He said Omar stayed there for up to two weeks.
Birrell told jurors those three men were offered plea deals by the government to avoid life sentences, and they shouldn't be believed.
"These men, you will see, have lied in the most terrible ways against Mr. Omar," Birrell said.
Omar came to the United States in 1993 and is a permanent resident. Birrell said Omar went to Somalia in 2008 "simply to get married," and that he only visited the safe house at the invitation of some of the Minneapolis men, who he was surprised to run into while visiting his uncle in Marka. He said Omar didn't give anyone in the house money or discuss al-Shabab or fighting.
Omar returned to the U.S. in April 2008 and continued to help al-Shabab, prosecutors contend. Eight months after two men were told they were too young to go to Somalia with the group that left in 2007, Omar accompanied them to the airport so they could make the trip, Kovats said.
"He took them there, walked them to the ticket counter, and made sure they got out OK," Kovats said.
While the Minnesota men who remained in Somalia attended more al-Shabab training and participated in an ambush of Ethiopian troops and recruitment videos, Omar was coordinating ways to get the next group of men to Somalia, Kovats said. Some of the men collected money under false pretenses in Minneapolis — saying they were raising money for orphans.
When Shirwa Ahmed carried out the suicide bombing in October 2008, Kovats said, Omar accelerated efforts to help the newest round of travelers. He accompanied six men to a travel agency, and attended a farewell dinner for five of them.
Birrell painted a picture of a man who was uneducated and relied on his brothers for money and housing. Birrell said Omar's brothers, who raised him since he was a child, will testify that he is a peaceful, loving man.
"Mr. Omar has been looking forward to having his day in court," Birrell said. "The truth is, Mr. Omar is not guilty."
___
Follow Amy Forliti on Twitter: http://www.twitter.com/amyforliti
Local journalism is essential.
Give directly to The Spokesman-Review's Northwest Passages community forums series -- which helps to offset the costs of several reporter and editor positions at the newspaper -- by using the easy options below. Gifts processed in this system are not tax deductible, but are predominately used to help meet the local financial requirements needed to receive national matching-grant funds.
Subscribe now to get breaking news alerts in your email inbox
Get breaking news delivered to your inbox as it happens.
---