News > Spokane
Stark sentenced to 25-year term for murder
Wed., Oct. 3, 2012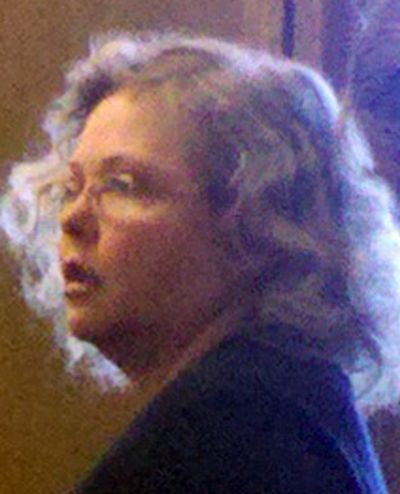 Standing before a judge Tuesday for the second time as a convicted killer, Shellye Stark received less than half her original 51-year sentence for shooting her husband in 2007.
Superior Court Judge Tari Eitzen instead sentenced Stark to 25 years for the killing, the least amount of time she could mete out under the state's mandatory sentencing laws.
"Although a decision like that may not be popular it is the right thing to do to grant this to Christopher (Stark)," Eitzen said, referring to the couple's son. "For you Christopher, I'm sentencing your mom to the low end of the sentencing range."
A jury initially convicted Stark of first-degree murder and conspiracy to commit first-degree murder for the Dec. 9, 2007, killing of her estranged husband, Dale Stark, in their South Hill home in what she claimed was self-defense.
After the case was overturned on appeal because of errors in the jury instructions, a second jury rejected Shellye Stark's claims that she was a battered wife who was forced to kill her husband to save her own life. The jury last month exonerated the former prostitute on the charge of conspiracy to commit first-degree murder.
"I am, before anything else, a mother. I've lived my life as a good person," Stark told Eitzen Tuesday. "I'm not going to dispute the facts of the case because I have respect for those who disagree.
"I want to start off by saying that I have remorse. I've lived with remorse from the very moment this happened. I never intended to cause the death of my husband. I am so sorry."
Stark will be given credit for the five years she's already served.
One of her attorneys, Ed Carroll, said she will be 71 before she is eligible for release.
Deputy Spokane County Prosecutor Mark Cipolla said many couples struggle in their marriages, but the spouses don't kill each other.
"This was a cold, calculated murder," Cipolla said. "She came from California. She set this up. She shot a man in the back four times and walked up while he lay dying and shot him in the groin."
In his closing arguments on Sept. 20, Cipolla said Shellye Stark decided to get out of her 24-year-marriage and used help from Brian Moore – who also faces re-trial next week for his alleged role in the same murder – to obtain a temporary restraining order that barred Dale Stark from his own South Hill home.
She delivered the order on the night of the shooting, armed with a .357 magnum handgun.
During the trial, Shellye Stark claimed years of abuse and said Dale Stark forced her into prostitution and threatened to tell her family about her actions. Cipolla said Shellye Stark was making as much as $10,000 a month as a prostitute, using the name Nikita Jennifer.
Caught in the middle was son Christopher Stark. He asked Judge Eitzen for mercy for the only parent he has left.
"I am my father's son and my mother's son," Stark said Tuesday, noting that through the trials he came to understand his parents better. "I was there. I have nightmares about it. I see the hurt in her eyes. I feel sorrow down within and there is nothing I can do about it," he said. "I just want the court to know how much we have all suffered."
Eitzen said she remembers Christopher Stark as a 17-year-old and has watched him mature into an articulate young man throughout the two trials.
"Judges are human beings," she said, as she asked Christopher Stark, now in his early 20s, what he thought would be a fair resolution to the case.
"I've lost one parent already," he said. "Please don't take another."
Dale Stark's 85-year-old mother, Lois Starke, wrote a letter that a victim-witness coordinator read to Eitzen.
"As I lie in the darkness, I see my son … my child in a pool of blood struggling to breathe his last breath," Lois Stark wrote. "My son had a zest for life and it hurts me so much that his life ended at 48 years. That is like a stab in my heart that no mother should have to deal with.
"Shellye may get 25 years," the letter said, but Dale Stark's friends and family "will feel sorrow for the rest of our lives."
Local journalism is essential.
Give directly to The Spokesman-Review's Northwest Passages community forums series -- which helps to offset the costs of several reporter and editor positions at the newspaper -- by using the easy options below. Gifts processed in this system are not tax deductible, but are predominately used to help meet the local financial requirements needed to receive national matching-grant funds.
Subscribe to the Coronavirus newsletter
Get the day's latest Coronavirus news delivered to your inbox by subscribing to our newsletter.
---