Sports
Redshirt freshman quarterback Vernon Adams finds himself leading the Eagles
Fri., Oct. 5, 2012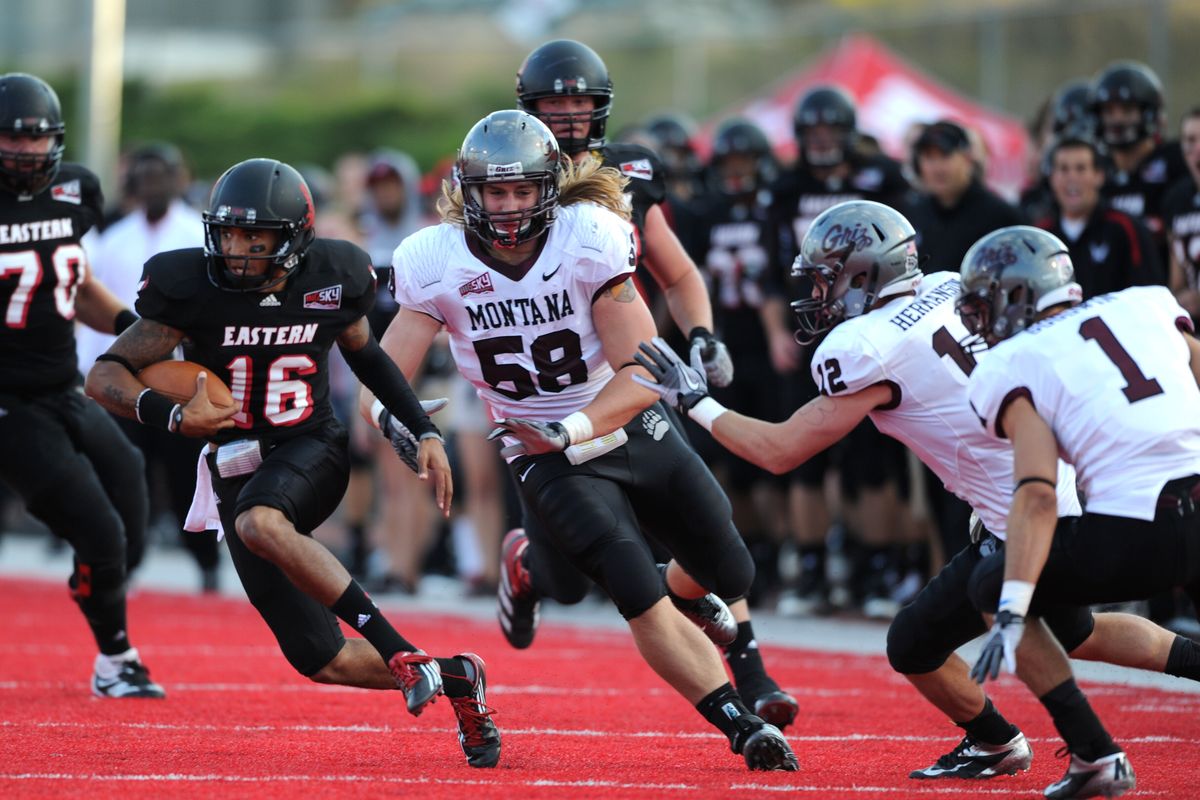 EWU's Vernon Adams, running the ball against Montana, threw two touchdowns in the last 2½ minutes to give the Eagles a 32-26 win. (Tyler Tjomsland)Buy a print of this photo
Earlier this week, Vernon Adams was focusing on his next opponent: geography class.
"All those maps, longitudes and latitudes," said Adams, shaking his head. "It's all happening so fast, but I've got to step it up."
He could just as well be talking about Roos Field, where Adams has suddenly moved to the head of the class.
After Eastern's dramatic home win over Montana on Saturday, Adams celebrated with friends at Roos Field while quarterbacks coach Zak Hill looked on like a proud teacher whose 19-year-old has just hurdled over the learning curve.
"He's still young," said Hill, who recruited Adams to Cheney from Los Angeles two years ago. "He's still learning and trying to force things, but also he's making some plays."
That includes some freshman mistakes, such as the fourth-quarter interception into double coverage, or the fumble with 7 1/2 minutes left that brought the Eagles to the brink of defeat against Montana.
Slumping to the bench wasn't an option. Teammates, especially former starting quarterback Kyle Padron, "told me to keep my head up, that you're the best quarterback on the field, and we have faith in you."
Adams responded with two touchdown passes in the last 2 1/2 minutes to give the seventh-ranked Eagles a 32-26 win that seemed beyond improbable moments earlier.
"I'm just so blessed that God put me on this Earth to do this," Adams said.
Adams grew up in Southern California where his father helped coach him through youth ball.
But Pasadena was no bed of roses. Some friends and relatives drifted into gangs.
His parents "also grew up rough, and they didn't want me to go through that," said Vernon, one of three children and a self-described "mama's boy."
His parents, Vernon and Desirae, enrolled him at private Alemany High School in nearby Santa Clarita, where he passed for 5,234 yards and 49 touchdowns in his two years on the varsity. He rushed for another 1,263 yards and 19 TDs for a team that went 22-5 in two seasons.
Along the way, his father would wake him on Saturday mornings and offer a few pointers on football and life.
"He would sit me down, and told me to always try to better myself," the younger Adams said. "And that my family would have it better than they did."
Weekends were spent watching college football, which literally got under his skin.
"Look at this," he said, eagerly showing a Rose Bowl logo tattooed on his arm. Adams said he made it to every UCLA home game his senior year in the fall of 2010. The Bruins liked him, but not enough to offer a scholarship.
It was the same story at every big school.
"They said I was too short," said the 6-foot, 180-pound Adams. "They wanted me to walk on, but we couldn't afford that."
The ambitious quarterback met the upwardly mobile school from Cheney. Hill was recruiting in Southern California at the time and heard about Adams from a local coach just after the Eagles had received his highlight film.
"We really liked him," said Hill, who saw Adams twice in live action. "He was very athletic, making people miss. He wasn't one of those kids who just runs. He also happened to throw the ball really well."
After a season-ending playoff game, Adams remembers talking with Eastern head coach Beau Baldwin, who invited him for an official visit.
"I was so excited," Adams recalled at the prospect of a visit and a possible scholarship offer.
The weather wasn't perfect – "It was 30 degrees at nighttime," Adams marveled – but Eastern's football climate couldn't have been better. The Eagles won the FCS title just a week earlier.
Adams had already given an oral commitment to Portland State. "For all the wrong reasons," he said, not going into detail. But his father already had the details on the Eagles.
"My dad told me, 'You need to be with a winner.'"
That meant the talented receivers that would be waiting for him at ESU, namely Brandon Kaufman, Nicholas Edwards and Greg Herd.
Adams changed direction and found himself on the Eastern scout team last fall when he redshirted.
Twice he won scout-team awards, simulating opposing offenses.
"I did what I could to help the defense get ready," said Adams, who also got a free look every day at quarterback Bo Levi Mitchell. "When (Mitchell) makes a mistake, he doesn't show it. He would come back hard and lead the team down to score."
Last spring, Adams and Anthony Vitto got a season's worth of snaps as the only two quarterbacks in camp, which would pay off in the fall. Working with the ones, I understood how they would run their routes," Adams said. "This time last year, no way.
"Vitto really helped me with that."
Their stats were almost identical, though Adams already showed himself to be a difference-maker in open space.
"He was really efficient in spring ball, and we could see him being a possible starter for us," Hill said.
To the casual fan, Adams and Vitto were merely competing for the chance to back up Southern Methodist transfer Padron, who came in with big-game experience and a bigger arm.
Coaches didn't necessarily see it that way, especially in fall camp when Adams began to shine. Padron was named the starter for the season opener at Idaho, but Baldwin said the competition "was a lot closer than people thought."
Even while fans wondered how the Eagles could use Adams' athleticism on the field, perhaps in a wildcat formation, Baldwin used the bye week after the 24-20 loss at Washington State to do even more.
"I just felt like I needed to see that young man play in live situations," Baldwin said.
A few days before the Big Sky opener at Weber State on Sept. 22, Adams got the word that he would start.
"I was so excited, to play quarterback for the first time since high school," Adams said.
"I thought I'd be nervous, but I wasn't, maybe because they trusted me."
So did the players.
"He's a good quarterback," senior Herd said. "And he's a pretty relaxed guy. One of those guys who loves the game and gets the team pumped up."
Against Weber, he led the Eagles to a 20-3 lead before leaving with a case of cramps caused by dehydration. Film and hindsight showed a tendency to leave the pocket too soon.
The following week against Montana, he told himself to look downfield, even as the pocket collapsed around him.
Adams has completed 32 of 53 pass attempts for 428 yards, three touchdowns and one interception this season. Padron is 50 for 104 with four TDs and four picks. Each has rushed 16 times, with Adams gaining 118 yards and Padron 29.
Wide receiver Brandon Kaufman was Padron's favorite, and so it was with Adams, who hit Kaufman with two long TD passes.
"That dude is so good," Adams said.
Just before the Washington State game, Adams stopped in at the Benjamin Franklin store in Cheney, purchased a home hair-dye kit and became perhaps the only student at Eastern to sport a blond mohawk.
"I just wanted to have some fun and do something different," said Adams, who seems to thrive in the moment. Earlier this week, that included three media interviews in half an hour before class. A few hours later, local TV stations wanted a piece of Adams. The subjects ranged from his hairstyle to his dance moves, even football and how he's handling all the attention.
His relationship with Padron is better than ever.
"I've been going to church a lot lately with Kyle," Adams said. "He's helping me get closer to God. That's something I really need."
When Padron was the starter, Adams and Vitto gave observations on the sidelines. Now it's Padron's turn "to tell me to look off that linebacker who's looking at my eyes."
One thing for sure: Adams isn't looking back.
Some friends recorded the Montana game, but Adams hasn't watched it.
On the way to geography class, Adams quickened his pace.
"Life's too short. I just want to enjoy all of it."
Local journalism is essential.
Give directly to The Spokesman-Review's Northwest Passages community forums series -- which helps to offset the costs of several reporter and editor positions at the newspaper -- by using the easy options below. Gifts processed in this system are not tax deductible, but are predominately used to help meet the local financial requirements needed to receive national matching-grant funds.
Subscribe to the sports newsletter
Get the day's top sports headlines and breaking news delivered to your inbox by subscribing here.
---