Sports
Djokovic ends Murray's reign in Shanghai
Mon., Oct. 15, 2012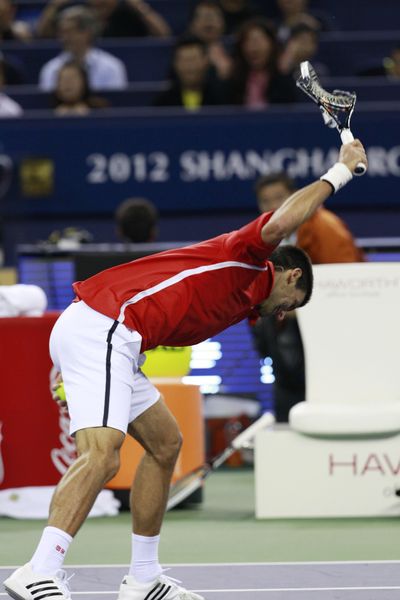 Tennis: Novak Djokovic saved five match points in the second set before outlasting two-time defending champion Andy Murray 5-7, 7-6 (11), 6-3 on Sunday in Shanghai to capture the Shanghai Masters.
In another entertaining matchup between the two, Djokovic seemed headed for defeat when Murray was serving for the match at 5-4 in the second set. But the Serb saved one match point in that game before breaking back for 5-5. He then saved four more match points in a tense tiebreaker and carried his momentum into the deciding set, breaking the Briton twice to earn his fifth title of the year.
It was Murray's first loss in Shanghai in 13 matches.
Murray saved two match points in the final game, but sent a backhand long on the third.
• Brits' title drought ends with Watson: Heather Watson became the first British woman in 24 years to win a WTA title by beating Chang Kai-chen of Taiwan in the final of the Japan Open in Osaka.
Watson outlasted Chang 7-5, 5-7, 7-6 (4) to end the long drought for her country. The last British woman to win a WTA title was Sara Gomer in 1988.
• Azarenka continues hot streak: Top-ranked Victoria Azarenka won her sixth WTA title of the season by beating Julia Goerges 6-3, 6-4 at the Generali Ladies in Linz, Austria.
Azarenka has won 13 straight matches without dropping a set since losing the U.S. Open final last month. Her next tournament is the season-ending WTA Championships in Istanbul.
Notre Dame expects QB Golson to play
College Football: Notre Dame's Everett Golson sustained a concussion on a helmet-to-helmet hit in the fourth quarter against Stanford but Fighting Irish coach Brian Kelly says the starting quarterback should be ready to play against Brigham Young on Saturday.
Kelly says Golson still had some concussion symptoms on Sunday, and will undergo further tests today. He expects Golson to be cleared to practice by Tuesday.
• K-State, Fighting Irish jump into top 5: The top five in The Associated Press college football poll has been rearranged for a second straight week, with Florida, Kansas State and Notre Dame moving up in the rankings.
No. 1 Alabama and No. 2 Oregon hold the top two spots for a fourth straight week. The changes came behind them, where the Gators move up one spot to No. 3, and the fourth-ranked Wildcats and fifth-ranked Fighting Irish both jump two places.
• Gophers' Kill released from hospital: Minnesota coach Jerry Kill has been released from the hospital one day after he had a seizure in the locker room after a loss to Northwestern.
University physician Dr. Pat Smith issued a statement saying Kill has been treated and is "in excellent health." Kill has struggled with seizures for years, including several times last season in his first year with Minnesota. However, Kill has never missed a game because of seziures.
Vettel cruises to F1 victory, series lead
Auto Racing: Red Bull driver Sebastian Vettel won the Korean Grand Prix in Yeongam, South Korea to move ahead of Ferrari's Fernando Alonso in the Formula One championship standings by six points with four races remaining.
Vettel started second on the grid behind Mark Webber but overtook his teammate on the first turn and never relinquished the lead, finishing 8.2 seconds ahead of Webber. Alonso was third, 13.9 seconds off the pace.
Vettel is moving within sight of a third straight title.
• NBC snags U.S. rights to F1: NBC Sports Group has signed a four-year deal with Formula One for the exclusive U.S. media rights to the world's most popular global motorsports series.
The deal begins next season.
Joshua Tree races to victory at Woodbine
Miscellany: Joshua Tree won the $1.5 million Pattison Canadian International at Woodbine in Toronto to become only the third two-time winner in race history.
The Irish-bred Joshua Tree also gave jockey Frankie Dettori his record-tying third victory in the race.
• Marcelo breaks foot in Brazil practice: Real Madrid left back Marcelo has broken his right foot in training with Brazil and will be sidelined until at least the end of the year.
He's expected to miss at least three months after getting hurt Sunday in Poland, where the team will play Japan in an exhibition Tuesday.
Local journalism is essential.
Give directly to The Spokesman-Review's Northwest Passages community forums series -- which helps to offset the costs of several reporter and editor positions at the newspaper -- by using the easy options below. Gifts processed in this system are not tax deductible, but are predominately used to help meet the local financial requirements needed to receive national matching-grant funds.
Subscribe to the sports newsletter
Get the day's top sports headlines and breaking news delivered to your inbox by subscribing here.
---