Sports
Fever shock Lynx in WNBA Finals opener
Mon., Oct. 15, 2012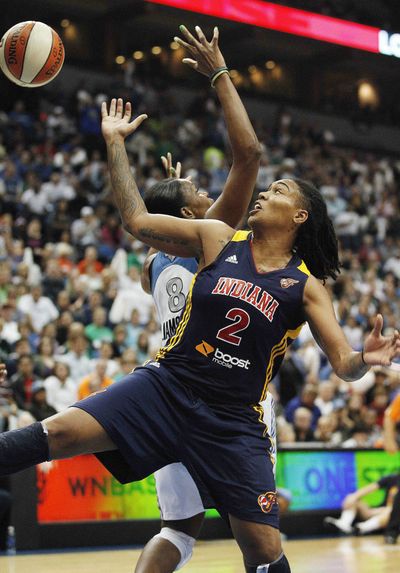 MINNEAPOLIS – The Minnesota Lynx entered the WNBA Finals with a banner already hanging in Target Center and a loaded roster that had visions of becoming the league's next dynasty.
The Indiana Fever haven't backed down from a fight all postseason, and it's clear they don't plan to start now.
Erlana Larkins had 16 points and 15 rebounds and the Fever stunned defending champion Minnesota with a 76-70 victory over the Lynx in Game 1 on Sunday night.
"We've made it to this point, what's there to fear?" Larkins said. "We know they're the defending champions and they're going to bring their 'A' game. … So what, they're the defending champs? We're here to take one."
Tamika Catchings scored 20 points for the Fever, who played without leading scorer Katie Douglas because of a sprained left ankle. They scored 15 points after 17 Minnesota turnovers and outscored the Lynx 38-24 in the paint to become just the second visiting team this season to win at Target Center.
"We came in here without any fear," coach Lin Dunn said.
Briann January of Lewis and Clark High School added 11 points and six assists and Erin Phillips scored 13 for Indiana.
Game 2 in the best-of-5 series is Wednesday night in Minneapolis.
Seimone Augustus scored 23 points and Rebekkah Brunson added 10 points and 10 rebounds for the Lynx, who are looking to become the WNBA's first repeat champion in 10 years.
Maya Moore had 14 points and 10 boards but made just 4 of 14 shots and Lindsay Whalen managed 12 points on 4-for-12 shooting. Now they've lost homecourt and trail in a series for the first time since their title run started last year.
"For some reason we didn't come out ready to play and they were," Augustus said.
Local journalism is essential.
Give directly to The Spokesman-Review's Northwest Passages community forums series -- which helps to offset the costs of several reporter and editor positions at the newspaper -- by using the easy options below. Gifts processed in this system are not tax deductible, but are predominately used to help meet the local financial requirements needed to receive national matching-grant funds.
Subscribe to the sports newsletter
Get the day's top sports headlines and breaking news delivered to your inbox by subscribing here.
---