News > Nation/World
S. Dakota executes inmate who killed prison guard
Mon., Oct. 15, 2012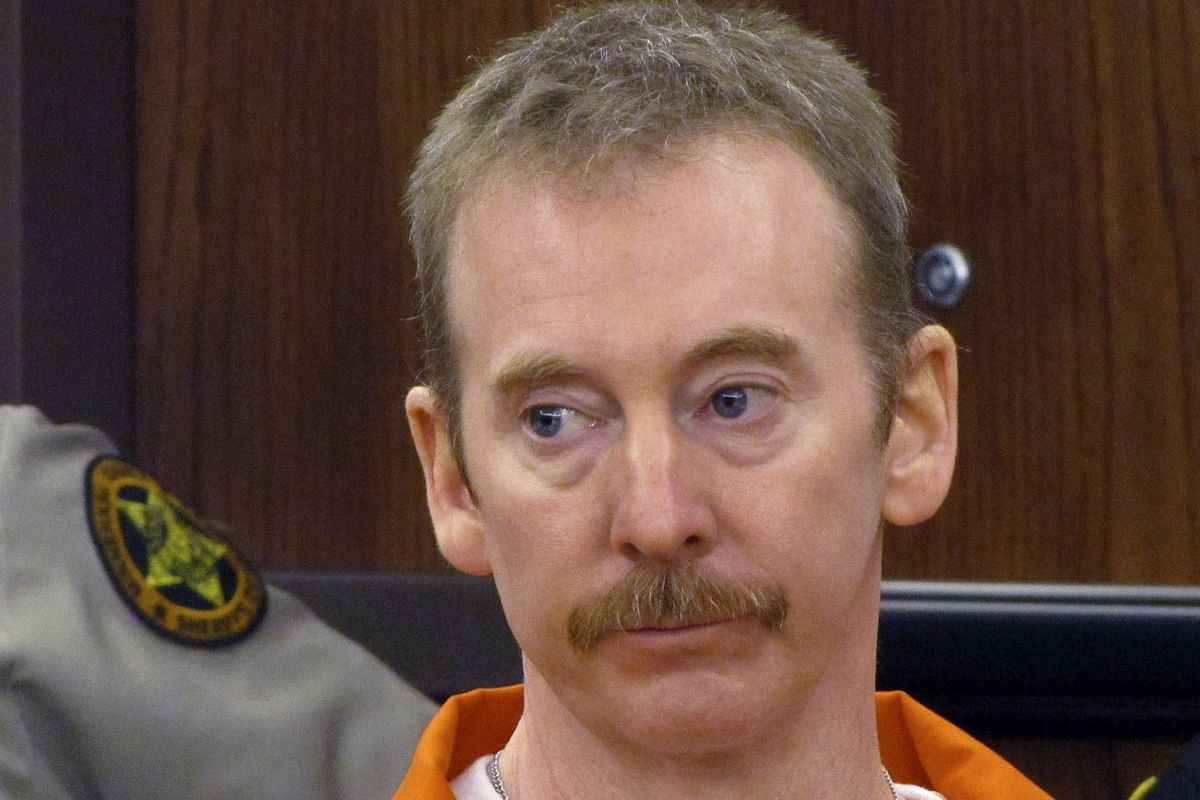 FILE - In this Oct. 14, 2011, file photo Eric Robert appears in a Sioux Falls, S.D. court. Robert is scheduled to be executed by lethal injection Monday, Oct. 15, 2012, South Dakota's first execution in five years. Robert pleaded guilty in the April 12, 2011, slaying of a prison guard during a failed escape attempt and asked to be put to death, saying he would kill again. (Emily Spartz / Argus Leader)
SIOUX FALLS, S.D. (AP) — A South Dakota man who beat a prison guard with a pipe and covered his head in plastic wrap to kill him during a failed escape attempt was put to death Monday, in the state's first execution since 2007.
Eric Robert, 50, received lethal injection and was pronounced dead at the state penitentiary in Sioux Falls at 10:24 p.m. He is the first South Dakota inmate to die under the state's new single-drug lethal injection method, and only the 17th person to be executed in the state or Dakota Territory since 1877.
Robert had no expression on his face. Asked if he had a last statement, Robert said: "In the name of justice and liberty and mercy, I authorize and forgive Warden Douglas Weber to execute me for the crimes. It is done."
As the drug was administered, the clean-shaven Robert, wearing orange inmate pants with a white blanket wrapped around his upper body, appeared to be clearing his throat and then began gasping heavily. He then snored for about 30 seconds. His eyes remained opened throughout and his skin turned pale, eventually gaining a purplish hue.
Robert was put to death in the same prison where he killed guard Ronald "RJ" Johnson during an escape attempt on April 12, 2011. Robert was serving an 80-year sentence on a kidnapping conviction when he tried to break out with fellow inmate Rodney Berget, 50.
Johnson's widow, Lynette, said after the execution that she knows Robert's death will not bring back her husband, her children's father or her grandchildren's grandfather.
"But we do know that the employees of the Department of Corrections and the public in general will be just a little bit safer now," Lynette Johnson said. "We need to have more attention and focus on the safety of all of the correctional officers in the state of South Dakota. Ron, none of you will ever know how great he is and is missed. We stand proud for Ron."
Lynette Johnson, her two children and their spouses all witnessed the execution. No one from Robert's family was in attendance.
Robert ate his last meal of ice cream with his lawyer, Mark Kadi, on Saturday night before fasting for 40 hours for religious reasons.
After the execution, Kadi said the execution was very "orderly and polished."
"The problem was it was too orderly. It was so antiseptic and peaceful that it masked what was being done to the person," Kadi said. "If more people were able to see the events, there would be fewer of them."
Johnson was working alone the morning of his death — also his 63rd birthday — in a part of the prison known as Pheasantland Industries, where inmates work on upholstery, signs, custom furniture and other projects. Authorities said the inmates beat Johnson with a pipe, covered his head in plastic wrap and left his body on the floor.
Robert then put on Johnson's pants, hat and jacket and approached the prison's west gate. With his head down, he pushed a cart loaded with two boxes. Berget was hidden in one of the boxes, according to a report filed by a prison worker after the slaying.
Other guards became suspicious as the men got closer to the gate. When confronted, Robert beat one guard; other guards quickly arrived and detained both inmates.
Months later, Robert told a judge his only regret was that he hadn't killed more guards. He pleaded guilty to Johnson's slaying and asked to be sentenced to death, telling a judge last October that he would otherwise kill again. He never appealed his sentence and even tried to bypass a mandatory state review in hopes of expediting his death.
Berget also has pleaded guilty in the killing but has appealed his death sentence. A third inmate, Michael Nordman, 47, was given a life sentence for providing materials used in the slaying.
Robert's execution could be the first of two in as many weeks. Donald Moeller is scheduled to be put to death the week of Oct. 28 for the 1990 kidnapping, rape and murder of a 9-year-old girl. Robert had been on death row only for about a year, Moeller has been there for more than two decades. Only three other inmates currently are on the state's death row.
South Dakota's last execution before Monday took place in 2007, and that was the first in the state for 60 years.
"You have few people on death row, few executions, and then you have this coincidence of cases coming all at once," said Richard Dieter, executive director of the nonprofit Death Penalty Information Center. "When people waive appeals, their cases start to move more quickly."
___
Associated Press writers Amber Hunt in Sioux Falls and Blake Nicholson in Bismarck contributed to this report.
___
Follow Kristi Eaton on Twitter at http://twitter.com/kristieaton.
Local journalism is essential.
Give directly to The Spokesman-Review's Northwest Passages community forums series -- which helps to offset the costs of several reporter and editor positions at the newspaper -- by using the easy options below. Gifts processed in this system are not tax deductible, but are predominately used to help meet the local financial requirements needed to receive national matching-grant funds.
Subscribe now to get breaking news alerts in your email inbox
Get breaking news delivered to your inbox as it happens.
---