Sports
Giving back the love
Former EWU linebacker builds hope for kids who desperately need chance
Tue., Oct. 16, 2012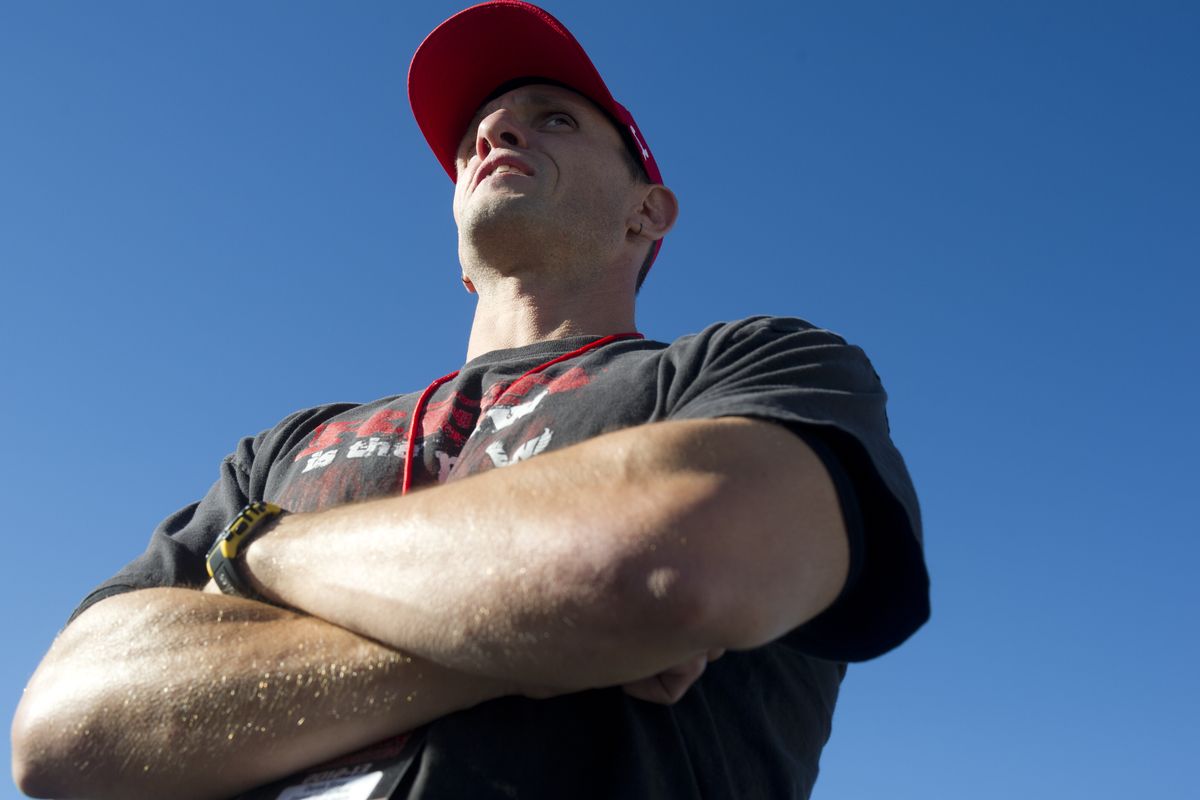 "Eastern's given me about everything I have in life," says Derek Strey, in Cheney recently for induction of 1997 team in Hall of Fame. (Tyler Tjomsland)Buy a print of this photo
The calls come at irregular intervals, weeks or months apart. Kids, once troubled and often violent, now grown but still weighing delicate, life-changing choices, still looking for someone to be proud of them.
Sort of an at-risk alumni association.
One girl came under his supervision maybe six years ago. Now she's trying to get her nursing certification, and will become a mother soon. Another man, now 25, last checked in a couple of weeks ago, as he's been doing since he was 13, just to say hello and, without saying it in so many words, remind Derek Strey why he does what he does.
"I'm Luke Skywalker," Strey likes to joke. "If I can bring a kid back from the dark side, that's awesome."
When he was a linebacker at Eastern Washington University 15 years ago, Strey played football with an anger harnessed by his own determination and the counsel of astute, patient men, and a heart inherited from a strong, compassionate mother.
They're the same tools he takes to work each day at Echo Glen Children's Center in Snoqualmie, run by the state's Juvenile Rehabilitation Administration, where he's worked since 1999.
At Echo Glen, Strey sees "all kinds" – boys and girls convicted of A, B or C felonies, brutal assaults, even murder. They come with gang connections, substance abuse histories and aggression issues, and they're committed to the state for anywhere from 15 weeks to five years.
"You know, a lot of the kids, 13-14 years old, remind me a lot of myself at that age," he said. "I had anger management problems. I was a hot head. But I was lucky. There were people in my corner and they helped, and I think I can help, too."
Until the Eagles won the 2010 NCAA title in the Football Championship Subdivision, the school's football zenith – its lone outright Big Sky Conference title – came in 1997, and Strey was a central character, twice an all-league linebacker. Only a loss to Youngstown State in the NCAA semifinals kept those Eagles from a shot at the national championship.
"That dumb game," Strey said. "I've never watched it. It still haunts me.
"That's why I sent an email to coach (Beau) Baldwin before they played in 2010. I just said, look, they've got a great opportunity – let them know if they lose, it haunts them forever. I'm 38 and I don't talk about the wins or anything I did. Youngstown State is still the one I talk about."
And yet that Strey got there at all was a triumph in itself.
He grew up in Port Orchard "a chameleon kid who could fit in anywhere" – meaning that while he ran with the jocks, he had other friends with more dangerous interests. Strey's father "liked the bar and shooting pool" and showed up at his games, but the parenting was left to Marilyn Strey, and her ethic left a lasting impression on her son.
"She was pretty amazing," he said. "She had a never-give-up attitude and never let us go without. I can't even count how many miles we walked and rode bikes to get places – she never had a car. She worked nights and I watched my brother and sister, and she went to school and got her degree."
Strey's destiny as a football player seemed likely to be realized at a Pac-10 school until a knee injury derailed his senior year at South Kitsap High School. One instinct was to chuck it all and go hang with those friends with a taste for trouble; a stronger one sent him straight into the weight room to start his rehab.
But the Pac-10 recruiters never came back. His high school coach, Ed Fisher, helped steer him to Eastern, and if Strey was reluctant at first, it didn't take long for him to realize he was home.
His class was the residue of EWU's first Big Sky co-championship in 1992, and they suffered some horrible beatings as sophomores and heart-breaking near-misses after a great start as juniors before putting it together in 1997. If the football was good, the life rewards were better: Strey's wife of 14 years, the former Melanie Lund of Reardan, was his study table tutor that sophomore year.
"You'd have to say," he said, "Eastern's given me about everything I have in life."
After a brief flirtation with pro football – with Jacksonville and Seattle in the NFL, and Frankfurt in NFL Europe – he learned about an opening at Echo Glen.
The challenges are enormous, and with every payoff Strey acknowledges there's another kid "you can't reach – and that's tough." But most, he insisted, "want to be respected, and cared for and be liked. They want to have a chance.
"One of the most difficult kids I've worked with left about eight months ago. I don't know if this kid's going to make it. But right now he's doing great, and he's positive and optimistic.
"There are a handful of kids who've made it through college, kids I worked with for two or three years in the system. Having that opportunity is such a powerful thing to me. I don't want to build a house or sell insurance. I want to do this. This is part of giving back the love of a lot of great people in my life."
Local journalism is essential.
Give directly to The Spokesman-Review's Northwest Passages community forums series -- which helps to offset the costs of several reporter and editor positions at the newspaper -- by using the easy options below. Gifts processed in this system are not tax deductible, but are predominately used to help meet the local financial requirements needed to receive national matching-grant funds.
Subscribe to the sports newsletter
Get the day's top sports headlines and breaking news delivered to your inbox by subscribing here.
---