News > Spokane
Inslee employs cross-Cascades appeal
Democratic candidate touts charisma, tenacious approach
Tue., Oct. 16, 2012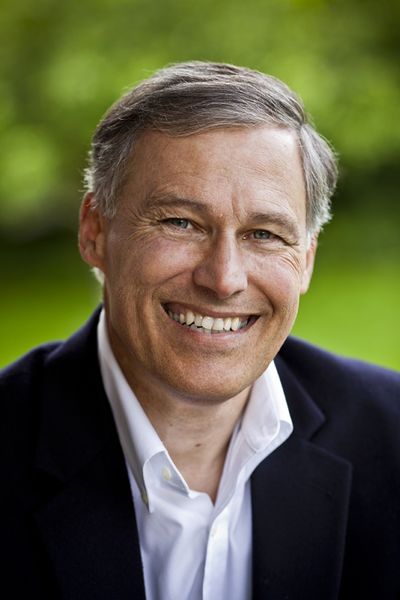 Editor's note: See the profile of gubernatorial candidate Rob McKenna on page A10.
OLYMPIA – Next to a rusting black trash bin along Seattle's industrial waterfront, Jay Inslee is talking about clean energy technologies.
He touts the durability of solar cells made in Marysville, the prospect of a hybrid-electric tugboat in Tacoma and the advancements in Spokane that will help monitor electrical consumption – and his view of the need to grow the clean-energy sector even more. There's a sense of urgency: Inslee isn't even pausing as passing cement trucks frequently drown out his voice.
"When you're in a competition, you better make sure you win it," Inslee says.
It's not clear if he's talking about his campaign or the state's economic future.
Once viewed as an underdog in Washington's race for governor, Inslee has emerged competitive thanks to an enviable mix of biographical contrasts: He's a former high school football quarterback with a law degree, a man with hard-hat grit who drones on about alternative energy technology, and a rare politician who has represented both sides of a state that's divided politically and economically.
Inslee, 61, grew up south of Seattle and played sports at Ingraham High School before going to the University of Washington and getting a law degree at Willamette University in Salem. He married his high school sweetheart, Trudi.
Doug Peters, a longtime attorney in the small Yakima Valley city of Selah, recalled going on a recruiting trip to Willamette in the mid-1970s. From a conference room, he and a legal partner brought in a steady stream of law students for interviews.
Inslee immediately stood out from the crowd, even outside of the interview. Peters recalled that everybody in the law school office knew him.
"He was extremely charismatic," Peters said. "He's got it. I'm not sure how to define 'it,' but he has it."
The Inslees moved to Selah to take a job at the firm, where he handled a variety of legal jobs, from prosecutions in municipal court to working as a litigator. Peters said he was a "very smart" lawyer who brought his charisma to the courtroom.
Inslee's first real brush with politics relied on that charisma, too. He and his wife helped lead a campaign to pass a school bond measure that had failed multiple times previously. Peters recalled that Inslee's personable nature helped him appeal to voters and get the measure passed.
Entering politics a couple years later, Inslee won a spot in the state House, replacing a Republican, and was aided by the financial support of the state's trial lawyers. He went on to win a seat in Congress – again succeeding a Republican – before being knocked out in the GOP sweep of 1994.
After moving his family west to Bainbridge Island, Inslee ran for governor in 1996, but didn't make it past eventual Gov. Gary Locke in the primary.
In 1998, he won a slot as a member of Congress in the 1st District – ousting GOP Rep. Rick White – and would hold that seat for more than a decade.
Chris Vance, former chairman of the Washington State Republican Party, said Inslee's losses never seemed to hinder his rise.
"He just refuses to give up," Vance said. "In politics, you're not dead until you quit, and he just refuses to quit."
Inslee's time representing both sides of the Cascades in Congress gives him both perspective and appeal that few Washington politicians have. It's something he touts on the campaign trail and in interviews, talking about his experiences growing hay and alfalfa.
Inslee said the state's Democrats have struggled in Eastern Washington because they often don't have a good grasp of the issues there. He said it's helpful to have someone "that legitimately understands both the economic opportunities of Eastern Washington and the challenges."
"That knowledge base will suit us well – and perhaps it's been lacking," Inslee said.
Inslee was a lead champion for the clean energy industry while in Congress and wrote a book on the topic. It's now a centerpiece of his campaign for governor, in part because he believes it can harness the economic potential of both sides of the state.
Inslee believes his economic policies, and savings found in making government more efficient, will allow him to invest new money in education while avoiding tax increases. He's broken from fellow Democrats on that issue, as leaders such as current Gov. Chris Gregoire believe new revenue has to be considered.
State GOP chair Kirby Wilbur said Inslee's focus on green energy neglects the state's current business climate.
"He looks to green energy as solution to our economic doldrums, but that hasn't panned out across our country," he said. "There's a limit to how many people will work on windmills and solar plants."
On some issues, Inslee has been vague about his goals, such as how to pay for transportation projects and how his first budget plan will work when the state is already projecting a shortfall. The independent education group Stand for Children endorsed Republican opponent Rob McKenna earlier this year, in part because the group said Inslee wasn't clear and specific on his policy positions and how he would implement them.
Inslee has slammed a plan – endorsed by some top Democrats – to equalize the way Washington homeowners pay for public schools. While McKenna has endorsed the idea as a way to respond to a Supreme Court ruling that says the state isn't funding education, Inslee characterized it as a tax increase on some Washington residents.
A proposal to create charter schools in the state also has divided Democrats. Inslee is siding with teachers unions in opposition to that option while some other Democrats – President Barack Obama, for example – are calling for them.
Nick Hanauer, a prominent Democratic donor who advocates on education matters, has considered supporting McKenna this year because of education issues. He disagrees with Inslee's opposition to charter schools and says Democrats in the state are bending to the will of teachers unions. Hanauer also opposes McKenna's stance on taxes. "To me, they're both half a candidate," Hanauer said. "If you could take half of Rob and half of Jay, you could probably have a reasonably good governor."
Polls initially suggested that Inslee was struggling in the governor's race against McKenna. He was also criticized earlier this year for leaving his congressional seat early and forcing a confusing campaign to fulfill the end of his term.
More recent polls have shown the candidates running about even, with Inslee aided in part by statewide television commercials that he used to introduce himself to voters.
State GOP leader Wilbur said Inslee has succeeded, in part, by coming across as a "very likable, blue-collar guy" – something that has come through in his initial television ads.
"Jay comes across as a chummy guy you'd want to go have a beer with," he said. "Rob's a guy you'd want to talk policy with. I think voters will ultimately see who has the specifics and who doesn't."
Local journalism is essential.
Give directly to The Spokesman-Review's Northwest Passages community forums series -- which helps to offset the costs of several reporter and editor positions at the newspaper -- by using the easy options below. Gifts processed in this system are not tax deductible, but are predominately used to help meet the local financial requirements needed to receive national matching-grant funds.
Subscribe now to get breaking news alerts in your email inbox
Get breaking news delivered to your inbox as it happens.
---