Sports
Lincecum likely starter for Giants in Game 4
Tue., Oct. 16, 2012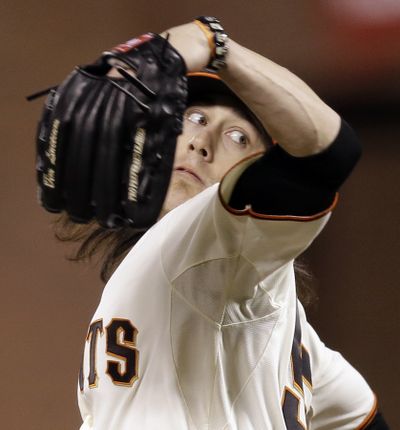 Tim Lincecum is set to start Game 4 of the N.L. championship series for the San Francisco Giants on Thursday, as long as he was not needed in relief for Monday night's Game 2.
Manager Bruce Bochy said before the game that Lincecum told him he felt fine to pitch again Monday after throwing two hitless innings in Sunday night's 6-4 Game 1 loss to the St. Louis Cardinals. But Bochy would prefer to stay away from him considering the struggles of lefty starters Madison Bumgarner and Barry Zito this postseason – as one of them would be needed for Game 5.
Bochy called it a "good possibility" Lincecum would get the ball for a start at Busch Stadium.
The two-time N.L. Cy Young Award winner has pitched in relief three times this postseason. He was demoted to the bullpen after posting a 10-15 record and N.L.-worst 5.18 ERA in the regular season, but has found his stride so far in the playoffs.
"If he starts, I'll be eager to see him the way he's throwing the ball," Bochy said. "We'll see how today's game goes. We'd like to have that option and have him for Game 4."
Lincecum pitched the 2010 Game 5 World Series clincher for the Giants at Texas as the franchise captured its first championship since moving West in 1958.
He has allowed one run and three hits in 8 1-3 innings this October, striking out nine and walking just one. After pitching two strong innings in San Francisco's Game 1 loss, Lincecum said his bullpen stint has helped his confidence.
"I just try to go in there and get outs when I'm asked to," he said. "That's pretty much my mindset."
With Bumgarner struggling in his first two starts this postseason — both at home where he has been so good — and Zito failing to make it out of the third inning in his one playoff start at Cincinnati, Bochy had little choice but to put Lincecum back in the rotation.
"I just want to help the team win," Lincecum said.
He'll manage
New York Yankees bench coach Tony Pena was in Boston on Monday, interviewing for the Red Sox managing job that opened when Bobby Valentine was recently fired.
The 55-year-old Pena was the 2003 A.L. Manager of the Year with Kansas City. He was honored after leading the Royals to a winning season, their only one since 1994.
A five-time All-Star and four-time Gold Glove catcher, Pena has ties to the Red Sox. He played for Boston from 1990-93 and his son, Tony Jr., spent the last two years pitching in Triple-A for the Red Sox.
Pena has been the Yankees' bench coach for four years, following three seasons as their first base coach.
"Tony is a good baseball guy, one of the guys that played in the game for almost 20 years," Yankees first baseman Mark Teixeira said Monday. "As soon as he got out of the game as a player, he went into it as a coach. He knows baseball from both sides, being a catcher, he is the ultimate field general."
"He has a lot of energy. He has thrown so much batting practice here, I think his arm has slowed down a little bit," he said. "I don't know how much BP he will be throwing if he is the manager. But other than that, you couldn't ask for a better baseball man."
Displeased Donald
First, it was the home fans booing while the Yankees dropped the first two games of the ALCS to Detroit. Now, Donald Trump is chiming in.
Trump called on star Alex Rodriguez to donate his contract to charity.
"He doesn't make the (at)yankees any money and he doesn't perform," Trump tweeted. "He is a $30M/yr rip off."
Rodriguez is 3 for 23 this year in the playoffs, but he wasn't the only Yankees player that Trump gave a hard time. Derek Jeter is out for the season after breaking his ankle in Game 1 of this series, and Trump needled him a bit for his real estate decisions.
Local journalism is essential.
Give directly to The Spokesman-Review's Northwest Passages community forums series -- which helps to offset the costs of several reporter and editor positions at the newspaper -- by using the easy options below. Gifts processed in this system are not tax deductible, but are predominately used to help meet the local financial requirements needed to receive national matching-grant funds.
Subscribe to the sports newsletter
Get the day's top sports headlines and breaking news delivered to your inbox by subscribing here.
---