News > Nation/World
Wyo abduction suspect's ex-wife 'proud' of victim
Tue., Oct. 16, 2012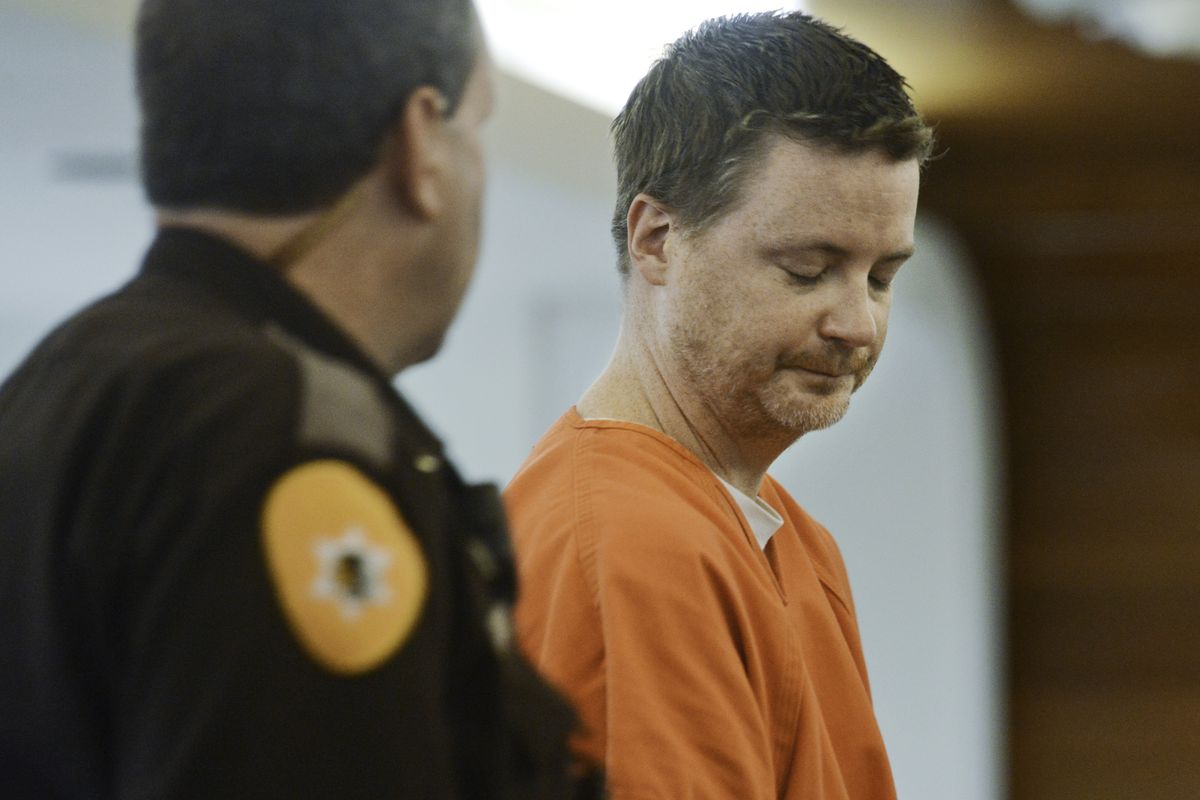 Jesse Speer, 39, of Manhattan, Mont., appears in Gallatin County District Court for his extradition hearing on Monday, Oct. 15, 2012, in Bozeman, Mont. Speer will be transferred to Wyoming for kidnapping charges. (Mike Greener / Bozeman Daily Chronicle)
HELENA, Mont. (AP) — The ex-wife of a Montana man charged with kidnapping and assaulting an 11-year-old Wyoming girl said Tuesday she is proud of the young victim for fighting her attacker and surviving.
Maleesha Kovnesky told The Associated Press the case has devastated her and her family, but she is proud of the girl who provided a description that led police to arrest her ex-husband, 39-year-old Jesse Speer.
"If my own daughter ever ended up in that situation, I hope she would be as brave and strong," Kovnesky said. "It goes beyond whether that was (Speer). I'm just proud of her for being a survivor."
Police said Speer forced the Cody girl into his SUV at gunpoint on Oct. 8 then assaulted and abandoned her outside of town. He was arrested Saturday in Belgrade, Mont., just 10 miles away from his Manhattan home, and is awaiting extradition to Wyoming.
The girl was found by hunters driving through the mountainous area.
Kovnesky, who lives in Whitehall, Mont., provided the first close look at Speer since his arrest. She described him as a talented nature photographer who is renowned in photography circles and has worked as a freelance graphic designer.
An introvert with few friends except fellow photographers, he is polite and seemed to be a normal person from a loving family, she said. His arrest was a shock that she said she never saw coming.
Speer grew up in Kansas and went to college at the University of Kansas. He loved going on family vacations to the West as a child, and Colorado was his favorite destination, Kovnesky said.
They got married in 2003 and lived in Colorado for about five years. He has family in Woodland Park and they also lived in Colorado Springs, she said.
Steve Gresley of Woodland Park said he and his wife rented a house to Speer for a few months in 2006. Gresley remembered him as a polite young man who was having marital problems.
Gresley agreed to let Speer out of his lease after Speer said his estranged wife had become pregnant and he thought he should move back in with her.
"He was a really nice guy, very soft-spoken, very responsible," Gresley said.
The couple moved to Montana in 2008 so Kovnesky could be close to her family in Butte. Speer picked the Bozeman area because of the scenery.
The couple separated in 2009 and divorced in 2010. Kovnesky said they had a lot of arguments, and divorced for different reasons that she declined to discuss, However, she said Speer was a good father to his children, now 7 and 4.
She said in a blog posting that they were cordial to each other after the divorce, but Speer just stopped talking to her a few months ago.
She wrote in her blog that she, her family and their friends hope the police have the wrong man "but afraid that they do not."
She told the AP there were just too many things in the police report that point back to her ex-husband, including the police sketch of the suspect, a photo of the vehicle, and description of his eyeglasses. Then there was the detail that the suspect's car had bottled water strapped to his roof.
"He's the only person in the universe who drives around with a 24-pack of bottled water" strapped to the car, she said.
Kovnesky has filed a restraining order against Speer in the event he is released, and she has asked for sole custody of their children.
"I think that something in him must have just snapped," she said. "At this point, I think he would have such a destroyed reputation and be angry enough that I want my children to be protected."
Park County Attorney Bryan Skoric, the prosecutor in Cody, said a court hearing has not yet been set in Wyoming. Transportation issues were being worked out between law enforcement authorities in Wyoming and Montana.
Cody Police Chief Perry Rockvam said Monday the investigation is ongoing, and additional charges are to be filed.
The victim told police she saw stacked photographs of naked young girls in the vehicle driven by her abductor, according to the charging documents.
___
Associated Press reporters Ben Neary in Cheyenne, Wyo., and Dan Elliott and Colleen Slevin in Denver contributed to this report.
Local journalism is essential.
Give directly to The Spokesman-Review's Northwest Passages community forums series -- which helps to offset the costs of several reporter and editor positions at the newspaper -- by using the easy options below. Gifts processed in this system are not tax deductible, but are predominately used to help meet the local financial requirements needed to receive national matching-grant funds.
Subscribe now to get breaking news alerts in your email inbox
Get breaking news delivered to your inbox as it happens.
---