A&E > Food
Flavors from the South sizzle at Casper Fry
Wed., Oct. 17, 2012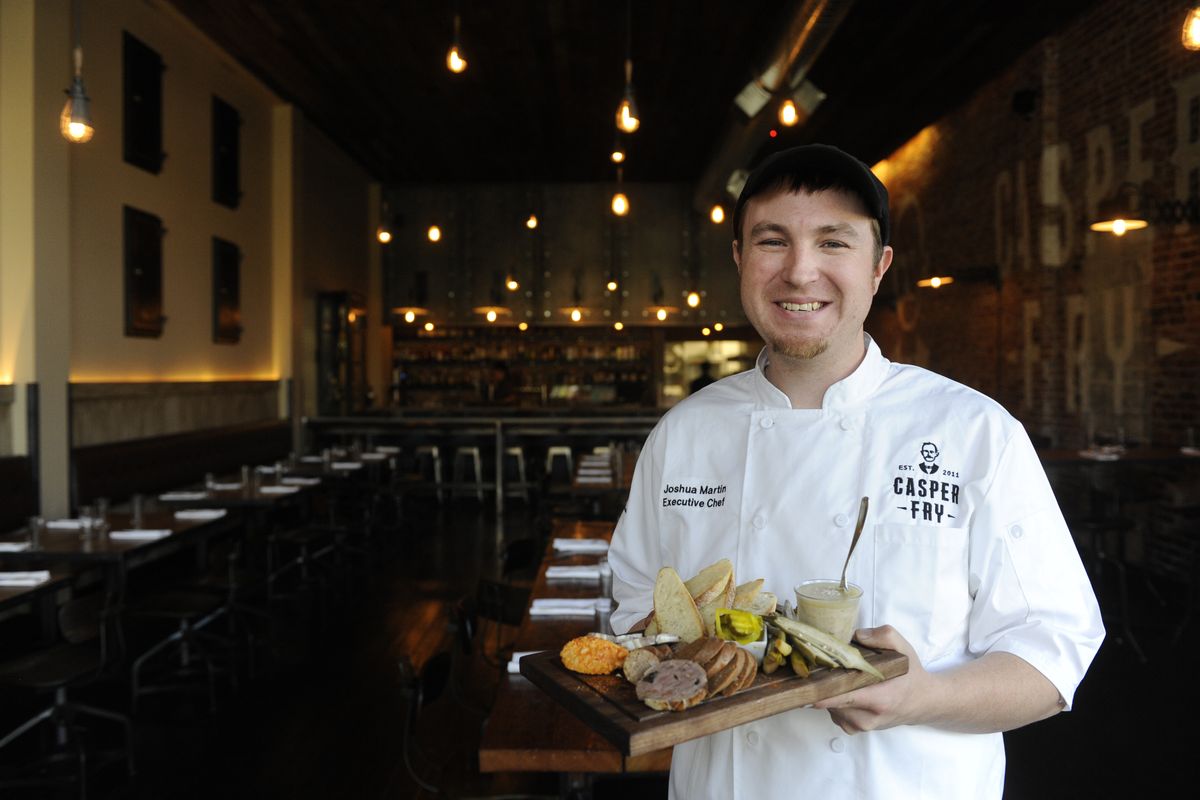 Casper Fry chef Joshua Martin shows off the Pantry Plate, a platter of sausages and pickled vegetables and condiments that are inspired by European cuisine. (Jesse Tinsley)
For a true taste of the South, you don't have to go any farther than South Perry.
Since June, Casper Fry has been serving up the likes of grits, greens, gumbo and more on the lower South Hill.
The restaurant is the brainchild of Deb Green, owner of Madeleine's Café and Patisserie in downtown Spokane; her son, Ben Poffenroth, who serves as general manager; and daughter Megan VanStone. It's named after Green's great-grandfather, a Southern gentleman who was once a minister in the neighborhood.
In the spacious, high-ceilinged dining room, all done up in recycled barn wood and industrial metal, Fry's likeness looks down on the proceedings from both a 1920s-vintage photo on the south wall, and a large rendering of the restaurant's logo on the brick north wall.
Overseeing things in a more literal sense is chef Joshua Martin, formerly of Madeleine's, whose parents hail from Missouri and Arkansas.
Through the kitchen door, you can get a glimpse of the heart of his operation: a high-performance Josper oven, fired by a combination of oak lump charcoal and apple/alder wood chips, that grills, smokes and broils to temperatures approaching 1,000 degrees.
The various sausages it turns out are featured in the Pantry Plate appetizer (dinner, $16 for two, $21 for three or more; lunch, $11). During a recent visit, the perfectly serviceable andouille was eclipsed by a delightfully spicy Italian sausage, full of fennel.
Regional tradition was restored by the accompaniments: piquant pickled vegetables, pâte-like pork rillette and an item that brought a smile to the native Southerner in our group – pimento cheese, a standard spread in the South. Martin's version is made with pickled local peppers, shredded cheddar and fontina, cream cheese and a dash of smoked paprika.
And it doesn't get much more Southern than Jama's Fried Chicken ($17), named for Martin's mother and fashioned after her typical Sunday dinners. The chicken – soaked in a spiced brine for a day or two, then pan-fried with a spicy-sweet breading and finished in the oven – is pleasantly moist, as are the accompanying cheddar-chive biscuits.
The plentiful pool of sausage-studded country gravy was a bit thick for dipping, but stood as a guilty indulgence in its own right. The real treat was the surprisingly flavorful braised greens, with bacon accents and a sweet-and-sour vibe from brown sugar and cider vinegar.
Southern generosity is on full display when it comes to portion sizes. It helps to have hands like a wide receiver if you plan on actually picking up any of the sandwiches on the menu, and the ribeye steak ($25), at upwards of 12 ounces, appears poised to swallow its plate.
Though cooked closer to medium than the requested medium-rare, the ribeye was tender and tasty, thanks in part to a coating of Creole butter. And again, a seemingly unassuming side drew raves: parsnip mash, its natural sweetness bolstered by braising in heavy cream and pureeing with some potato for texture.
A citrus-brined pork chop ($19), which replaces the previous blackened chop for the fall menu, was deeply smoked from its journey through the Josper. It's doused with red-eye gravy and paired with a rather clean interpretation of dirty rice, flavored with house-made Tasso ham instead of the traditional chicken liver.
For more authentic, adventurous tastes, pork belly ($14) shares a plate with spicy hollandaise, barbecue sauce, a maple cider reduction, greens and a poached egg.
The Tasso also makes an appearance in the Low Country Shrimp & Grits ($15), with plump, perfectly cooked, wild-caught Gulf shrimp nestled atop cheddary grits (Red Mule, straight from Georgia, for you cornmeal connoisseurs).
Those shrimp are put to even better use in a superb po'boy sandwich ($11), their fried crispness offset by a sweet chili aioli sauce that upstages the typical remoulade. The companion garlic fries are nicely firm, but flaky inside.
The pulled pork sandwich ($11), topped with crunchy slaw inside a chewy house bun, could perhaps benefit from a bit more of the sweet barbecue sauce. There's also an Altamont burger ($11) with roasted garlic, smoked onion and some of that pimento cheese.
You can custom-tailor a lunch or dinner with the Casper Plate ($14), your choice of three out of a dozen side dishes. Along with the grits, greens, sausage and slaw, those include creamy, béchamel-based macaroni and cheese; a vegan version of red beans and rice (also available as a lunch entrée) that should please the meat-averse, though purists might miss the pork underpinnings; a rich, roux-based, moderately spicy gumbo; and an earthy, crusty cornbread cooked with bacon fat, buttermilk and just enough brown sugar that it could almost pass for dessert.
The actual desserts we sampled – a tall, lightly bourbon-spiked pecan pie ($6); an aromatic gingersnap peach pie that's closer to a crisp ($5); and a distinctive caramel "pie" with banana slices over a peanut butter base in a small jar ($4.50) – were satisfying without coming across as overly rich or sweet.
For liquid refreshment, there's a concise but well-selected wine and beer list (10 taps), along with an assortment of classic cocktails.
Thursday brings specials featuring finds from that day's South Perry Farmers Market. And a recently added Sunday brunch menu offers such temptations as fried chicken with waffles, and a chorizo scramble.
We'll be back for that. The South calls, and we will rise again.
Rick Bonino is a Spokane-based freelance writer. He also writes a monthly column on beer for The Spokesman-Review's Food section. It appears the second Wednesday of each month. He can be reached at boninobeer@comcast.net.
Local journalism is essential.
Give directly to The Spokesman-Review's Northwest Passages community forums series -- which helps to offset the costs of several reporter and editor positions at the newspaper -- by using the easy options below. Gifts processed in this system are not tax deductible, but are predominately used to help meet the local financial requirements needed to receive national matching-grant funds.
Subscribe to the Spokane7 email newsletter
Get the day's top entertainment headlines delivered to your inbox every morning.
---