News > Nation/World
No suspects yet in Denver bar homicide-arson
Wed., Oct. 17, 2012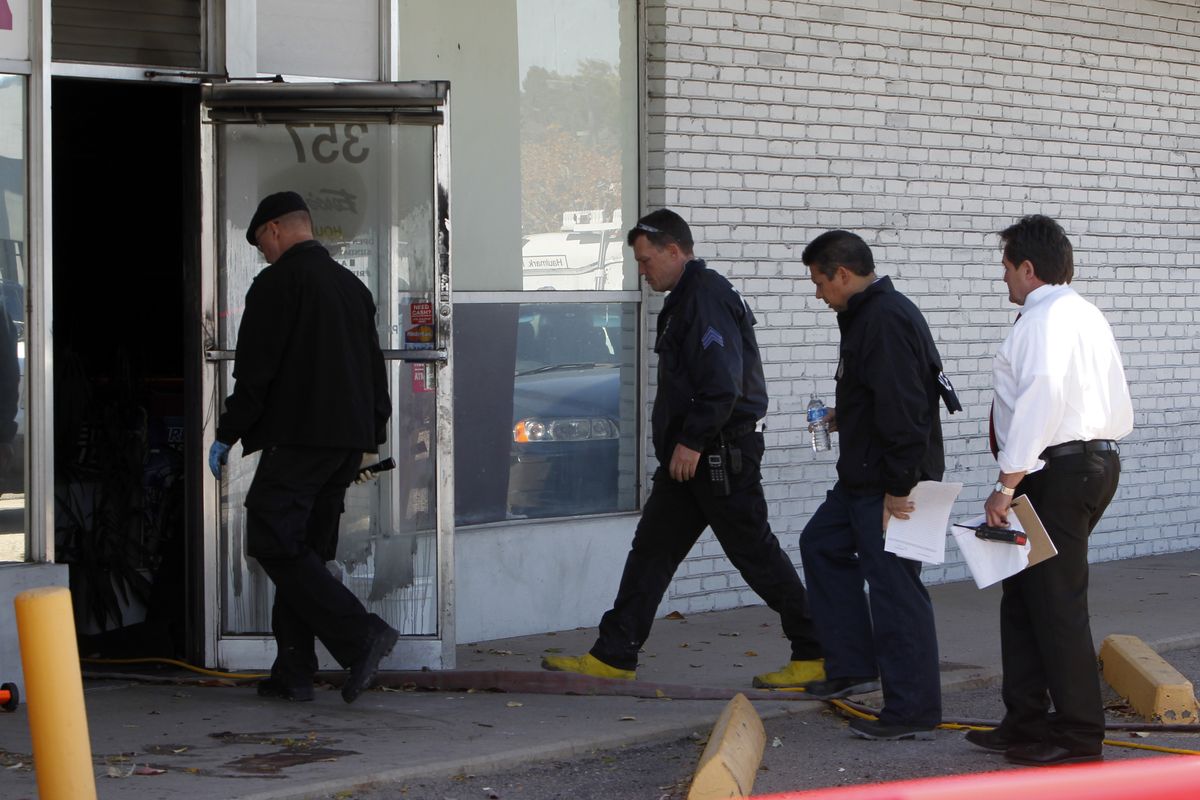 Police investigators walk into Fero's Bar and Grill in Denver on Wednesday, Oct. 17, 2012, where the bodies of a man and four woman were discovered after firefighters extinguished a fire at the bar early Wednesday morning. Police think the blaze was set to cover up their slayings. (Ed Andrieski / Associated Press)
DENVER (AP) — Denver police don't have any suspects in the slayings of five people whose bodies were found at a neighborhood bar after a fire broke out early Wednesday, including one of the bar owners. Investigators believe they were killed before the fire and the blaze was set to cover up the slayings.
The fire at Fero's Bar & Grill was spotted just before 2 a.m., closing time for bars, by a police officer on patrol. Firefighters found four women and one man dead inside.
The Denver medical examiner said the victims included 63-year-old Young Fero, of the Denver suburb of Aurora. State records identify her as one of the bar's owners.
The other victims were Daria M. Pohl, 22, Kellene Fallon, 45, Ross Richter, 29, and Tereasa Beesley, 45. Pohl, Fallon and Beesley were from Denver. Richter's hometown wasn't released.
Police chief Robert White said there's nothing to indicate a murder-suicide, meaning whoever is responsible is still at large. He said he was hopeful the killings were an "isolated act" but couldn't say for sure yet.
"It's very alarming and that's why it's so important that we investigate it to the fullest," White said, as investigators continued their work inside the bar about 12 hours after the fire was reported.
The bar was extensively damaged, but there wasn't much damage visible from the outside, he said.
Red stains that appeared to be blood were visible on the sidewalk in front of the bar. Some of the stains were in trails on the sidewalk and others appeared to have been where blood had pooled.
The officer who reported the fire said he heard screams, but investigators said they likely came from bystanders outside.
"Based on the severity of the injuries, we don't think they came from inside," fire department spokesman Lt. Phil Champagne said.
The bar is located in a strip mall about five miles south of downtown Denver just beyond the upscale Cherry Creek North shopping district. The bar attracted both regulars and people staying in nearby hotels, but neighbors said it didn't seem busy most days. It's wedged in among a check-cashing store, a tennis shop, a nail salon and a car repair shop in the strip mall on one of the city's busiest streets, Colorado Boulevard.
Frequent patron Chris Brady said Young Fero, known for cooking up beef bowls at a moment's notice, usually would close the bar herself, and she bid him goodnight Tuesday as he paid his tab.
"She said, "Thank you, sweetie, have a good night,'" Brady said. "I said, 'You too.'"
A sign on Young Fero's door read, "Day sleeper, please don't ring the doorbell! Thank you." It was signed "The sleeper."
Neighbor Mike Spinale described Fero as "really nice."
"She didn't speak much, but I know she owned a bar and she worked all the time," Spinale said. "She told me she did everything herself."
Danny Fero, who said he was Young Fero's ex-husband, said he went to the scene Wednesday and talked with police, but he wasn't asked to identify any of the bodies. He said he did not know who might have been at the bar Wednesday morning.
"She always worked late and closed the bar," he said.
Danny Fero said he talked with his ex-wife about a month ago regarding a visit with their daughter, but his ex-wife made no mention of any threats. He said he was shocked by the events at the bar he once co-owned with her.
"I wanted to make myself available to police as soon as possible," Danny Fero said, adding police asked him not to discuss other details of the case.
Brady said the customers ranged from "semi-homeless-looking people" to patrons in suits and ties.
He was at the bar for a regular poker game held Tuesdays and won $25 cash before leaving about 11 p.m.
"There was nobody random or crazy in there," Brady said.
Jerry Richardson, who maintained an ATM at the bar, described Young Fero as "feisty."
"When she wanted that machine fixed, she would tell you about it," Richardson said.
Business seemed to go on as usual in the surrounding area as police investigated the slayings. People walked their dogs and customers visited a nearby vitamin shop. Aziz Dashti, a University of Denver student from Kuwait, was worried.
"I've never felt this insecure about being in my place," said Dashti, who was awakened by a friend in Kuwait who heard the news and messaged him.
The five dead are believed to be the only ones in the bar when the fire started — other than the suspect or suspects — so police are asking anyone else who was at the place earlier to come forward, as investigators try to piece together what happened.
Autopsies were expected to be completed later in the day.
Frank Peluso, who works in an office building a half block away, said he used to eat lunch at the bar but hasn't been there in three years. It seemed to be declining and the owners have tried various things to attract more business, including offering karaoke, he said.
"It's one of those places that you wonder how it stays in business," Peluso said.
Resident Matthew Neam said you can't see into the bar because the front windows are frosted. He said he and his friend used to joke about what might be inside.
"I've never gone in there. It always looked kind of sketchy to me," Neam said.
___
Associated Press researcher Rhonda Shafner in New York contributed to this report.
Local journalism is essential.
Give directly to The Spokesman-Review's Northwest Passages community forums series -- which helps to offset the costs of several reporter and editor positions at the newspaper -- by using the easy options below. Gifts processed in this system are not tax deductible, but are predominately used to help meet the local financial requirements needed to receive national matching-grant funds.
Subscribe now to get breaking news alerts in your email inbox
Get breaking news delivered to your inbox as it happens.
---