Sports
North Central's Hoffman does it all on football field
Wed., Oct. 17, 2012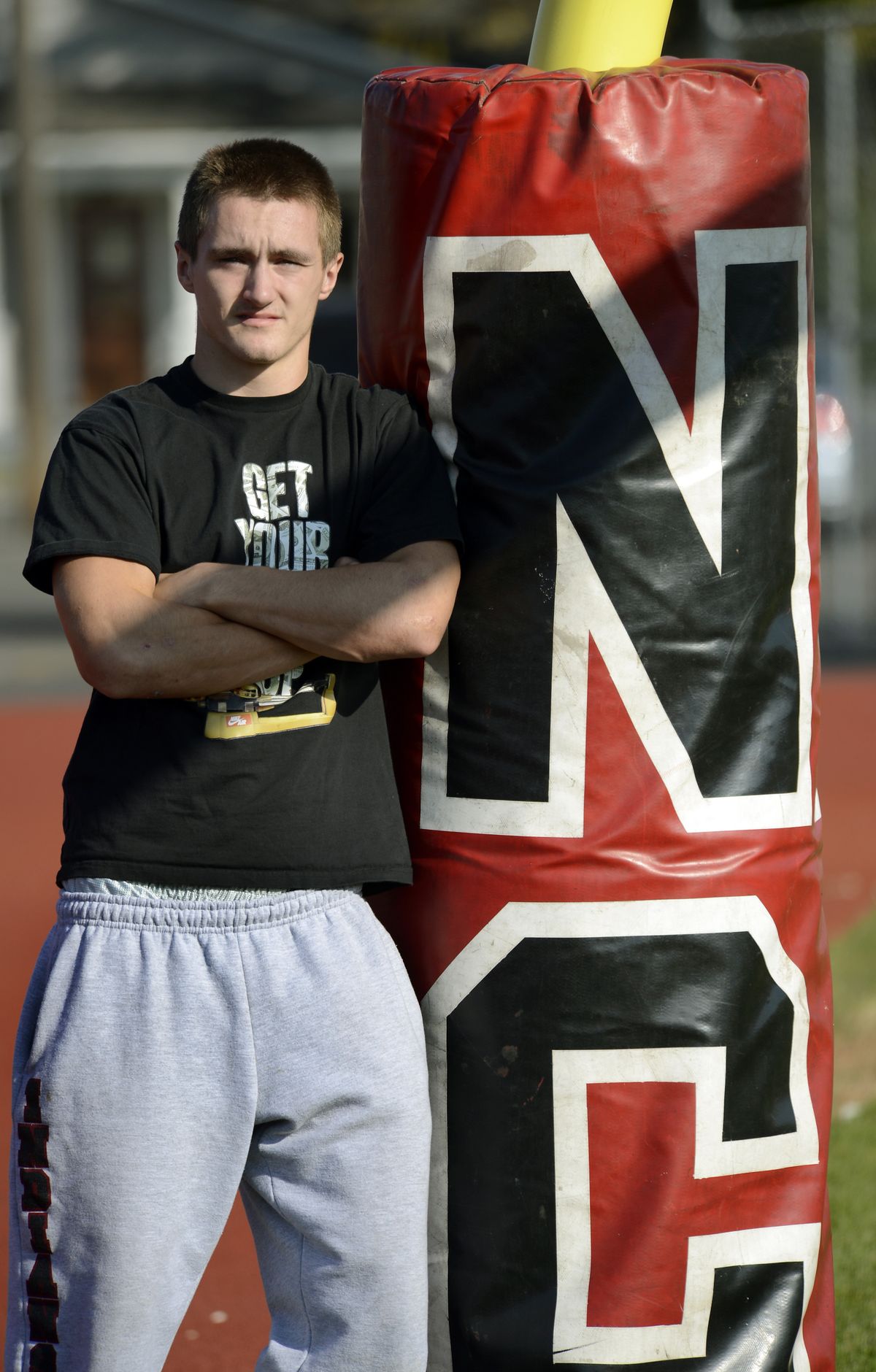 Jake Hoffman is North Central High School's do-everything GSL standout. (Dan Pelle)
"Loyal" is one of the first words to come to mind when talking   about North Central's do-everything football standout Jake Hoffman.
Hoffman lived two streets from Shadle Park when he had to decide which high school to attend. He chose North Central because friends off his Pop Warner team were headed there.
After his freshman year, he had multiple options when he moved with his father to Diamond Lake near Newport. He could have attended Newport, Deer Park, Riverside, Lakeside, Mead, Mt. Spokane or Shadle.
Instead of transferring, the 6-foot, 170-pound Hoffman stayed with his friends at NC.
For the last three years, Hoffman has made the 50-minute drive from home to school. Why did Hoffman stay at NC
when he had ample opportunity to go elsewhere?
"We went 8-1 my freshman year and all my buddies were here," Hoffman said. "I'm not the type of guy who leaves when he sees something better elsewhere. I mean, it crossed my mind, especially when I saw guys who had played on my freshman team quit one by one. I just felt like it was on me to finish out my commitment. I don't want people to think I was stuck at NC."
He's one of the best all-purpose athletes in the Greater Spokane League this fall. At least the coaches saw it that way last year when he was named first team under that title. And there's no evidence to the contrary this season.
Hoffman led the GSL in receiving as a sophomore with 51 catches for 679 yards. Last year, he rushed for 788 and passed for 1,448. This season, he has 11 catches for 166, rushed 99 times for 452 and completed 77 of 153 attempts for 885. His career numbers are 63 receptions for 885 yards, 1,249 rushing and 2,333 passing.
He ranks fifth all time in receptions for a season and continues to climb the all-time list for career total offense. He could move up a spot or two the final two weeks of the regular season.
"He's got every tool in the box that he needs to be an outstanding football player," NC coach Brian Gardner said. "Some college recruiters talk about wanting him to be 2 inches taller. Some colleges are going to miss out if they're basing their recruiting of him on height. I can't wait to see what he does in college."
While the victories have been few and far between during Hoffman's three years on varsity, he's quick to point out it hasn't been a horrible experience.
"I've learned so much from it," he said. "You learn a lot more being on a losing team than on a winning team. I think it's helped me be a way better captain and become a better leader. At the beginning of my junior year I was a terrible captain and a terrible leader."
NC (1-6) has been much more competitive this season, but the Indians' postseason hopes were thwarted Friday in a 34-9 loss to Shadle Park.
Don't expect Hoffman to just play out the string.
"I'm more frustrated about our record than what I'm doing individually," Hoffman said. "We killed ourselves against Central Valley and Ferris. We lost because we made mistakes. And we're ahead by two touchdowns against Mt. Spokane and lost. We're a better team this year. We've competed better. You just wouldn't know it looking at our record."
GSL coaches are excited that Hoffman will finally graduate. After a recent game, a defensive coordinator told Hoffman he'd have fewer headaches next year with him out of the league.
"He's an exceptional athlete," Ferris coach Jim Sharkey said. "If you go back to his junior year, he was making all sorts of plays all over the field. He was long snapping (on punts) and going down and making tackles. He got pounded a lot because of the hits he would take throughout a game. What I didn't realize about him was his speed. He can really run and that's why he'll be able to play at the next level."
Hoffman wants to be a wide receiver in college. It's the position he would have preferred at NC, but out of necessity – especially this year – he's had to play at quarterback and wide receiver. He starts at inside linebacker on defense and punts instead of long snaps this year.
He took an unofficial visit to Eastern Washington University two weeks ago when the Eagles thumped North Dakota. EWU is recruiting him at receiver. Hoffman will also compete in track again next spring. He was the District 8 3A champ in the 400 meters last year. He'll do the short sprints as well as run a leg on a relay.
Hoffman has enjoyed running since an early age. His mom was a Fit for Bloomsday coach when he was in elementary school. From kindergarten through third grade he ran 5 miles a week. He increased that to 15 miles in fourth grade. He won all his elementary races.
From birth through sixth grade, Hoffman lived on Rowan Avenue near Joe Albi Stadium.
During the football season he attended games often. He knew he'd be playing there someday.
"I remember I'd beg my stepdad to play catch with me every day," Hoffman said. "I wanted to play in the NFL for as long as I can remember."
That dream hasn't diminished.
His versatility at NC speaks for itself. Gardner believes he could play any position and flourish – even on the offensive and defensive lines.
"How many kids do you know in the league that can play any position?" Gardner asked. Looking back, Hoffman is at peace with how his career has played out at NC.
"I wouldn't change anything now," he said. "Everything at NC has made me stronger. When we lose, it gets to me for a couple of hours after a game.
"But by Monday, when we're back to practice, I don't think about last week because I can't do anything about it. You start thinking about the next opponent."
Local journalism is essential.
Give directly to The Spokesman-Review's Northwest Passages community forums series -- which helps to offset the costs of several reporter and editor positions at the newspaper -- by using the easy options below. Gifts processed in this system are not tax deductible, but are predominately used to help meet the local financial requirements needed to receive national matching-grant funds.
Subscribe to the sports newsletter
Get the day's top sports headlines and breaking news delivered to your inbox by subscribing here.
---