News > Obituaries
Obituary: Krebs, Rosemary I.
Age 85
Wed., Oct. 17, 2012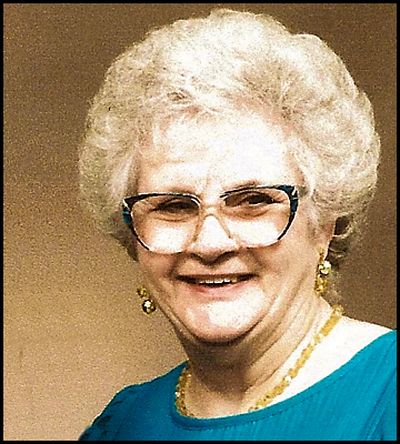 KREBS,

Rosemary I.

(Age 85)

Passed away September 26, 2012.
Rosemary was born in Park River N.D. on March 13, 1927 to Arthur and Audrey Brett.
Rosemary moved to Spokane in 1945 where she met and married Henry Krebs on June 16, 1946.
They were married for 61 years until Hank's death in 2007.
Rosemary sang with the Sweet Adelines in her youth and was known for her great sense of fun and her generosity to family and friends.
Rosemary was especially known as a doting "Nana" to her grandchildren and great grandchildren and was a special aunt to numerous nieces and nephews.
As one of Jehovah's Witnesses since 1964, Rosemary enjoyed sharing the Bible's message with others, especially teaching others about God's kingdom and the coming paradise on earth that she longed to be a part of.
Rosemary will be greatly missed by both family and friends.
Rosemary was preceded in death by her beloved husband, Henry; her sisters, Margaret Seim and Janice Costanzo; and brother, Robert Brett.
Rosemary is survived by her children and their spouses, Larry and LaVonda Krebs, Kevin and Brenda Krebs, Connie and Samm Butler; grandchildren, Brandon Krebs, Felice Echard, Joshua Krebs, Justin Krebs, Jordan Krebs, Chase Butler and Kayla Krebs; and great grandchildren, Dayjia and Kiera Krebs.
Rosemary is also survived by six brothers, Doug, Glen, John, Jerry, Dwight and Richard Brett; and a sister, Joline Board.
A Celebration of Life will be held October 20 at 1:00pm at Heritage Funeral Home.
A Memorial will follow at 4:00pm at Opportunity Kingdom Hall, 1802 N. Raymond.
In lieu of flowers, please donate to the charity of your choice.
Local journalism is essential.
Give directly to The Spokesman-Review's Northwest Passages community forums series -- which helps to offset the costs of several reporter and editor positions at the newspaper -- by using the easy options below. Gifts processed in this system are not tax deductible, but are predominately used to help meet the local financial requirements needed to receive national matching-grant funds.
Subscribe now to get breaking news alerts in your email inbox
Get breaking news delivered to your inbox as it happens.
---