News > Obituaries
Obituary: Rodes, Hazel F.
Age 102
Wed., Oct. 17, 2012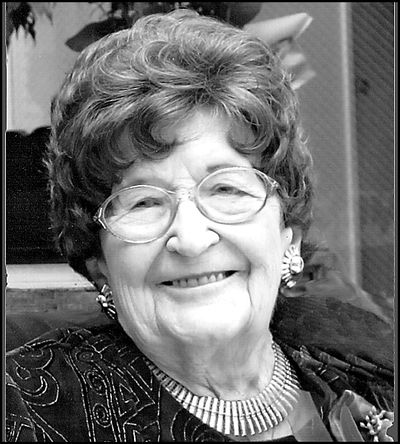 RODES,

Hazel F.
(Baker)
(Age 102)

Passed away October 13, 2012 in Spokane, WA.
She was born February 26, 1910 in Colbert, WA the youngest of 10 children.
Hazel grew up and helped her parents, Elizabetta M. (Capella) and Louis Francis Baker, on the family farm.
She graduated from Mead Union High School in 1928, where she was the senior class Vice-President and Salutatorian as well as the student who selected the "blue and gold" colors still used there today.
She married Ellis Rodes in 1932 and he later passed away in 1948.
Hazel worked for the Spokanite Cleaners on Garland for over 21 years, walking the five miles round trip there and back every day.
In 1992, she moved to Fairwood Retirement Village where she has lived since.
She was a skilled gardener with a reputation for glorious flowers and an impeccable yard.
Hazel also enjoyed pinochle, reading novels and was an avid fan of Gonzaga basketball.
She is survived by numerous nieces and nephews.
Visitation will be held Thursday, October 18, 2012 from 12 Noon until 5 PM at the funeral home.
A Funeral Mass will take place Friday, October 19, 2012 at 11 AM at St. Francis of Assisi Catholic Church with Entombment to follow at Holy Cross Cemetery.
Please visit Hazel's on-line memorial at www.hennesseyfuneralhomes.com Arrangements entrusted to:
Local journalism is essential.
Give directly to The Spokesman-Review's Northwest Passages community forums series -- which helps to offset the costs of several reporter and editor positions at the newspaper -- by using the easy options below. Gifts processed in this system are not tax deductible, but are predominately used to help meet the local financial requirements needed to receive national matching-grant funds.
Subscribe now to get breaking news alerts in your email inbox
Get breaking news delivered to your inbox as it happens.
---