Sports
Browns begin Banner days
Thu., Oct. 18, 2012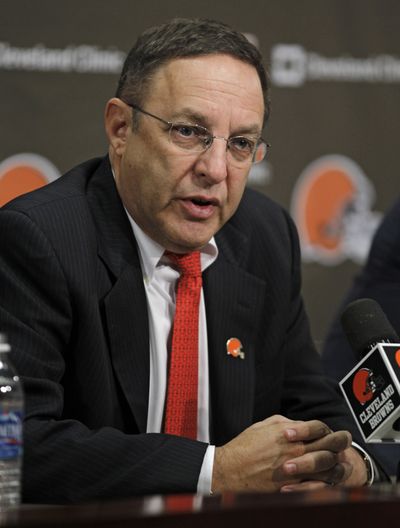 Joe Banner didn't want to make any promises or predictions. It's not his nature.
But just as he helped transform the Philadelphia Eagles into consistent winners, the new CEO of the Cleveland Browns has a plan to fix a franchise trapped inside a vortex of failure. He just hopes it doesn't take five years.
"I'll be in a straitjacket if it takes that long," Banner joked.
The Browns ushered in a new administration as Banner was introduced by new owner Jimmy Haslam III on Tuesday.
Banner spent 19 years with the Eagles, spending the final 12 seasons as team president. During his time in Philadelphia, the Eagles went to the playoffs 11 times, won six NFC East titles, advanced to five NFC title games and one Super Bowl. The 59-year-old knows that other than losing, the only constant in Cleveland over the past decade has been change.
"I don't want to be the next person to make a bunch of promises," he said. "I want to go out, do the work and let them see the result."
Banner won't officially begin handling the Browns' day-to-day operations until Oct. 25, when Haslam's acquisition of the team from Randy Lerner will be finalized. By then, the Browns (1-5) will have played seven games and both Haslam and Banner will have a better sense of the work ahead.
After Banner first met with Haslam, he knew he had found something worth pursuing. The Browns had everything he wanted: a franchise with untapped potential, a passionate owner and fervent fan base.
Banner's arrival signals the end of Mike Holmgren's tenure as Browns president and could lead to a further shake-up in Cleveland's front office. Holmgren is expected to stay on until the end of this season, his third with the club, and then retire.
While Holmgren's future is known, the prospects for Browns coach Pat Shurmur and general manager Tom Heckert are uncertain.
League disputes lawsuit claims
The NFL is again urging a federal judge to avoid interfering in Commissioner Roger Goodell's efforts to discipline four players for the Saints' cash-for-hits bounty pool.
In a response Wednesday to papers the players filed earlier this week, the NFL says its collective bargaining agreement with the players' union gives Goodell the power to handle discipline involving conduct detrimental to football "at his discretion."
U.S. District Judge Ginger Berrigan is considering the players' request to overturn varying suspensions and to appoint a "neutral arbitrator" to handle any discipline in the matter.
Quick kicks
Jake Locker has practiced for the first time since dislocating his left, non-throwing shoulder and the Titans' believe the quarterback is on target to return when Tennessee hosts Indianapolis on Oct. 28. … The Baltimore Ravens placed Ray Lewis on injured reserve with the "designated to return" tag. … Chiefs GM Scott Pioli says he has made mistakes, but he is not concerned about his job status despite a 1-5 start by the team in his fourth season in charge.
Local journalism is essential.
Give directly to The Spokesman-Review's Northwest Passages community forums series -- which helps to offset the costs of several reporter and editor positions at the newspaper -- by using the easy options below. Gifts processed in this system are not tax deductible, but are predominately used to help meet the local financial requirements needed to receive national matching-grant funds.
Subscribe to the sports newsletter
Get the day's top sports headlines and breaking news delivered to your inbox by subscribing here.
---