News > Health
Mead treehouse pays tribute to sister's vitality
Backyard feature includes zip line, bridge
Thu., Oct. 18, 2012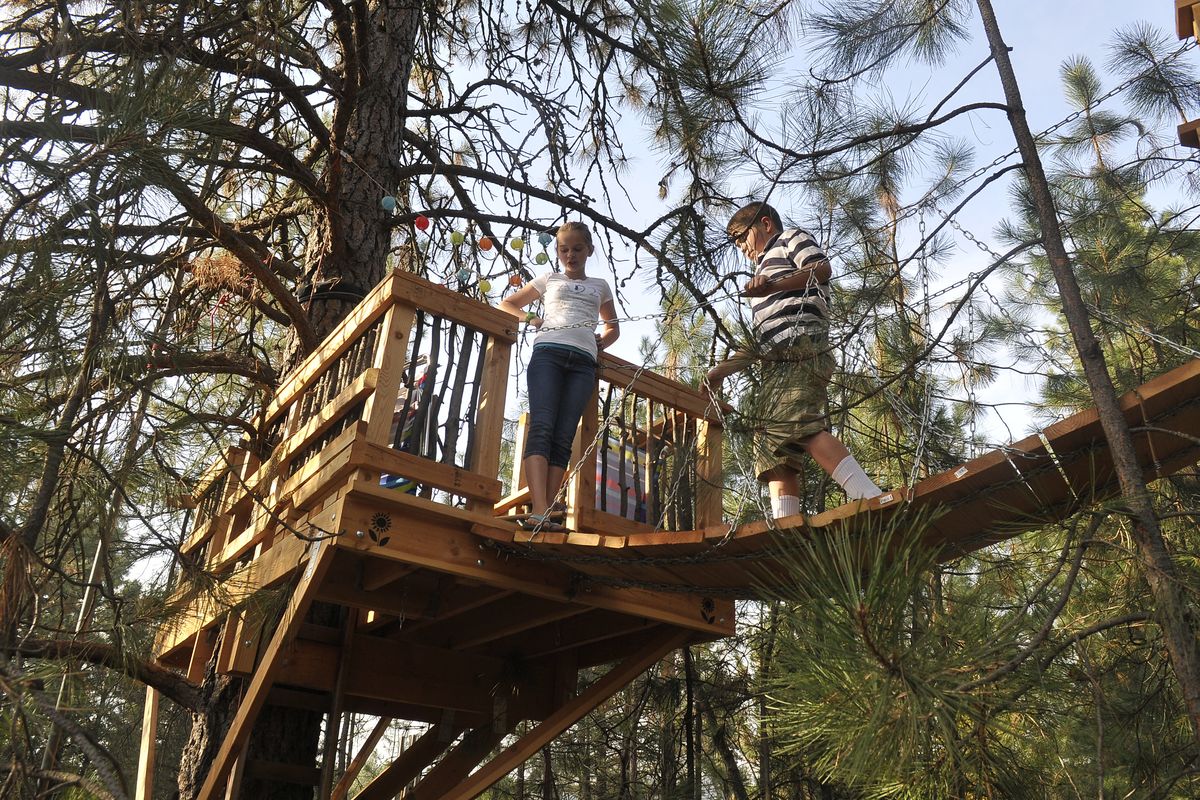 Emma, 12, and Calen Wiechert, 9, stand in their treehouse at their home in Mead.
Stretching between two towering pines, the treehouse seems like something out of "The Swiss Family Robinson." It's a place where imagination and adventure can thrive, but it's also something more – a memorial to a vibrant woman who died much too young.
Brendan Wiechert always wanted to build a treehouse for his children Emma, 12, and Calen, 9. "I had an idyllic childhood," he said. "We lived in a neighborhood with 12 kids and we'd play hide-and-seek, four-square, football."
His younger sister, Megan, was usually part of their outdoor adventures. "I called her 'Meech,' " he said.
Megan Alden died in December at age 40 after battling ocular melanoma for three years. She left behind a husband, two young daughters, and a host of family and friends who miss her brilliant smile and abundant energy.
Wiechert recalled going to visit her in Houston, where she was undergoing treatment. "She'd lost her hair," he said, rubbing his own thinning pate. He smiled. "She looked in the mirror and said, 'I look like Brendan!' "
He didn't want his children to forget their "Auntie Meech," so in May he started work on the treehouse in his Mead backyard. His wife, Debbie Wiechert, said, "He designed it himself. Building it was very therapeutic for him."
On a recent autumn afternoon, Emma and Calen showed off the many special features of their treehouse, including a trapdoor, zip line and fire pole exit. A plaque affixed to the base tree reads, "This treehouse is dedicated to Megan "Meech" Alden, whose enthusiasm and joy in new adventures opened a door to the wonders of this world. May this place perpetuate her spirit, inspire our imaginations, and make us laugh."
Wiechert explained that while he hopes his children will think about their aunt here, "I didn't want it to be like going to the cemetery."
Children or skinny adults can scamper up wooden rungs and enter the treehouse via trapdoor, but a sturdy wooden ladder propped against one of the trees offers access for bigger "kids."
A suspension bridge connects two platforms. Each of the 17 planks forming the bridge features a stenciled quote. Calen pointed to his favorite. "God is love. Love is God." He grinned. "I said that."
Other quotes include snippets from poems, books, movies and Scripture. Wiechert made sure he featured a line from his favorite comic strip, "Calvin and Hobbes." "It's a magical world, Hobbes, ol' buddy … let's go exploring."
A cozy hammock chair suspended from a sturdy branch hangs on one platform, while the other features a wooden gate, the trapdoor, and a bucket on a rope and pulley used to haul supplies. Chinese lanterns add a festive feel to the piney perch.
The 100-foot-long zip line offers a speedy exit as does the fire pole. The family christened the treehouse "Wickaniksu." Wiechert explained, "My nickname is 'Wick' and the Kaniksu is a national forest. We've camped on its islands, canoed its lakes, and skied its mountains."
He likes to sit in the treehouse as the sun starts to set. There he can remember Alden while watching his children create their own adventures. "I love the bridge," he said. "That's what the treehouse is for me – a connection to the past and a bridge to the future."
Local journalism is essential.
Give directly to The Spokesman-Review's Northwest Passages community forums series -- which helps to offset the costs of several reporter and editor positions at the newspaper -- by using the easy options below. Gifts processed in this system are not tax deductible, but are predominately used to help meet the local financial requirements needed to receive national matching-grant funds.
Subscribe now to get breaking news alerts in your email inbox
Get breaking news delivered to your inbox as it happens.
---