News > Nation/World
Nun who worked on Molokai to be canonized
Mother Marianne helped care for leprosy patients
Thu., Oct. 18, 2012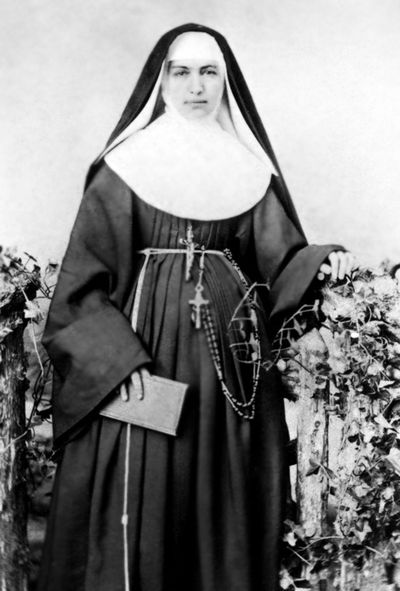 HONOLULU – In life, Mother Marianne Cope was known for her strength and kindness, battling bureaucrats in Hawaii as she led a group of fellow Franciscan nuns to care for leprosy patients in the islands.
And since her death 100 years ago, she has been credited with helping cure two people.
On Sunday, Mother Marianne will be declared a saint, with the Vatican formally recognizing what her supporters have long believed in their hearts: She is in heaven and that through her intercession two people were miraculously cured of ailments that should have killed them.
At the ceremony presided over by Pope Benedict XVI, the church will also canonize six others, including Kateri Tekakwitha, a 17th-century Mohawk Indian who spent most of her life in what is now upstate New York.
The event comes nearly a century after Mother Marianne's 1918 death at Kalaupapa, an isolated peninsula on Molokai Island where Hawaii governments forcibly exiled leprosy patients for decades.
Mother Marianne heard the call to come to Hawaii from New York state in 1883 when she was 45. She was the only religious leader in the U.S. and Europe – of 50 asked – who agreed to a request by Hawaii's king and queen to come to the islands to help leprosy patients.
At the time, there was widespread fear of the disfiguring disease, which can cause skin lesions, mangled fingers and toes and lead to blindness.
The Hawaiian kingdom began exiling patients to Kalaupapa in 1866 to control the disease, a policy that remained in place until a century later even though new drugs in the 1940s made it curable.
Mother Marianne is being canonized after the church determined that through her intercession, two people were miraculously cured.
Teenager Kate Mahoney's medically inexplicable recovery from multiple organ failure in 1993 paved the way for her beatification in 2005. Sharon Smith's successful 2005 fight against an infection that tore a hole between her intestines and stomach was the miracle needed for her to be canonized.
They were cured after friends and family prayed to Mother Marianne. In Smith's case, a sister pinned a bag of soil containing some of Mother Marianne's bone fragments to her hospital gown.
Two-hundred fifty pilgrims from Hawaii are traveling to Rome for the ceremony, among them nine Kalaupapa patients. Although cured, a dozen people still live at the peninsula, all older than 70.
It will be the second trip to Rome in three years for Hawaii pilgrims. Many made a similar trip in 2009 for the canonization of Saint Damien, a Belgian priest who moved to Kalaupapa to care for leprosy patients in 1873 and who died of the disease 16 years later.
Local journalism is essential.
Give directly to The Spokesman-Review's Northwest Passages community forums series -- which helps to offset the costs of several reporter and editor positions at the newspaper -- by using the easy options below. Gifts processed in this system are not tax deductible, but are predominately used to help meet the local financial requirements needed to receive national matching-grant funds.
Subscribe now to get breaking news alerts in your email inbox
Get breaking news delivered to your inbox as it happens.
---