Sports
Seahawks refuse to hype early-season showdown with 49ers
Thu., Oct. 18, 2012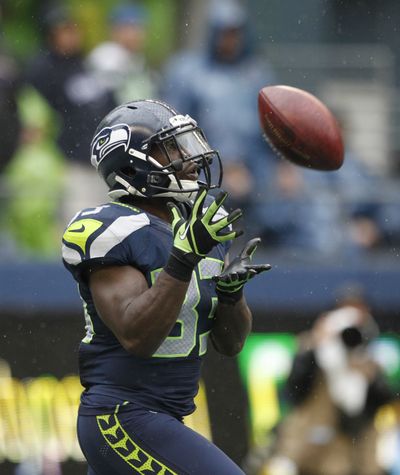 RENTON, Wash. – When the Seattle Seahawks and San Francisco 49ers face off tonight, all the ingredients are in place for a big, big game.
In a nationally televised game, two teams that are in a first-place tie with 4-2 records will meet in primetime. One team is the defending division champ, and the other the young up-and-comer that thinks it is ready to take over NFC West supremacy. Both play similar styles of physical, defensive-oriented football, yet have coaches whose personalities could not be more different, and who also happen to have a rivalry that goes back to their days as Pac-10 rivals. If the Seahawks were going to send a message that they are a force to be reckoned with, it would be tonight when they face San Francisco, a team that beat them twice last season on its way to a runaway division title.
So just how big is this game?
"Every game has felt like a championship game to me, and we try to approach them with that mentality," Seahawks coach Pete Carroll said. "Last week was huge and the week before."
Well sure, of course a coach is going to try to downplay the significance of one game out of 16, but surely the players are looking at it differently, right?
"Every game is championship game," running back Leon Washington said. "Last week when we played New England, that was a championship game, when we played the Carolina Panthers, same thing. So we're not adding any extra hype to it."
The veteran players know not to hype up any one game, but perhaps the youngsters must be fired up.
"We know it's a big game, but we treat every game like it's a real big game," said second-year linebacker K.J. Wright. "It's a division game, that's something we know we need and it's Thursday Night Football, but we're not going to blow it out of proportion, we're going to treat it just like we do every Sunday."
Even if the Seahawks refuse to treat this as anything but the next game on their schedule, that doesn't mean the game still doesn't carry some serious weight. Seattle is off to a 0-2 start in the division, and with San Francisco looking every bit like a contender again, and with Arizona and St. Louis improving, the Seahawks can't count on making the playoffs if they don't start asserting themselves in those divisional games. 
"When you're trying to set yourself up to be where you want to be at the end of the season, those division games really come into play," cornerback Marcus Trufant said. And even if players can't say it, a win tonight can set the tone for the rest of this season. Before the 49ers could go from six-win team in 2010 to one of the biggest surprises in the NFL last season, they had to get their first win out of the way. That win happened to come in their season opener against Seattle when the 49ers blew open a close game with a big fourth-quarter, showing a team playing for a new coach that it could in fact win a close game, something it rarely did the year before. Buoyed in part by that opening win, the 49ers would go on to a 13-3 season that nobody saw coming.
"It really set the tone because it shows the kind of football team we have and the character we have around here," tight end Vernon Davis said on a conference call. "Not only did it do that, but it showed what we could do in stressful situations. We made mistakes in the opener and we were able to bounce back and continue to play ball and win the game. We had it in us, we just had to go out and do it consistently."
The Seahawks are starting to discover the same thing this season – that even in a game that doesn't go to plan, they can fight back and win. A year after falling short repeatedly in late-game situations, the Seahawks have won three of their five games that have gone down to the wire this season, including last week's stunning comeback against the Patriots. Coming through again against last year's division champs would not just put the Seahawks in first place, it would help further boost the confidence of a young team that is still trying to learn how to be a consistent winner.
"Last year, especially early in the season coming off of the lockout, we didn't know how to win," fullback Michael Robinson said. "We're still learning how to win, but as you can see with these close games that we've been able to pull out this year, guys are starting to believe in the philosophy, believe in themselves and holding each other accountable, and that's what you want playing at this level."
Chancellor set to play
Strong safety Kam Chancellor is set to play for the Seahawks against San Francisco despite an ankle injury that limited him in practice this week.
Seahawks coach Pete Carroll said after practice on Wednesday that Chancellor would be able to go against the 49ers tonight. Chancellor suffered a minor elbow injury against New England, but it was a sore ankle that limited him during the first two days of Seattle's shortened practice week.
Chancellor is tied for the team lead with 43 total tackles through six games.
Reserve defensive back Byron Maxwell will be doubtful with a nagging hamstring injury. Maxwell has mostly contributed on special teams. Offensive lineman John Moffitt (knee) was ruled out for the game earlier in the week.
Local journalism is essential.
Give directly to The Spokesman-Review's Northwest Passages community forums series -- which helps to offset the costs of several reporter and editor positions at the newspaper -- by using the easy options below. Gifts processed in this system are not tax deductible, but are predominately used to help meet the local financial requirements needed to receive national matching-grant funds.
Subscribe to the sports newsletter
Get the day's top sports headlines and breaking news delivered to your inbox by subscribing here.
---