Sports
Substitute Carpenter gives jolt to St. Louis
Thu., Oct. 18, 2012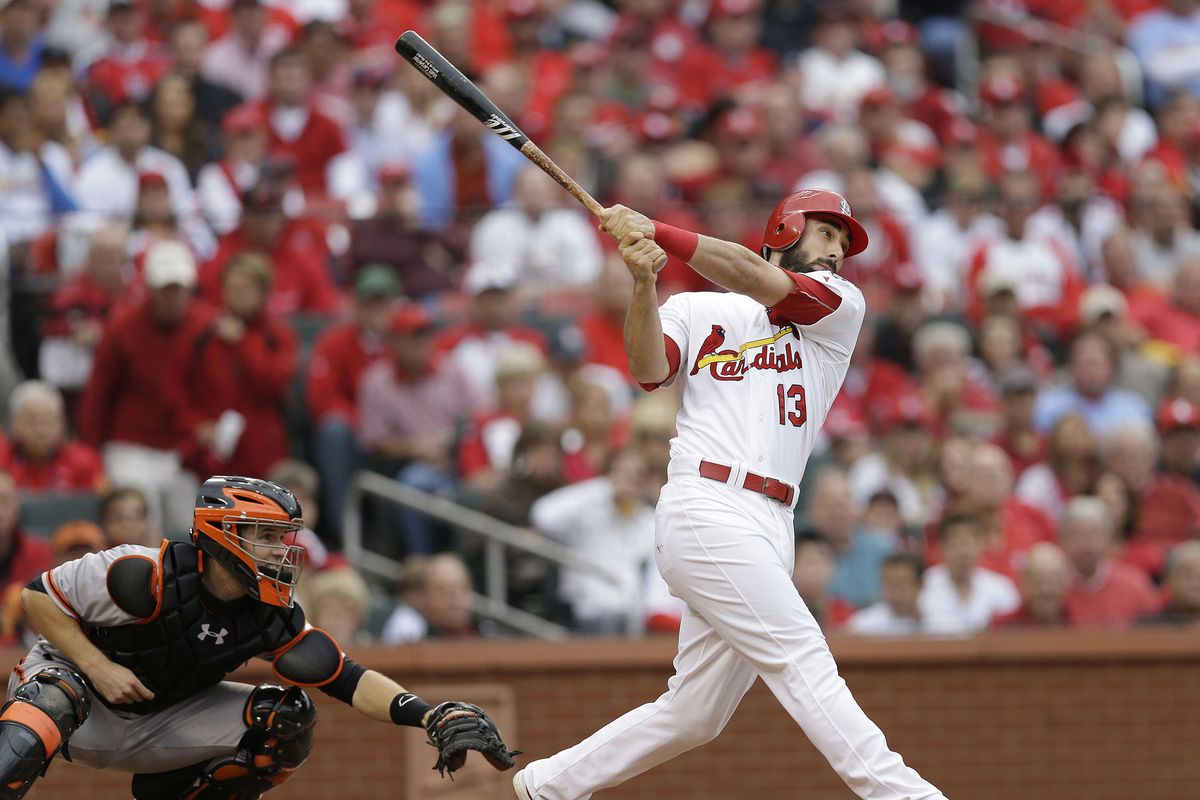 Cardinals OF Matt Carpenter watches the ball as he hits a two-run home run during the third inning that gave the Cards the lead for good. (Associated Press)
ST. LOUIS – Matt Carpenter always tries to stay ready, keeping an assortment of gloves nearby. That's his job.
The St. Louis Cardinals' utilityman took on a new role in Game 3 of the N.L. championship series: game-changer.
Carpenter hit a two-run homer after subbing for Carlos Beltran and the Cardinals chased Matt Cain before a 31/2-hour rain delay in the seventh inning of a 3-1 victory over the San Francisco Giants on Wednesday night for a 2-1 series lead.
"It was definitely a surprise," Carpenter said. "I didn't even realize Carlos had hurt himself, there was really no thought process.
"I was in the game before I had time to think about it," he said.
Beltran strained his left knee running out a double-play ball in the first inning and the Cardinals said he was day to day.
Cain was ahead 0-2 in the count with two outs and Carpenter worked it back to 2-2 before jumping on a hanging slider in his first at-bat of the NLCS.
"I try to grind out those at-bats and fight," Carpenter said. "I was in my two-strike mode and I got the pitch. You don't expect things like that to happen."
The drive soared over the Cardinals bullpen in right field and was estimated at 421 feet.
"It was bad pitch. I was trying to go slider in and I didn't get it in there like I should have," Cain said. "I made a bad pitch and it cost us."
Kyle Lohse worked around a season-worst five walks in 5 2/3 innings. Mitchell Boggs struck out Hunter Pence and Brandon Belt with two on to end the seventh. Jason Motte earned the first two-inning save of his career to reward what remained of a sellout crowd of 45,850 that stuck around.
"They said if we didn't score I was going to go out there. I was in the clubhouse running around, I've never really had to sit around like that," Motte said. "It was probably the most nervous I've ever been."
Cain lost for the second time this postseason, giving up three runs on five hits in 6 1/3 innings. The Giants, who entered the game batting just .217 in the postseason, were 0 for 7 with runners in scoring position.
Pence, the Giants' fifth-place hitter, also grounded into a double play with runners on first and third in the third and grounded into a force play with a man on to end the fifth.
"I'm the goat tonight," Pence said. "I just didn't the job done."
Umpires called for the tarpaulin right after the Cardinals made it 3-1 on a run-scoring single by Shane Robinson and Cain was lifted.
It was the third game delayed by rain this postseason and a fourth, Game 4 of the Yankees-Tigers ALCS, was postponed later Wednesday night. Two games between the Yankees and Orioles in Baltimore began late because of inclement weather.
The rain intensified less than 10 minutes after the field was covered, chasing most fans who had remained in their seats to that point. Spotters for the National Weather Service reported 60 mph winds in nearby St. Charles County.
The Cardinals snapped the Giants' five-game road winning streak in the postseason, three of them this year. Game 4 is in St. Louis on Thursday night, with Adam Wainwright pitching for the Cardinals. Tim Lincecum will start for the Giants.
"He's a guy we want out there. He's been throwing the ball well," Bochy said. "We've got to bounce back."
Bochy said lefty Barry Zito will pitch Game 5 against Lance Lynn, leaving lefty Madison Bumgarner out of the mix for now.
"I think we feel that it's time to give Madison a little break," Bochy said.
Notes
The Cardinals are 9-2 in Game 3 of the NLCS, the lone losses coming in 2004 and '05 at Houston. … The Cardinals have played in eight best-of-7 series in which they were tied 1-1 and played Game 3 at home, and have won all of them. They won six of the previous seven series, according to STATS LLC
Local journalism is essential.
Give directly to The Spokesman-Review's Northwest Passages community forums series -- which helps to offset the costs of several reporter and editor positions at the newspaper -- by using the easy options below. Gifts processed in this system are not tax deductible, but are predominately used to help meet the local financial requirements needed to receive national matching-grant funds.
Subscribe to the sports newsletter
Get the day's top sports headlines and breaking news delivered to your inbox by subscribing here.
---