News > Nation/World
Texas cheerleaders' banners get state help
Perry: Biblical verses protected speech
Thu., Oct. 18, 2012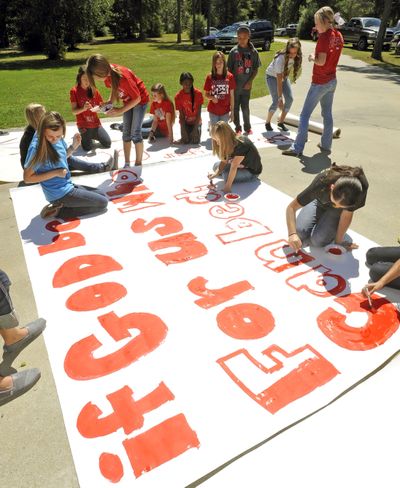 HOUSTON – Texas Gov. Rick Perry and Attorney General Greg Abbott announced Wednesday that the state has intervened in a lawsuit in support of East Texas cheerleaders whose religious banners featuring Scripture verses have been banned by school officials.
"As government leaders, we owe it to people of all religions to protect expressions of faith, to ensure everyone has the right to voice their opinions and worship as they see fit," Perry said Wednesday during a briefing in Austin with Abbott. "During the upcoming session, we'll continue to find ways to preserve religious expression and explore ways to protect people of faith from this ongoing onslaught."
Abbott was more blunt in his assessment:
"After receiving a menacing letter from an organization with a reputation for bullying school districts, the Kountze (school superintendent) improperly prohibited high school cheerleaders from including religious messages on their game day banners."
One of the cheerleaders' mothers said she was encouraged to see state officials support them in court.
"I think that's awesome, that they're on board with the girls and helping them fight for their rights," said Coti Matthews, 31, who sued the district to keep the banners on behalf of her 15 year-old daughter, cheerleader Macy Matthews. "If everybody backs down, Christians would be backed into a corner and discriminated against."
The legal battle over the banners – the "run through" or "breakaway" type that football players burst through onto the field – began last month in Kountze, a small town about 85 miles northeast of Houston.
Someone complained about the banners – which feature verses such as "I can do all things through Christ which strengthens me!" – to the Freedom From Religion Foundation based in Madison, Wis. The organization contacted the Kountze school superintendent, who consulted attorneys and on their advice banned the banners on Sept. 18.
In response, Matthews and the parents of 14 other cheerleaders sued the school district in Hardin County District Court.
Advocates for the cheerleaders petitioned Perry and Abbott, who wrote a letter of support.
Represented by attorneys from the conservative Liberty Institute in Plano, Texas, the cheerleaders argued that the district was censoring them. District lawyers said the signs amounted to government endorsement of religion.
Judge Steve Thomas issued a temporary restraining order the day the cheerleaders filed suit. This has allowed the girls to tote their banners to a few more games.
The restraining order expires today, when the cheerleaders are due back in Thomas' court seeking an injunction that would allow them to keep using their banners as the case progresses.
Abbott noted at the briefing that he had filed a petition with Hardin County to intervene on the case on behalf of the state to protect the cheerleaders' religious liberties.
Local journalism is essential.
Give directly to The Spokesman-Review's Northwest Passages community forums series -- which helps to offset the costs of several reporter and editor positions at the newspaper -- by using the easy options below. Gifts processed in this system are not tax deductible, but are predominately used to help meet the local financial requirements needed to receive national matching-grant funds.
Subscribe now to get breaking news alerts in your email inbox
Get breaking news delivered to your inbox as it happens.
---