News > Spokane
Officer took gun safety class before daughter shot herself
Records show O'Connell's three-week suspension was his 'last chance'
Sun., Oct. 21, 2012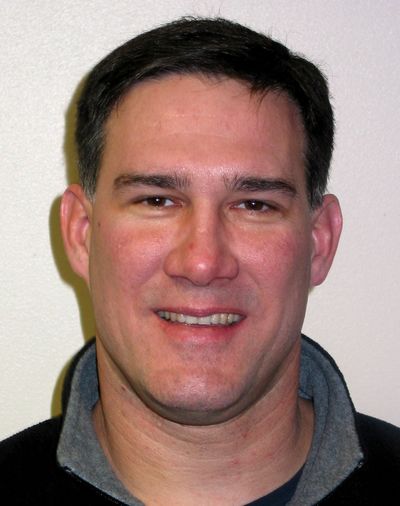 Two weeks before Spokane police Officer Barry O'Connell's daughter accidently shot herself Easter Sunday with her father's department-issued pistol, O'Connell had completed a gun safety refresher course stressing the importance of properly securing firearms – especially around children.
Documents obtained by The Spokesman-Review provide new details surrounding the near tragedy, including concerns from a departmental gun safety instructor who described O'Connell as having a nonchalant attitude about the importance of proper handling of loaded firearms. The documents also reveal, for the first time, that another child was endangered but unharmed during the incident.
Police officials suspended the 18-year veteran for three weeks without pay this summer for carelessly leaving his loaded police firearm atop his bedroom nightstand, where his daughter found it and shot herself in the leg. It was the 16th time O'Connell has faced internal investigation, and the decision to let him return to the force after his suspension was described as a "last chance."
Assistant Police Chief Scott Stephens, who was interim chief at the time, declined an interview request, referring a reporter to the documents. Officer O'Connell also declined a request to be interviewed.
The accidental shooting came just 16 days after police Sgt. Matthew Cowles singled out O'Connell in the presence of other officers for mishandling his firearm during a mandatory safety course. The course had been ordered by the department following several incidents in Western Washington in which children were shot after finding their parents' guns.
"I reiterated that we have a special responsibility to our own children and need to keep our firearms stored safely," Cowles wrote in a report that was included in the shooting investigation. "I made special note that we don't want any of our children hurt and we don't want to be the next news story."
Cowles wrote that he pulled O'Connell aside and spoke to him after Cowles watched O'Connell flip his gun out of his holster without looking where it was pointed.
"He looked at me with a blank expression and said, 'Well, I am confident in my gun handling,' " Cowles wrote. "I told him bluntly, 'Barry, obviously you weren't listening. On the range you will handle weapons safely and follow instructions.' I was less than impressed by his nonchalance attitude while attending training."
O'Connell's daughter – who was 10 at the time – picked up his loaded .40-caliber Glock pistol in her parents' bedroom, where, O'Connell told investigators, he had left it to remind himself to clean it. Before shooting herself in the leg, she had pointed it at another third-grader who was in the room with her.
Police officials didn't disclose the April 8 shooting for three days and never discussed the second girl in the bedroom. That girl said O'Connell's daughter picked up the gun and began pointing it at various things, "pretending," records state.
The second girl became scared when she saw the daughter putting her finger on the trigger and left the bedroom.
Upon hearing the shot, O'Connell raced up his staircase, grabbed his bleeding daughter and instructed a family friend, Pat Higley, to drive as fast as needed to Providence Sacred Heart Medical Center. Once doctors began working on the girl, O'Connell called 911 and reported that his daughter has been shot with his duty weapon.
When investigators searched the room, they found two more loaded pistols left unsecured on a closet shelf.
The daughter suffered a broken leg and possible nerve damage but was released from the hospital within days. Three weeks later, Deputy Spokane County Prosecutor Brian O'Brien declined to charge O'Connell with a crime.
O'Brien wrote that O'Connell "accidentally" left the gun on the night stand, despite the officer admitting that he placed the loaded gun there to remind himself to clean it.
"By all study and legal review, this is an accidental shooting," O'Brien wrote. "It may rise to the level of negligence, but does not constitute chargeable criminal conduct under these facts."
However, an internal investigation found O'Connell "negligent" and in violation of several policies.
"Officer O'Connell, I very much appreciate your honesty and contriteness, and particularly your willingness to share your experience in training officers on the consequences of failing to secure firearms," Stephens, the interim police chief, wrote in July. "It is for these reasons that I am retaining your employment and not imposing an even more severe suspension.
"I must inform you, however, that this is your last chance to retain employment with the City of Spokane. You have been employed at the City of Spokane since 1993 and it is inexcusable that you are continuing to have issues such as this … all of which included use of poor judgment and decision making."
Police officials suspended O'Connell without pay for 80 hours in 2010 for "conduct unbecoming" of an officer and insubordination. The department also suspended him 40 hours in 2009 for "improper conduct" after he was accused of sexual harassment.
O'Connell also has been involved in six vehicle crashes, of which officials determined four were preventable.
The officer, who was paid $78,000 last year, was asked during the investigation what he would do if he could push a "redo" button. O'Connell said he wouldn't have taken his service weapon home – something he said he's only done about a dozen times in 18 years.
"You have no idea what it's like to carry (your daughter) in your arms bleeding out on your chest," O'Connell said in the report. "There's not a minute that goes by where I don't second guess myself."
During the criminal and internal probes, records do not reflect any time where O'Connell was asked why he didn't unload the weapon if his intention was to clean it. However, the department's Administrative Review Panel noted that quandary in its findings.
"A prudent person using common sense would likely unload the firearm prior to leaving it unsecured on top of a dresser in a home where children are present," the report stated. "Unloading the gun is necessary prior to cleaning so it would seem that unloading the gun would be a reasonable step prior to leaving it lying out.
"The outcome of this incident was a terrible injury to a child that was wholly avoidable."
Local journalism is essential.
Give directly to The Spokesman-Review's Northwest Passages community forums series -- which helps to offset the costs of several reporter and editor positions at the newspaper -- by using the easy options below. Gifts processed in this system are not tax deductible, but are predominately used to help meet the local financial requirements needed to receive national matching-grant funds.
Subscribe now to get breaking news alerts in your email inbox
Get breaking news delivered to your inbox as it happens.
---