Sports
Blanchette: Akey made most of no-win situation
Mon., Oct. 22, 2012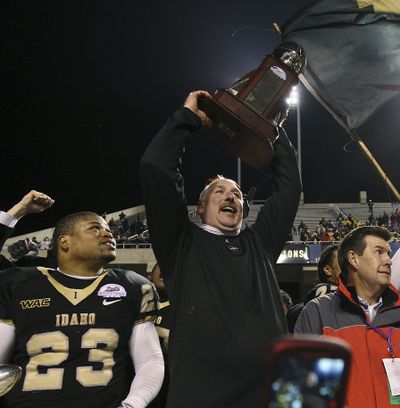 Here's a bet: Robb Akey comes down to the breakfast table this morning, looks at a family trying to hide its heartbreak and booms out the question he asks every room he enters:
"HOW WE ALL DOIN'?"
If only a life lived in capital letters could have repeated the "W" more often.
Those rooms where Akey bowed the walls with his relentless spirit did not go concave with the air being sucked out in surprise when the University of Idaho sent out a feeble email notice Sunday afternoon that he'd been fired as head football coach. His record – 20-50 – was leaden. His relationship with athletic director Rob Spear was fractious. The support of Idaho's constituency was indifferent.
Oh, wait. That last part's true no matter who happens to be the coach.
If there was so much as a hair arched in any eyebrow, it was over the deal going down in the run-up to Halloween, midseason firings being fairly rare in college football and unprecedented at Idaho. It was tempting to attribute it to Spear going overboard on a theme – you know, having announced Idaho's course as a football independent one day, he decided to make his coach an independent the next.
But, frankly, the Vandals' utter lack of competitiveness in three of their last four outings signaled surrender – and even if it was a matter of being overmatched instead, well, that's Akey's department, too.
Still, if Spear doesn't have a "permanent" replacement hired within 72 hours of the final gun Nov. 24 to hit the recruiting galaxy at warp speed, this quick trigger was pointless grandstanding.
Unless it was to gratify someone's bloodlust.
Men make enemies and Robb Akey surely has made a few if only by sticking up for things he believed. But his first instinct is always to win you over with enthusiasm and elan, and not Machiavellian hauteur. That could be absorbed even by the fan 20 rows up who's never met Akey just by watching his flying chest bumps on the sideline after goal-line stands. It was genuine, something that couldn't be kept under cork. Robb Akey was resolutely for Idaho, and not as a business decision.
That didn't stop anyone from second-guessing his third-down play calls, but maybe it kept the cussing to a minimum.
Fact is, the gassing of the good guy is becoming an epidemic in Palouse football. Do you need more jackass in you to succeed nowadays?
As the Vandals' fourth coach in five years when he was hired, Akey had to hose down a considerable mess in behavioral and academic matters, re-channel loyalties, try to establish a team identity – and, yes, learn how to be a head coach. He's out of a job because the bulk of his successes were behind the scenes – especially in the raw, personal moments like the tragic slaying of receiver Ken McRoyal and what must have been countless hours of being a shoulder for one distraught teammate after another.
The obvious high point was the rather magical run in 2009 (and at Idaho, even magic only buys you 8-5). The Vandals got a lot of bounces that year and made use of them all, and in the Humanitarian Bowl craziness against Bowling Green, Akey boldly dialed up a few more.
That was his indelible moment, pointing into the TV camera at halftime and telling the audience, "Watch the second half – you're going to love it."
Only there was no second half to love in his Idaho tenure. The Vandals slipped back to magic-less reality in 2010, and soon off the face of the earth.
It is tempting to say he was submarined by Idaho's fallow resources and support, the damnable greedstakes going on in college football and Idaho's most recent survival debacle. But no one sold him planter of posies to get him to take the job. Whatever recruiting gains there were to be made with the bowl bounce never happened. The soon-to-be-dead Western Athletic Conference has never been weaker, and the Vandals are further from title contention than ever.
That has nothing to do with no-future independence, or hollers to go back to the Big Sky Conference.
Who Idaho hires next has everything to do with it, and we'll be eager to see what sort of adventurers think they can carry all that baggage. In the interim, Spear has tossed the keys to assistant and one-time Washington State quarterback Jason Gesser, a bright, ambitious prospect who was a high school coach about 10 minutes ago. How that's a good thing for the players was something that didn't get answered in the school press release.
But maybe a new voice will help. Not that those players will ever forget the old one.
| | | |
| --- | --- | --- |
| | | |
| Year | | W-L |
| 2007 | Idaho | 1-11 |
| 2008 | Idaho | 2-10 |
| 2009 | Idaho | 8-5 |
| 2010 | Idaho | 6-7 |
| 2011 | Idaho | 2-10 |
| 2012 | Idaho | 1-7 |
| Total | | 20-50 |
Local journalism is essential.
Give directly to The Spokesman-Review's Northwest Passages community forums series -- which helps to offset the costs of several reporter and editor positions at the newspaper -- by using the easy options below. Gifts processed in this system are not tax deductible, but are predominately used to help meet the local financial requirements needed to receive national matching-grant funds.
Subscribe to the sports newsletter
Get the day's top sports headlines and breaking news delivered to your inbox by subscribing here.
---
Subscribe and log in to the Spokesman-Review to read and comment on this story