News > Nation/World
2 toddlers, mother found dead in California home
Wed., Oct. 24, 2012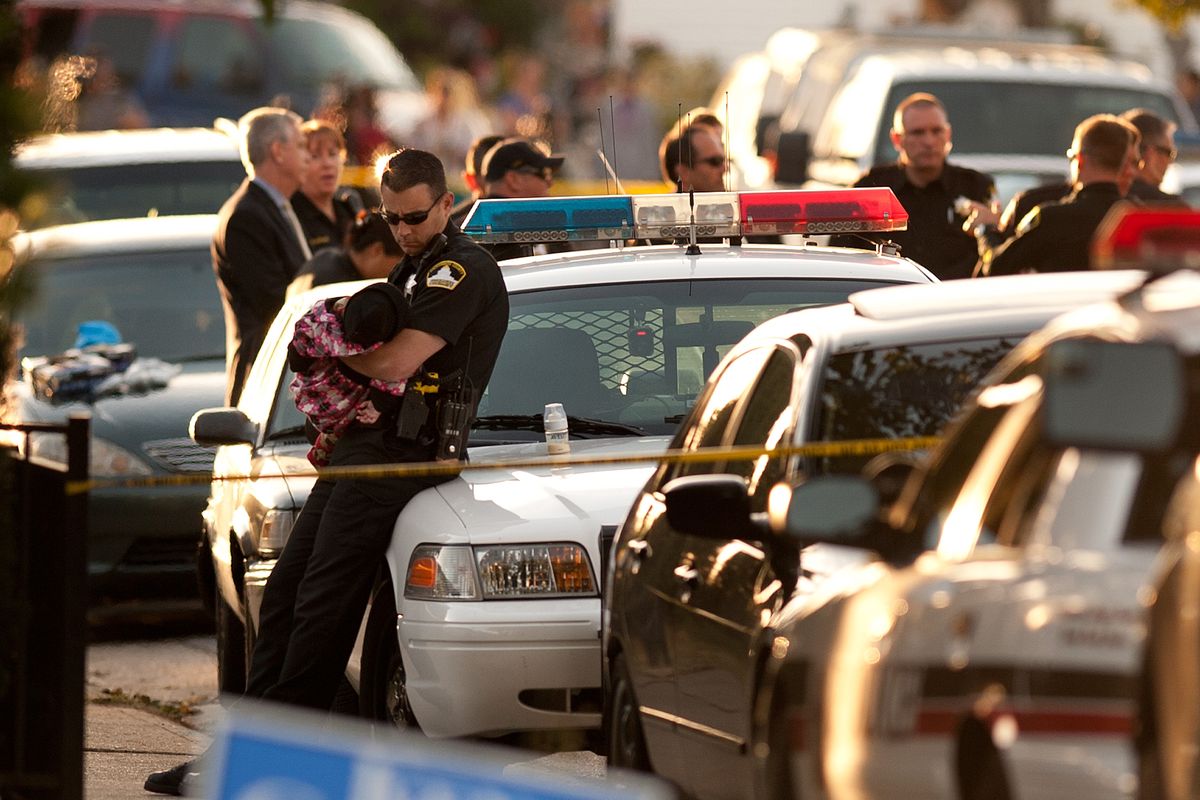 Rancho Cordova Sheriff officer holds a child that was unharmed in the triple homicide on De Soto Way in Rancho Cordova, Calif., on Tuesday afternoon, Oct. 23, 2012. Sacramento County Sheriff's Department officials confirmed that three bodies were found, that of a woman, described as being in her 20s, and her two young children - a girl, 3, and a boy, 2 - dead in one room. A 6-month-old infant was found crying but unharmed in another room. (Jose Villegas / The Sacramento Bee)
SACRAMENTO, Calif. (AP) — A woman and her two toddler children were found dead in a violent and horrific scene that authorities said has shocked even veteran law enforcement.
The children, a 2-year-old boy and 3-year-old girl, and their mother, who was in her 20s, suffered "a lot of trauma," Sacramento County Sheriff's office spokesman Sgt. Jason Ramos said.
Ramos said officers were not yet revealing how they died, but said: "This is somebody who confronted a family inside their homes and took their lives very violently. It's shocking, even to veteran law enforcement."
The bodies were found Tuesday afternoon by the children's father when he returned to the home in Rancho Cordova, about 15 miles east of Sacramento. The man ran to a neighbor, who called police.
Ramos said officers found the "extremely distraught" man sitting in front of the house when they arrived. A 6 month-old infant was found crying inside a crib in the back of the house, authorities said.
The man has not been identified, though authorities said the family is of eastern European descent. Officers detained the father and the neighbor for questioning, though they have not been identified as suspects.
Authorities are canvassing the neighborhood and asking the public for help looking for the family's white 2005 Chrysler Town and Country minivan, which has the license plate number 6LFY276. Police say the vehicle was stolen from the home.
By early evening, police and television reporters had poured into the block of ranch-style houses around the corner from an elementary school. Several television reporters said that the officers exiting the home were visibly shaken.
Ramos said officers "rarely see" a crime of this magnitude.
"We're looking into everything; we have a mom and two kids dead," he said.
Local journalism is essential.
Give directly to The Spokesman-Review's Northwest Passages community forums series -- which helps to offset the costs of several reporter and editor positions at the newspaper -- by using the easy options below. Gifts processed in this system are not tax deductible, but are predominately used to help meet the local financial requirements needed to receive national matching-grant funds.
Subscribe now to get breaking news alerts in your email inbox
Get breaking news delivered to your inbox as it happens.
---