Sports
Central Valley wins district girls soccer title
Wed., Oct. 24, 2012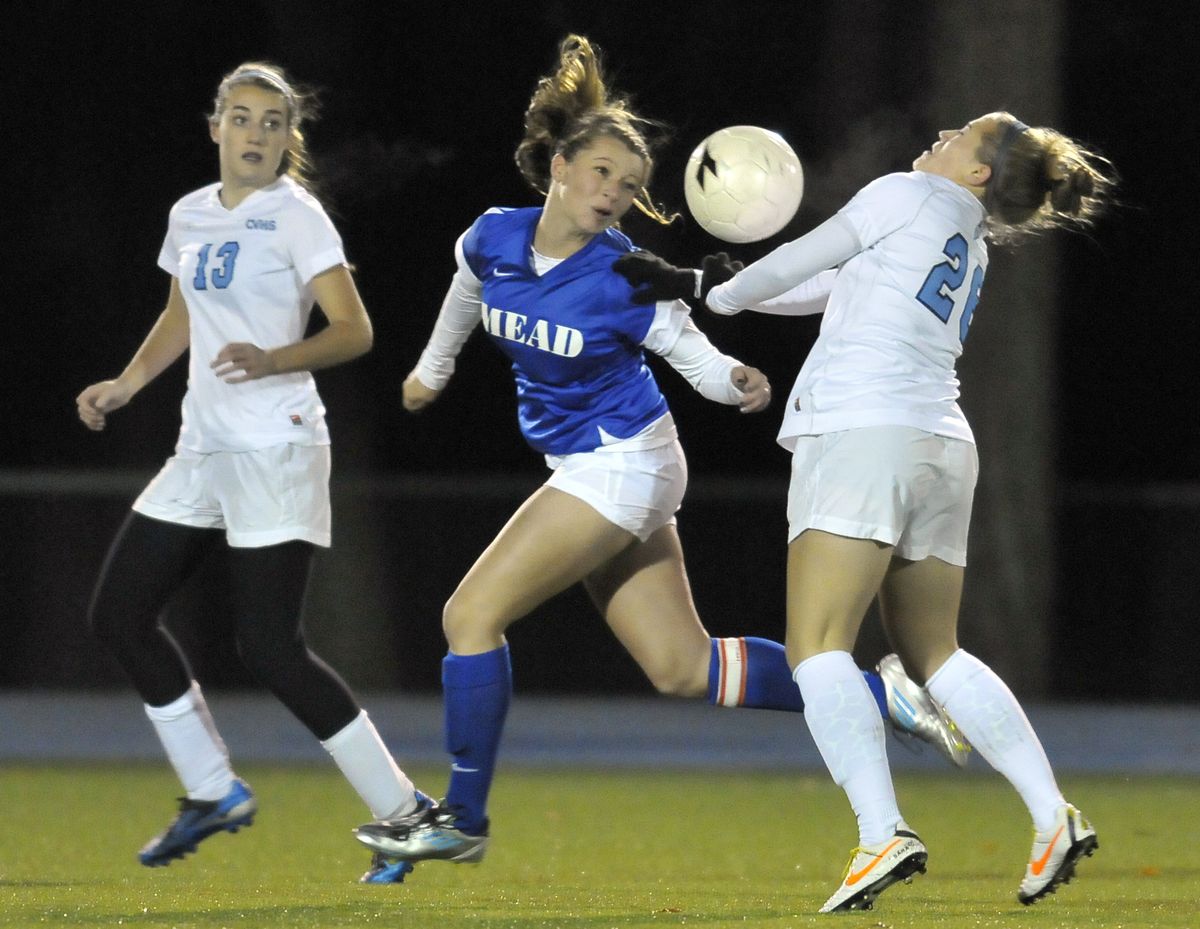 Mead's Kathryn Imming and Central Valley's Sara Grozdanich fight for control of the ball as CV's Kasey Ames (13) looks on. (JESSE TINSLEY PHOTOS)
For the Central Valley girls soccer team, Tuesday night was all about resilience.
Less than a week after falling short of the Greater Spokane League title, the Bears took an easier path to something bigger as they rallied to defeat Mead 3-1 and win the District 8 4A championship on a cold night at Spokane Falls Community College.
"We were really disappointed that we didn't win the GSL, so we had a lot of energy for this," CV goalkeeper Jessie Kunz-Pfeiffer said.
That is, until Mead's Kylie Drynan scored in the first minute.
"That brought us down a lot, but we don't give up," Kunz-Pfeiffer said.
Seven minutes later, the Bears equalized on Hailey Spooner's close-in goal off an assist from Alaina Bates, and in the 17th minute, Sara Grozdanich took a pass from Paige Gallaway inside the box and sent a hard shot that gave Mead keeper Ashlyn Juul no chance at a save.
"I could see the the defender on my right, so I took it too my left and just took my first instinct," Grozdanich said.
That proved to be the winner, as both defenses clamped down until Bates scored the clincher with 3 minutes left to send the Bears (12-2) directly to a regional match Tuesday in the Tri-Cities.
Mead (9-4) must regroup for a loser-out match Friday night at SFCC against Gonzaga Prep, which outlasted Lewis and Clark 2-1 in the early game. The winner of that match also advances to regionals.
Mead defeated G-Prep 1-0 last week in a regular-season game.
Central Valley is peaking at the right time, head coach Andres Monrroy said.
"At the beginning of the season, our goal was to win the GSL," he said. "We wanted that trophy, but now we feel very confident, especially in our passing. … This is CV soccer. Our possession has improved, and we never give up."
CV outshot Mead 13-7, and forced Juul to make 10 saves.
Gonzaga Prep 2, Lewis and Clark 1: With the match seemingly headed toward overtime, freshman Melissa Symmes took a shot from 25 yards out and immediately regretted it – for about 1 second.
"When I shot it I said, 'Dang it,' " said Symmes, whose shot looped high and into the upper part of the net for the winner in the 75th minute.
An LC shot hit the right post a few minutes later, but G-Prep survived to advance.
The Bullpups (10-5) fell behind 1-0 on a free-kick by the Tigers' Chloe Williams in the 30th minute.
At that point, G-Prep had gone four matches without a win or a goal, but Colleen Lindsay found her stride in the 35th minute.
"I didn't really see the goal," said Lindsay, who took a pass through the middle, dribbled along the top of the box and "took a wild shot and it happened to go in."
Local journalism is essential.
Give directly to The Spokesman-Review's Northwest Passages community forums series -- which helps to offset the costs of several reporter and editor positions at the newspaper -- by using the easy options below. Gifts processed in this system are not tax deductible, but are predominately used to help meet the local financial requirements needed to receive national matching-grant funds.
Subscribe to the sports newsletter
Get the day's top sports headlines and breaking news delivered to your inbox by subscribing here.
---