News > Obituaries
Obituary: Jarms, Lorna Jean
Age 55
Wed., Oct. 24, 2012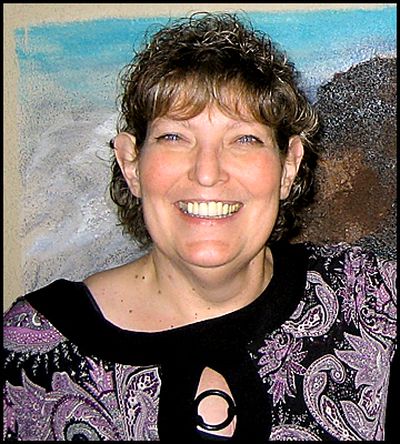 JARMS,

Lorna Jean
"Doonie"
(Age 55)

Of Spokane, lost her heroic battle with heart disease and passed away peacefully on October 15, 2012 at Sacred Heart Medical Center.
She was born on October 13, 1957 in Cutbank, MT to Jean and Larry Mills.
They moved to Bonners Ferry, ID in 1964.
She spent most of her childhood there where she attended and later Graduated from Bonners Ferry High School.
She moved to Bremerton, WA shortly after graduating.
There she had her first child Daniel.
He was a bright star in her life.
His life was cut short at the age of three months due to S.I.D.S.
This was a very hard time for the whole family.
She persevered and soon had a beautiful little girl, Syrina.
Having lost her son only made the bond between mother and daughter very strong.
In 1980 Lorna moved to Spokane and attended college.
While living in Spokane she met Bill Jarms.
They were wed in 1982.
She held a few jobs before she finally found that she truly loved.
She took a job at Cheney Federal Credit Union.
She soon became a member of a whole new family.
She was very close to the people with whom she worked.
They were there for her through thick and thin.
She was proud to be a member of the close knit community of Cheney.
Three years ago she fell very ill and found out that her heart was degenerating.
In order to survive, she would need a heart transplant.
Due to the difficulty of finding a donor, the doctors decided the best option for her was a mechanical heart.
The endless support she received from her co-workers and the community she loved provided her with the courage she needed to face this great challenge.
As one could have expected, Lorna not only beat all the odds, but became a pioneer for new mechanical heart technology.
She was always happy to try anything new that would not only help her, but maybe also help another in need.
Unfortunately this was only a temporary fix to a larger problem.
Those who knew Lorna would describe her as one of the warmest, energetic and compassionate people they knew.
If you spent ten minutes in her presence, you would know you had a friend for life.
Her smile and laughter could illuminate any room.
Lorna is survived by her daughter Syrina and her husband Allen Rose of Spokane, WA, her only granddaughter Alyna; brother Bill and his wife Michelle Mills of Gardner KS; sister Rose and her husband Jim Peterson of Coeur d'Alene, ID.
She also leaves behind numerous loving nephews, nieces, cousins, and friends.
She will be deeply missed by so many more.
Lorna was preceded in death by her son Daniel Mills in 1977; mother Neva Jean Mills in 2004; father Larry Mills in 2005.
A memorial service will be held at Heritage Funeral Home, 508 North Government Way, Spokane, WA 5:00 pm on October 27, 2012.
The family wishes to thank all of those who cared for her during her last illness.

COMMUNITY CREMATION SERVICE
4407 N. Division, # 103
Spokane, WA 99207
Local journalism is essential.
Give directly to The Spokesman-Review's Northwest Passages community forums series -- which helps to offset the costs of several reporter and editor positions at the newspaper -- by using the easy options below. Gifts processed in this system are not tax deductible, but are predominately used to help meet the local financial requirements needed to receive national matching-grant funds.
Subscribe now to get breaking news alerts in your email inbox
Get breaking news delivered to your inbox as it happens.
---