Sports > Gonzaga athletics
Spokane trio lead Vandals' soccer success
Wed., Oct. 24, 2012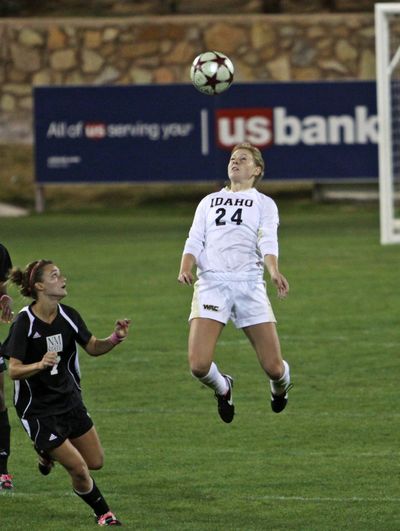 The injury is almost forgotten now, unlike the memories Liz Boyden will carry forward after a bonus year of soccer at the University of Idaho.
A broken leg three matches into the 2011 season led to a medical redshirt, and made her eligible for a lot more than just another season.
"If I hadn't broken my leg last year, I wouldn't be a part of this," said Boyden, a fifth-year goalkeeper from Ferris High School who's been a big piece of the most successful run in Vandals history.
The current group of seniors has 37 wins and counting entering a big Senior Day weekend in Moscow. Three are from Spokane.
"We were talking about it earlier this week, our first double days as freshmen and how scared we were," said Lauren Layton, a defender from Mead High who, along with Boyden and Erica Hart of Gonzaga Prep, has helped put the Vandals within a game of a return trip to the postseason. "It's definitely emotional."
And full of high stakes, after the Vandals scored a landmark 2-1 win at Louisiana Tech that put them back in contention to reach the Western Athletic Conference tournament. Idaho (2-3-1 in the WAC) had picked up only one win its previous six matches, but knocked off a Tech team that hadn't lost at home all season.
"It was a great feeling, a rejuvenation to get back in it," said Layton, who ranks second in career assists with 15. "To get a second chance at the playoffs would be awesome."
That will happen with a win this weekend, either against Denver on Friday, or Sunday on Senior Day against New Mexico State. It would be the program's third consecutive tournament bid. The WAC tournament begins Nov. 1 in Logan, Utah.
"We want to show the WAC who we really are," said Boyden, Idaho's career record holder in games started, games played, minutes played, saves, goals-against average, shutouts and goalkeeper wins.
"You always want to go out with a bang," said Hart, who has played in every match and at every position since arriving as a freshman in 2009.
The following year, head coach Peter Showler was named conference coach of the year for getting the Vandals into the postseason. They did it against last year, putting together a school-record 23 wins in two seasons.
The players had just a passing acquaintance during their high school years.
"Honestly, when you go to college, you don't know who your teammates are going to be," Hart said. "But I really lucked out – I'm playing with my best friends."
Now in his seventh year as head coach, Showler credits the entire senior class with setting higher standards for the program, on and off the field.
"They've set the standards for this program," Showler said. "People will want to try and emulate what they've done. I'm so proud."
As for Boyden, medical hardship was never this rewarding: "It's been a perfect way to end my college career."
Washington State: After a pair of tough losses in the Bay Area, Washington State tries to stay in contention for the postseason with a pair of home matches against the Oregon schools. On Sunday in Berkeley, Calif., the Cougars (9-6-1 overall, 3-4-1 Pac-12) lost 3-2 to Cal. Earlier in the weekend, WSU fell to second-ranked Stanford by the same score. The Cougars host Oregon State at 3 p.m. Friday and Oregon at noon Sunday.
Gonzaga: The Bulldogs, playing their third straight road contest, fell 2-0 to No. 19 Santa Clara University. "We have been through a tough stretch the last two weeks and despite that, I believe we played our best soccer today," Gonzaga head coach Amy Edwards said. Gonzaga fell to 6-9-1 and 0-4-1 in league entering home matches at 3 p.m. Friday against Loyola Marymount and at 1 p.m. Sunday against Pepperdine.
Eastern Washington: The Eagles closed out the Big Sky Conference season with a 1-0 win at Southern Utah on Sunday. Junior midfielder Torri Sitzman scored the winning goal in the 14th minute, the first goal of her collegiate career. Eastern finished with a 3-3-3 record, good enough for sixth place in the Big Sky but short of one of the four conference postseason spots. Eastern finishes the season at Gonzaga on Nov. 4.
  Whitworth: Tara Pajimola scored the first goal and assisted the winner to lead Whitworth to a 2-1 win over visiting George Fox, keeping the Pirates tied atop the Northwest Conference women's soccer standings. Whitworth improved to 9-5-2 overall and 9-1-2 (29 points) in the NWC, tied with Linfield for first place. Whitworth will hit the road for two key NWC matches next weekend, taking on Willamette on Saturday and Lewis & Clark on Sunday. 
Men
Whitworth: Andre French scored twice to lead ninth-ranked Whitworth to a 6-0 Northwest Conference win over George Fox on Saturday in the final regular-season home match of the season. Coupled with a 3-1 win over Pacific, the Pirates improved to 12-0-3 overall and 9-0-2 in the NWC. Whitworth will play at Willamette and Linfield next weekend.  A win in either of those matches will clinch the league championship.
Gonzaga: The Bulldogs are coming off a bye week. They're 0-6-0 at the halfway point in the rugged West Coast Conference. Gonzaga is 4-9 overall entering this weekend's road trip at Saint Mary's on Wednesday and Santa Clara on Friday.
Local journalism is essential.
Give directly to The Spokesman-Review's Northwest Passages community forums series -- which helps to offset the costs of several reporter and editor positions at the newspaper -- by using the easy options below. Gifts processed in this system are not tax deductible, but are predominately used to help meet the local financial requirements needed to receive national matching-grant funds.
Subscribe to the sports newsletter
Get the day's top sports headlines and breaking news delivered to your inbox by subscribing here.
---
Subscribe and log in to the Spokesman-Review to read and comment on this story