Gregoire says successors' budget proposals won't work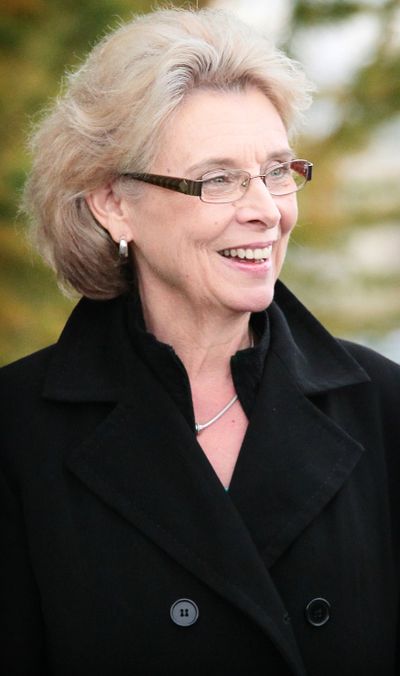 OLYMPIA – Washington Gov. Chris Gregoire served warning Thursday to her two would-be successors that the budget plans they're pushing on the campaign trail won't work and they'll need to find some sort of new revenue – usually translated as a tax increase – to balance the budget and meet the demand for better public schools.
At a news conference to announce a federal waiver that will help the state save money by developing a new program for residents eligible for both Medicare and Medicaid, Gregoire said she was looking at a revenue increase for the 2013-'15 budget she will propose next month.
Former U.S. Rep. Jay Inslee, a Democrat, and Attorney General Rob McKenna, a Republican, both have said repeatedly on the campaign trail they will not raise taxes if they are elected. Spokesmen for each campaign insisted Thursday that their candidate's plans will work and new taxes won't be needed.
"There is a way to get the money we need. Taxes are not the way forward," said Sterling Clifford, Inslee's communications director.
Charles McCray III, a spokesman for McKenna, said Gregoire might be right about Inslee needing a tax increase, but McKenna won't. Gregoire's comments reflect "the old way of thinking" in Olympia, he said.
Gregoire dismissed both candidates' plans as standard campaign rhetoric. They're candidates, she said, and "I'm a realist."
"I'm telling both candidates I don't know how you can meet your obligations for McCleary without new revenue," she said, referring to a state Supreme Court ruling that the state needs to spend more to meet its constitutional requirements to fund basic education.
Inslee has said he can avoid a tax increase, in part by finding savings in the state budget through the use of better management, known as "Lean" management. But Gregoire has already instituted Lean management, and she attended a conference earlier this week to discuss the progress made so far. It won't provide enough savings to free up the $1.1 billion needed to make the needed improvements to public schools in 2013-'15, she said, adding that she still supports Inslee even though she disagrees with him on this.
Clifford said Inslee was confident that he can find the money but acknowledged it won't be easy. "If it were easy, it would have been done already."
McKenna is also wrong when he says he can find the money for better schools by capping the growth of other state programs, Gregoire said. Many programs aren't scheduled to grow as much as his proposed cap, and when costs go up in some programs, the state doesn't have the flexibility not to pay.
"When your caseload goes up, you have to match it," she said.
McCray said McKenna will start by setting aside enough money to meet the state's obligations to public schools and use what's left for the remaining state programs. "We're using the governor's growth projections. We're not cooking the books," he said.
Both candidates have mentioned closing tax loopholes – credits or exemptions offered to certain businesses or industries to stimulate the economy and add jobs. Gregoire said she said the same thing in 2004, when she was a first-time candidate for governor. But each exemption has a constituency that lobbied the Legislature to approve it and will fight to keep it.
"You better be ready with a two-thirds vote" in both houses, which is currently required for removing any exemptions, she said.
Gregoire has her budget staff reviewing ways to increase state revenues to include in the 2013-'15 budget that she will propose later this year. "I have to, as part of my budget, put forth a solution."
They're looking for something that has the capacity to grow, would be considered fair and would survive a vote of the public, she said.
"I don't know what that is," she said. "Nothing is off the table."
---