News > Business
A crush on wine: Steel tank manufacturer thriving
Sat., Oct. 27, 2012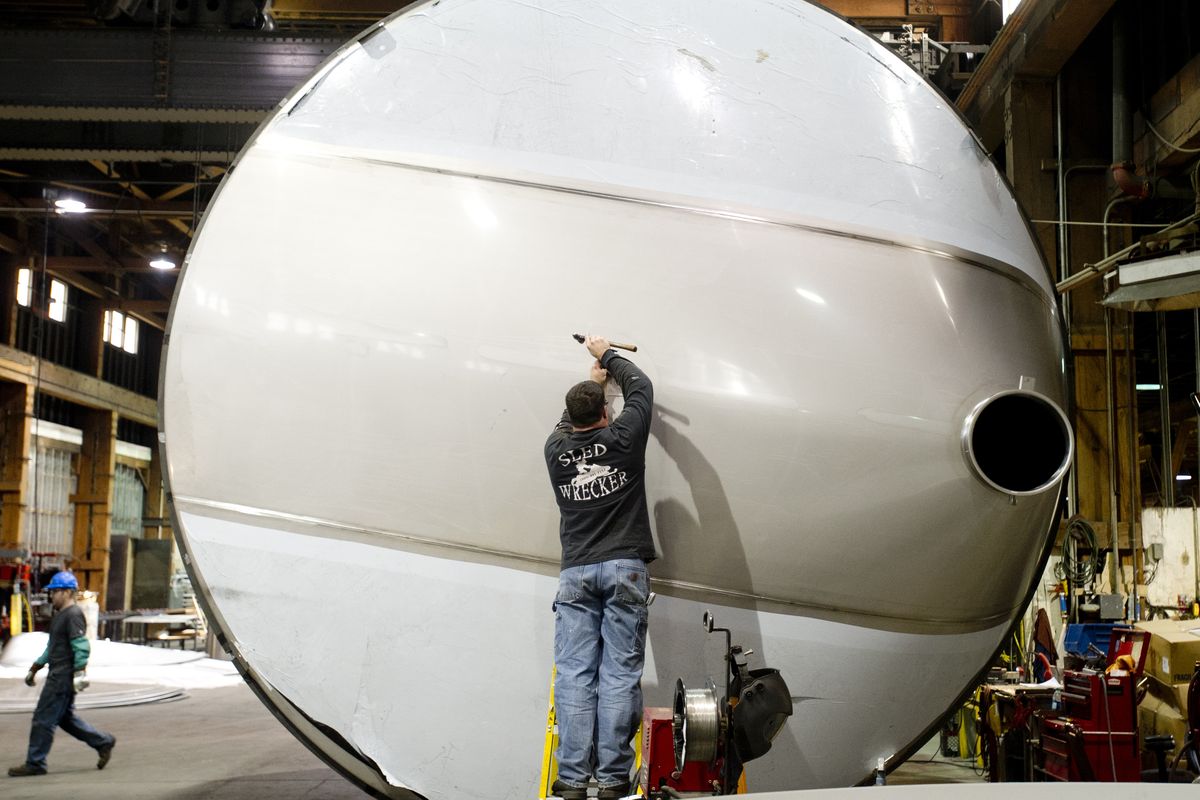 Welder Curt Hayes uses a hammer to make adjustments to a giant wine vessel on Tuesday at Spokane Industries.
It's a banner year for winemakers and wine drinkers: The Washington State Wine Commission says 2012 will be the largest grape crush ever, with 190,000 tons of grapes harvested.
A big beneficiary of that boom is Spokane Valley manufacturer Spokane Industries.
Once a day, the privately owned company sends one of its custom-made stainless steel wine vessels out the door to a winery in Central or Western Washington.
These aren't ordinary steel tanks: They're roughly 15 feet across and 28 feet high. They hold about 32,000
gallons and weigh, on average, 8,500 pounds.
Company President Greg Tenold said Spokane Industries expects even more orders for the tanks, based on the booming regional wine industry.
"We've been fortunate. We are the leader servicing the winemaking industry. And we're seeing the Northwest wine industry in a growth mode," Tenold said.
While most of the large wine tanks go to Northwest wineries, California wineries also are a market, accounting for about 10 percent to 40 percent of Spokane Industries' total volume.
The company expects to produce more than 250 large wine tanks in 2013, which it defines as tanks holding 10,000 gallons or more.
Those tanks are made at Spokane Industries' metal products division based at the Spokane Business & Industrial Park. The operation has nearly 40 workers.
Two other company divisions, in different buildings at the park, produce a range of steel-cast products that are shipped around the world, Tenold said.
Tenold's brothers, Tyrus and Bob, are also part of the Spokane Industries management team.
In 2013, Spokane Industries will be making even larger wine vessels. Currently, the size of the vessels is dictated by the size of the door at the company's loading dock.
Once that door is expanded, the company will start making 16-foot-diameter steel tanks that hold 42,000 gallons, said Nate Batson, general manager of the company's metal products division.
"We've had a few customers asking for the 16-foot tanks, and we couldn't deliver them before," Batson said.
Vessels for fermentation and storage
Wineries have adopted stainless steel tanks as their preferred storage vessel, said Don Townshend, owner of Spokane-based Townshend Cellar. They're expensive, he noted, but steel containers are the easiest to keep clean and they hold up better than concrete and hard plastic.
Wineries use a variety of tank sizes, with the largest found at wineries that produce enough wine to sell through distributors or in multiple states.
Washington's largest wine producer, Ste. Michelle Wine Estates, based in Woodinville, operates 29 wine labels and uses close to 1,000 stainless steel tanks, said Rob McKinney, the company's vice president of operations.
Its tanks range from a few thousand gallons to one massive storage tank in Central Washington holding 300,000 gallons. That tank is used by Columbia Crest to hold some of its most popular wines, such as the Two Vines merlot.
Spokane Industries produces two types of wine tanks, for fermentation and storage.
Fermentation tanks are dual-walled so the winemakers can insert glycol liquid between the two surfaces of the walls and adjust the temperature.
Storage tanks have a single wall and generally cost less.
Spokane Industries doesn't have a "standard" price for the larger tanks, Batson said.
"There are so many variables, not just size but the number of thermal controls, the slope (of the tank floor), the cap design and other things," Batson said.
Once fermentation ends, wines can be left inside a fermentation tank to age. But many winemakers, like Chateau Ste. Michelle, move the wine into storage tanks.
Consumers may have a vision of wine being stored for a year or more in rustic wooden casks. Winemakers do use wooden barrels of much smaller size for finishing or imparting flavors, said McKinney.
But most wineries then move the finished wine back into large storage vessels before bottling and shipping, he said.
The U.S. wine industry began using large stainless steel vessels in the 1960s, starting in California. The logic, said McKinney, is that it's more practical to take a year's total output of a wine into one large container, rather than dividing it. More importantly, holding it inside a single large container produces a more consistent quality of wine, he said.
At the same time that wineries are increasing orders, Spokane Industries is seeing more demand for smaller steel vessels for the beer and distillery markets, Tenold said.
Spokane's Dry Fly Distilling, for one, ordered its distilling containers from Spokane Industries.
"We've bought four tanks from them, and they have helped us with all sorts of repairs," said Dry Fly co-founder Don Poffenroth. "They're an exceptional company."
Local journalism is essential.
Give directly to The Spokesman-Review's Northwest Passages community forums series -- which helps to offset the costs of several reporter and editor positions at the newspaper -- by using the easy options below. Gifts processed in this system are not tax deductible, but are predominately used to help meet the local financial requirements needed to receive national matching-grant funds.
Subscribe now to get breaking news alerts in your email inbox
Get breaking news delivered to your inbox as it happens.
---