News > Washington Voices
U-Hi's Bonner lowers boom
Sat., Oct. 27, 2012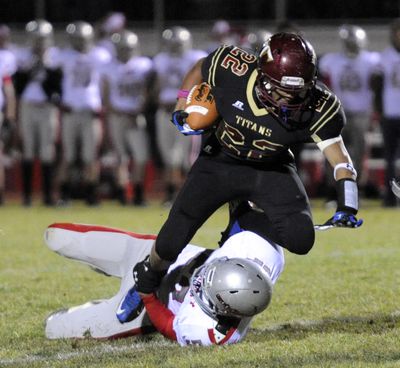 Adrian Bonner should be bigger than he is.
The University senior stands 5-feet-8, maybe. But put a football in his hands and he turns into someone else entirely.
 "Our running backs coach, Jason Daniel, calls it 'Beast Mode,' " University head football coach Rob Bartlett laughs. "He's maybe 160 pounds, and that's probably giving him a few pounds. But he runs over two and three guys at a time. More impressively, he'll run over two guys and then carry two more guys with him. You'd expect him to be some 200- or 210-pound monster.
"We want to get the ball in his hands as much as we can – 10 to 30 times a game. The last few games we've tried to get him a rest during the game, but he has never once asked to come out of a game and when we do take him out, he's ready to get right back in."
A two-way starter, Bonner starts at either free or strong safety, depending on the matchup, as well as starting at running back. And he plays on special teams.
"I'm not on the PAT squad," Bonner said with a laugh. "But I did try to kick field goals. I just couldn't do it."
That would be just about the only thing Bonner hasn't done for U-Hi – especially in the past four weeks. Against Central Valley, Bonner carried a dozen times for 172 yards, including a 61-yard touchdown romp. A week later he added another touchdown run against Mt. Spokane as the Titans clinched the No. 1 Class 3A seed from the Greater Spokane League into the playoffs. In last week's 21-0 blanking of Ferris, Bonner had touchdown runs of 27- and 15-yards, both in the fourth quarter.
When Bartlett was promoted to head coach, replacing the retired Bill Diedrick, he made wholesale changes to the offense.
"We changed everything," he explained. "We changed terminology, we changed alignments. It's taken the offense a while to get comfortable with it all and they're just now starting to really get it."
"We're really starting to click now," Bonner said. "For me, I'm just determined to get to the end zone every time I touch the football."
Bonner averages 7.5 yards per carry on offense and has accumulated 637 yards on 85 carries going into the regular season finale.  He also averages 8.8 yards per catch (17 catches for 149 yards).
As a defensive back, Bonner is part of a unit that is fast, physical and capable of shutting down an opponent's passing game.
It was Bonner's key interception that helped cement the win over Ferris, picking off a pass in the fourth quarter with the Titans holding onto a 7-0 lead. He then turned around and helped pound the ball 70 yards down the field, twisting and spinning for the final 27 yards for a score that put U-Hi ahead 14-0.
"Our secondary is really playing well," Bonner said. "We have a lot of confidence and we're all making interceptions. It's hard for teams to throw the ball on us right now."
Bartlett agreed.
"We didn't change the defense at all from last year," Bartlett said. "But our defensive coordinator, Cajun Smith, implements it a little differently than I did last year when I was the defensive coordinator. He's simplified it and has our guys flying to the football.
"I'm really proud of the way our defense is playing right now."
Coming off the huge win over Ferris last week, you'd expect to see the Titan defense practicing with a little swagger, but on a rainy Wednesday afternoon in the last full week of October the team's attitude was joyous, straight out of August. The team had a rollicking good time, particularly during passing drills, laughing and taunting one another as the offense and defense squared off.
Each time the defensive secondary intercepted or batted away a pass, the effort was punctuated with woofing and hooting, which spurred the offense to attack that much harder.
"That's what we wanted for the program," first-year head coach Rob Bartlett said. "We want the kids to have fun. We want them to work hard and they have worked hard. But they still laugh and joke with one another and have fun doing it."
Bartlett also credits the team's attitude to the training program he implemented.
"The first call I made after I got hired was to Drew Buchkoski at APX Strength and we started working designing our training program," Bartlett said. "He designed the off-season program for Ferris. When we played them last year I felt they were just that much stronger and in better condition than we were. I vowed then and there that I would not let that happen again."
"The training program we have has made a huge difference," Bonner said. "I am so much stronger and in so much better shape than I was this time last year. Right now I can't wait to get into the playoffs and take this just as far as we can now. I think we all feel the same."
Local journalism is essential.
Give directly to The Spokesman-Review's Northwest Passages community forums series -- which helps to offset the costs of several reporter and editor positions at the newspaper -- by using the easy options below. Gifts processed in this system are not tax deductible, but are predominately used to help meet the local financial requirements needed to receive national matching-grant funds.
Subscribe now to get breaking news alerts in your email inbox
Get breaking news delivered to your inbox as it happens.
---