Cougar defense impressive against Stanford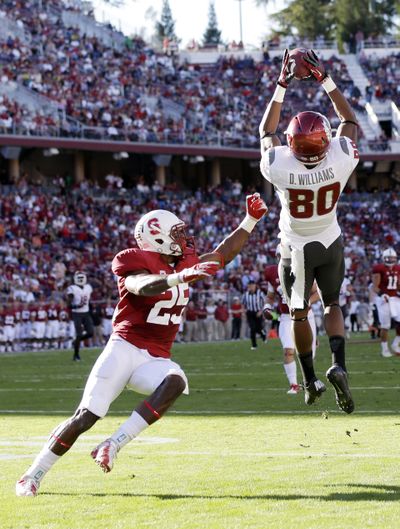 STANFORD, Calif. – Stanford's power running game didn't look the part against Washington State on Saturday.
Or maybe the Cougars really have improved that much on defense, as they limited one of the nation's most physical offenses to just 256 total yards – a season low for a WSU opponent – and 120 rushing yards on 37 carries.
Stanford's 136 passing yards were the fewest allowed by the Cougars in a game this season.
"It hasn't just been this team," linebacker Justin Sagote said. "Oregon State, too. It just tells us that we're good, we can hang with these teams. We've just got to put it all together."
With WSU's offense moving the ball but struggling to reach the end zone, the defense kept Stanford from seizing control. The Cougars' biggest achievement may have been forcing the Cardinal to punt with fewer than 4 minutes remaining and the score 24-17, giving WSU's offense a final chance to tie the game.
Stanford coach David Shaw said he was impressed with the play of senior WSU linebacker Travis Long, who helped limit Cardinal running back Stepfan Taylor to 58 yards on 21 carries.
"Stepfan got the ball at least five times, off the top of my head, and as soon as he touched the ball there was a guy in the backfield, a guy that should've been accounted for." Shaw said. "Travis Long probably is one of my favorite guys in our conference that's not on our team. … He beat us a few times tonight."
Wilson doesn't start
There was a bit of a surprise when WSU's offense took the field to start the game. That's because the team's leading receiver, junior Marquess Wilson, didn't start.
Instead, Dominique Williams did.
Williams caught six passes for 79 yards and a touchdown. And Wilson, who played more in the second half, still led the team with nine catches for 100 yards.
WSU coach Mike Leach said he started Williams because the redshirt freshman "played better than Marquess in practice. … If Marquess wants to play the whole time, he's going to have to quit being hot and cold."
Williams said Leach told him simply, "When you get your opportunity, get in there and make routine plays."
Punting the punter
The performance of punter Mike Bowlin, who has been inconsistent this season, was shaky again.
So Leach replaced him with walk-on sophomore Wes Concepcion.
Bowlin's first three punts traveled a total of just 89 yards, the longest of which was a 33-yarder.
Concepcion fared better, booting two punts an average of 41 yards each.
"He didn't play well, so we benched him," Leach said of Bowlin. "It's a little bit like receivers – ball flies through air, catch. Well catch, punt. I don't know. You catch the ball, punt it. Concepcion came in, punted really well. Right now, if we were playing here in 10 minutes, Concepcion's the starting punter."
Notable
Leach said he doesn't know if receiver Isiah Myers will return to practice this week. Myers wasn't present at practice last week and didn't make the trip, though Leach said the sophomore is still with the team, is not suspended and that "we're very happy with Isiah Myers." Asked if his absence is non-injury related, Leach said: "You can use your imagination, which I've discovered is quite vivid." … WSU finished with a negative rushing total for the third time this season, netting minus-16 yards, in large part because of 10 sacks. … Attendance was announced at 41,496, though the crowd appeared considerably smaller. … Freshman receiver Gabe Marks left the game in the first half after a hard hit, and was seen on the sidelines later wearing sweats with his right shoulder iced and his arm in a sling.
---