News > Obituaries
Obituary: Gaff, Col. John W., Jr.
Age 92
Sun., Oct. 28, 2012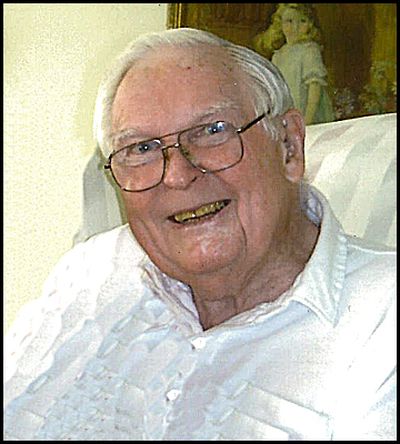 GAFF, Col. John W., Jr.

Ret.
USAF left his earthly bonds for the last time on October 16, 2012 and joined his beloved wife of 67 years, Sally.

Born in Battle Creek, Michigan on December 29, 1919, John grew up in nearby Jackson, where he graduated from high school.
He attended two years at the U of M and obtained his Assoc.
Degree.
John enlisted as an officer in the U.S. Army Air Corp. in February 1941 and trained in fighters.
He was assigned to the Aleutian Islands were he flew P39's and P40's.
He returned to the mainland for training in the P47's and assignment to the European Theater of Operations.
Prior to being sent overseas, he married his junior high school sweetheart, Sally, in August 1943 in Amherst, Massachusetts.
John flew out of England with the 373rd Fighter Group and the 410th Fighter Squadron over France, following the Normandy Invasion, and Belgian during the Battle of the Bulge.
He was awarded the prestigious French Croix de Guerre.
John's activities in the ETO took him to Paris, Cherbourg, Rheims then on to Venlo, Holland and finally Lippstadt, Germany.
After the war, John was assigned to the 56th Fighter Group to fly the P80 later re-designated the F80.
In 1947, he became Commander of this group.
He later joined the 15th AF, part of SAC, and retrained to be a bomber pilot.
John served in the Korean and "Cold" Wars flying B29's, B36's, B47's, B50's and B52's.
He was stationed in California, Washington, Massachusetts, Maine and Nebraska.
While in SAC, John served in senior headquarters, special assignment and operational positions, mainly in the 99th Bomber Wing and also commanded the 42nd Bomber Wing.
His last assignments included the Air Force Systems Command as Inspector General of the Air Proving Ground at Eglin AFB, FL and then USAF Systems Command Deputy Chief of Staff Material at Andrews AFB, MD., where he retired January 1970 after 30 years of service.
He was awarded numerous medals during his career including the Legion of Merit, Distinguished Flying Cross, and Air Medal with 23 Oak Leaf Clusters.
John and Sally built their dream retirement home at Priest Lake, ID., where he also had a small refrigeration repair business and served on the first Priest Lake/Bonner County Sewer Commission.
Always creative and clever with his hands, John found time to enjoy his hobbies of candle making, wood working and improving his golf game.
In 1990, John and Sally moved to the Spokane Towers to be closer to life-long friends Jean and Bob Goldsworthy of Rosalia, Washington.
They then spent their remaining years at the Rockwood Manor South.
John is survived by his three loving children, John III, Judy and Katie; her husband, Mike; grandchildren, Beth, Aime`, Heather and John Michael; great grandchildren, Noah and Leah; step grandchildren, Dan, Brian and Shannon; and five step great grandchildren.
He was a great and well loved man, officer, pilot, husband, father and grandfather.
R.I.P.
Colonel, at ease sir, well done and thank you!
The family is especially grateful to the wonderful and loving staff at the Atrium, Rockwood South and to Hospice, and encourages any donations be made to Hospice of Spokane, P.O.
Box 2215, Spokane, WA.
99210-2215.
Local journalism is essential.
Give directly to The Spokesman-Review's Northwest Passages community forums series -- which helps to offset the costs of several reporter and editor positions at the newspaper -- by using the easy options below. Gifts processed in this system are not tax deductible, but are predominately used to help meet the local financial requirements needed to receive national matching-grant funds.
Subscribe now to get breaking news alerts in your email inbox
Get breaking news delivered to your inbox as it happens.
---