News > Obituaries
Obituary: Liotta, Alphonso "Al"
Age 91
Sun., Oct. 28, 2012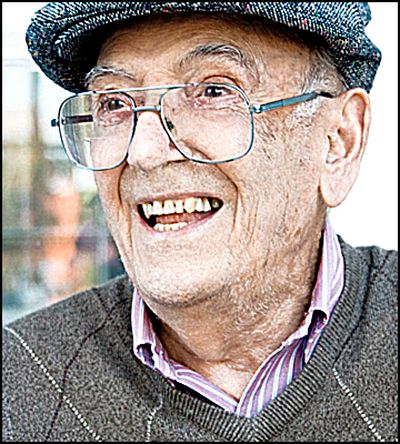 LIOTTA,

Alphonso "Al"

Long time Colfax resident, passed away Friday, October 26, 2012 at the Whitman Hospital.
He was 91.
The Rosary will be recited Thursday, November 1st at 10:00 am followed by the Funeral Mass at 11:00 am at St. Patrick's Catholic Church.
Burial will follow in the Colfax Cemetery.
The family will greet friends at a viewing at Bruning Funeral Home on Wednesday from 1:00 to 4:00.
Al was born January 16, 1921 in Boston, MA.
to Luis and Sarah Russo Liotta.
By the time he was two both of his parents had died.
Al and his siblings grew up in orphanages.
When he was about ten years old, his older sister found him and gathered him up along with their other sister and brother and she held the family together until they made it through high school.
Al worked as a hair dresser in New York City for a brief time.
He started West during the war and found himself in a C.C.C.
camp in Colorado when he was about 20 years old.
He worked on roads, dams and on camps for kids.
He arrived in Pullman about 1941 and spent one year enrolled at WSU.
He began golfing at the WSU course and it wasn't long before he landed the job as their golf pro.
Al loved to golf.
He travelled all over to golf and even spent time internationally golfing.
While he was getting his "qualifier" for the Pro Golf Tournament he gave lessons for a number of years.
He was instrumental in developing the golf game for younger people and old alike.
He was a long time member of the PGA.
He visited both Japan and Mexico as a "good-will" ambassador.
Upon his return to Pullman, he started the "Cabrini" club which was a Catholic singles club in Colton and later in Moscow.
Several couples can attribute their love and marriage to Al's club.
Through his priest in Pullman, Al was introduced to a young widow with nine children.
He married Elizabeth Joann (Jody) Byrd in 1965 and welcomed youngsters ranging from Junior High to infants into his arms.
They made their home on a farm along Shawnee Road so the kids could have plenty of space.
He and Jody added three more children to their family.
Al continued to keep busy at the golf course, he loved to invent things, tinker with gadgets, computers and games.
He was always coming up with new ideas for golf, new clubs, types of games, you name it.
He was a long time member of St. Patrick's Catholic Church in Colfax and the Knights of Columbus.
He also loved to play bridge and would organize a game whenever he could.
He even taught bridge at WSU and in Japan.
His wife, Jody, passed away in 1979.
He married Corriene Hofer Thompson in Colfax, September 5, 1981.
She was a close friend of Jody's and it's certain she knew what she was getting in to.
She and Al welcomed her six children in to the family as well.
Over the years they hosted exchange students in their home and made life long friends.
In 2002 Al and Corriene moved to Hill-Ray in Colfax.
Al was active on the board there, was considered by many to be the "social director", was the computer technician, in charge of game night, hosted a "New Year's Eve" party every year and was generally a "hands on", involved guy.
He leaves behind his wife Corriene at their Colfax home; their 18 children; Patty Shadden, Spokane, Karen Orlando, Spokane, Mike Byrd, Selah, WA, Theresa Hollis, Colfax, Mark Byrd, Toppenish, WA, Annette Fischer, Bismarck, ND, Guy Byrd, Spokane, Yvonne Adams, Sutherlin, OR, Joanne Eng, Colfax, Maria Liotta Shindler, Hillsboro, OR, Anna Liotta, Seattle, WA, Charles Liotta, Seattle, WA, Elizabeth Condon, Pendleton, OR, Catherine Karten, Dayton, OR, Joseph Thompson, Moscow, ID, Irene Coppa, Damascus, OR, John Thompson, Colfax and Jean Marie Powers, Beaverton, OR.
; 55 grandchildren, numerous great-grandchildren and a sister; Mary Gritti of Boston, MA.
In addition to his first wife, he was preceded in death by a sister, Josephine Moisan, a brother Leonardo Liotta and by his brother-in-law, Charles Hofer.
On-line guest book is at www.bruningfuneralhome.com
BRUNING FUNERAL HOME of COLFAX
is in charge of the arrangements.
Local journalism is essential.
Give directly to The Spokesman-Review's Northwest Passages community forums series -- which helps to offset the costs of several reporter and editor positions at the newspaper -- by using the easy options below. Gifts processed in this system are not tax deductible, but are predominately used to help meet the local financial requirements needed to receive national matching-grant funds.
Subscribe now to get breaking news alerts in your email inbox
Get breaking news delivered to your inbox as it happens.
---