News > Obituaries
Obituary: Pohlman, John Henry August
Age 96
Sun., Oct. 28, 2012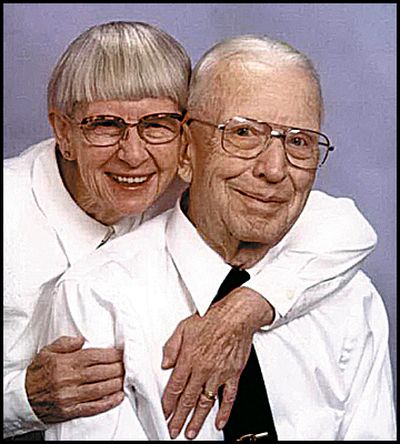 POHLMAN,

John Henry
August
(Age 96)

Passed away quietly Tuesday, October 23 at the Royal Park care facility in Spokane.
John was pre-ceded in death by his only sibling, George, in 1987, and by Edith, his one and only love and his wife of 68 years, in 2007.
He is survived by their five children, Jeanette Pohlman of Moses Lake, WA, Phyllis Edlund of Coeur d'Alene, ID, Anita Short of Libby, MT, John C. Pohlman of Reno, NV, and Dr. Doris Sievers of Spokane and their families.
Born to John and Dora Pohlman in Grand Island, NE on January 19, 1916, John and his family first moved to Spokane in 1950 and, after a successful career primarily in the automotive field and as a design engineer, returned to the Pacific Northwest in 1979 to spend his retirement years.
The family would like to extend their thanks to the staff of Royal Park for the excellent care they provided to their father since his disabling stroke in 2004.
The immediate family plans a joint memorial service for both John and Edith on May 17, 2013, which would have been their 74th wedding anniversary, at which time their mingled ashes will be dispersed as they have requested.
May he find rest and peace in the arms of his beloved wife and those of a loving God.
Arrangements entrusted to HAZEN & JAEGER FUNERAL HOME, 1306 N. MONROE ST.
Local journalism is essential.
Give directly to The Spokesman-Review's Northwest Passages community forums series -- which helps to offset the costs of several reporter and editor positions at the newspaper -- by using the easy options below. Gifts processed in this system are not tax deductible, but are predominately used to help meet the local financial requirements needed to receive national matching-grant funds.
Subscribe now to get breaking news alerts in your email inbox
Get breaking news delivered to your inbox as it happens.
---