News > Pacific NW
Rebuilt rails restore jobs after Oregon Coast slump
Sun., Oct. 28, 2012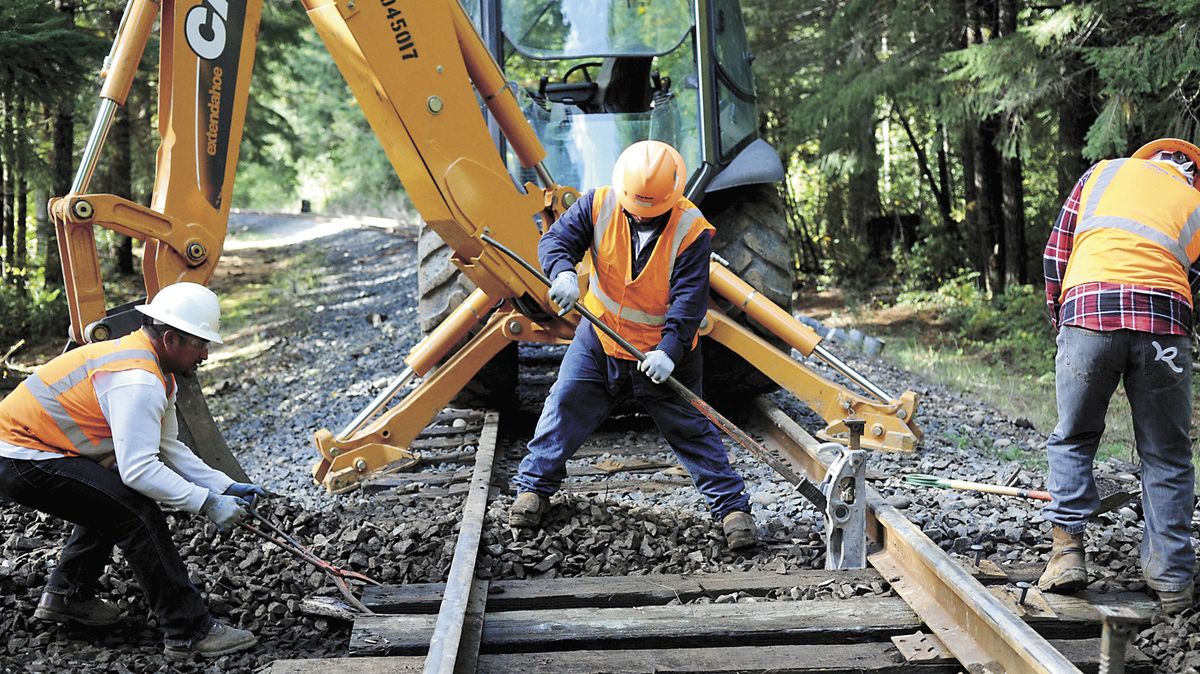 Workers from Balfour Beatty Rail Inc. build a new crossing on the Coos Bay Rail Link near Noti, Ore., on Oct. 16. The line was shut down in 2007 and purchased by the Oregon International Port of Coos Bay in 2009. Service to some customers resumed in 2011, and construction work continues on the tracks. (Associated Press)
COOS BAY, Ore. – When the coastal railway that connects Eugene with Coos Bay closed, "It's like I was on a two-week vacation for two years," said engineer Randy King.
King left Oregon for another job after the line to Coos Bay was embargoed, due to years of deferred maintenance, in 2007. Two years later he lost that job, so he returned to the southern Oregon Coast to look for work and care for his ailing father.
When the Coos Bay Rail Link reopened in 2011, King got his job back.
"It's like riding a bike," he said, smiling beside the CBRL's bright blue locomotive. "You never really forget."
His story mirrors that of dozens of other southern Oregon Coast residents.
Rail workers and customers may be happy now, but they say the four years without service took a toll.
For example, American Bridge built a $12 million steel fabrication facility outside Reedsport in 2003. The company felt it needed a factory that could produce customized steel components for West Coast construction projects. Its only other fabrication facility was across the country, near Pittsburgh.
"Douglas County made this site very attractive," said Fred Jacquot, American Bridge's sales manager. He stood in the Reedsport facility's main office building.
"We needed a site that had water access and rail access," he said. "We chose this site because we needed rail access."
At its peak, the company employed about 100 people. Thousands of tons of steel moved in and out of Reedsport on rail cars.
For four years, the company climbed. Then in September 2007, without warning, the railroad folded. Almost overnight, the plant went quiet.
"When we lost the ability to ship by rail, we couldn't compete in the Midwest," Jacquot said.
A rail car can carry four times the tonnage a semitruck can, and costs far less to hire. Without rail, the company could no longer afford to bid on large projects, or any project outside the immediate region.
American Bridge entered the recession already wounded. Within months, 100 employees shrank to 10.
"If we did not have a railroad," Jacquot said, "we would not have been able to stay at this facility."
It was a similar story at all the local sawmills. When the rail closed, there weren't enough trucks to handle the volume of lumber being shipped.
"We tried to service our customers that were being serviced on rail as well as we could using truck carriers," said Brian Paul, the plant manager at Coos Head Forest Products. That "became expensive because everybody else in the area was trying to do the same thing."
A few miles west of Mapleton on a recent Tuesday afternoon, construction workers from Houston replaced ties at a railroad crossing. The afternoon sun peeked through the second growth tree canopy as an excavator pushed ties beneath the rails. Men clad in bright orange used sledgehammers to position the ties. The foreman followed behind, wielding a spike maul to secure the ties to the rail with rhythmic, rolling swings.
"This railroad, they had let it go for a long period of time," said Tom Foster, CBRL's general manager. "They thought it wasn't worth repairing, and they didn't care. They didn't care about the community."
Central Oregon & Pacific Railroad closed this line in 2007, declaring it unsafe due to years of deferred maintenance. As customers scrambled to adjust, the Oregon International Port of Coos Bay looked for a solution. It gathered $16 million from grant money, and in 2009 purchased the defunct line.
The port then raised another $30 million in state and federal grants to repair the railway. Foster came on as CBRL manager in 2011, just as the port completed enough repairs to restore service to a few sawmills and American Bridge.
The first train crawled from Eugene to the Southport Forest Products lumber yard in October 2011 and was welcomed by a small, cheering crowd.
It was a landmark event, Foster said. But his work was just beginning.
Right now, the railroad has 10 customers scattered between Coos Bay and Eugene. The sawmills are the most frequent users. American Bridge ships in steel sporadically, and a group of organic farmers from the Coquille Valley periodically order rail cars full of grain.
Foster is negotiating with a quarry in Eugene that proposes to ship rock.
Finishing the $30 million restoration project will help attract customers, Foster added. For now, rail travel is restricted to 10 mph. When crews finish this round of construction, the speed limit should increase to 25 mph, so trains can run more frequently.
Last week, a rail crew brought a locomotive across the Coos Bay Rail Bridge for the first time in five years.
"I'm very proud of this railroad," Foster said, "what we've accomplished in a year."
"About three months before the railroad opened, we started bidding on big projects again," Jacquot said. The move paid off. American Bridge won a contract to supply the steel parts for Trimet's Kellogg Bridge project in Milwaukie.
The company now employs 55 people and plans to hire more welders.
"We plan to be here," Jacquot said. "We plan to be here 20 or 30 years in the future. We need to know the railroad is going to be here, too."
Local journalism is essential.
Give directly to The Spokesman-Review's Northwest Passages community forums series -- which helps to offset the costs of several reporter and editor positions at the newspaper -- by using the easy options below. Gifts processed in this system are not tax deductible, but are predominately used to help meet the local financial requirements needed to receive national matching-grant funds.
Subscribe now to get breaking news alerts in your email inbox
Get breaking news delivered to your inbox as it happens.
---