Sports
Scott gets Arizona past Lee, USC
Sun., Oct. 28, 2012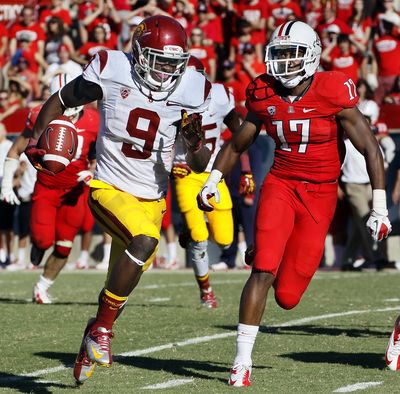 TUCSON, Ariz. – His team trailing by 15 in the third quarter, Arizona coach Rich Rodriguez urged his players to show a little life. Even after the Wildcats scored, they – and much of the stadium – remained quiet.
Matt Scott woke them up.
Scott didn't get a chance to play in Arizona's shootout loss to Southern California last year, but sure put his imprint on the rematch, accounting for 469 total yards and four touchdowns in the Wildcats' 39-36 Pac-12 football upset of the 10th-ranked Trojans on Saturday.
"I've said this before: Matt Scott's a stud," Rodriguez said. "He's phenomenal. He's a competitor."
The Wildcats (5-3, 2-3) had come up short in close games during their first season under Rodriguez and appeared to be headed toward another disappointment as USC receiver Marqise Lee raced past them into the Pac-12 record book.
Scott wouldn't let Arizona come up short again.
The fifth-year senior ran for 100 yards and got Arizona's comeback started with a 10-yard touchdown run late in the third quarter.
He threw for 369 yards, 259 of that on 10 catches by Austin Hill, and finished 27 for 50 passing.
Scott capped his day with his third touchdown pass, a 7-yarder to David Richards that put Arizona up 39-28 with just more than 5 minutes left.
He was wobbly and unable to play on Arizona's final possession after taking a hard hit, but had already done enough to give the Wildcats their biggest win under Rodriguez.
Lee had a huge day for USC (6-2, 4-2), eclipsing the Pac-12 record for receiving yards by halftime.
He finished with 16 catches for 345 yards and two touchdowns, ending up with 469 all-purpose yards after a couple of big kick returns.
Matt Barkley put up big numbers, too, matching Carson Palmer's school record for 400-yard games with his third, throwing for 493 yards and three touchdowns on 31-of-49 passing.
Local journalism is essential.
Give directly to The Spokesman-Review's Northwest Passages community forums series -- which helps to offset the costs of several reporter and editor positions at the newspaper -- by using the easy options below. Gifts processed in this system are not tax deductible, but are predominately used to help meet the local financial requirements needed to receive national matching-grant funds.
Subscribe to the sports newsletter
Get the day's top sports headlines and breaking news delivered to your inbox by subscribing here.
---