Sports
Seahawks end first half of season with a lot at stake
Sun., Oct. 28, 2012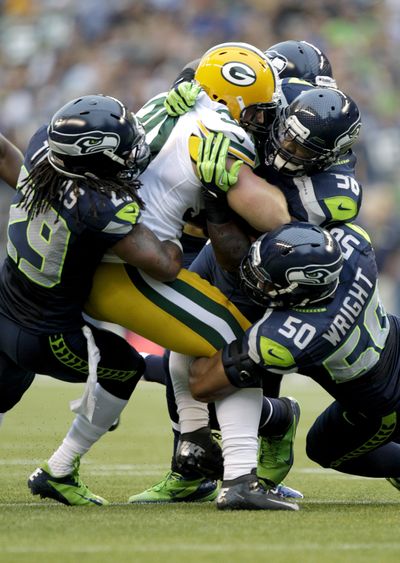 DETROIT – The road won't end for Seattle after this week's game in Detroit, but it will get easier. The Seahawks conclude the most difficult stretch of their schedule against the Lions today in a game that will determine whether Seattle treaded water through the first half of this season or made significant progress.
This is Seattle's fourth road game in five weeks, and its third game in a row against a team that made the playoffs last season. Win, and Seattle is 5-3, no more than a game out of first place in the division with five of its final eight games at home. Lose, and the Seahawks fall to .500, 1-4 on the road and will need to make up ground for any chance at the playoffs.
Detroit may be the more desperate team entering today's game, but that doesn't mean there's no urgency for Seattle.
"We have to find a way," coach Pete Carroll said. "We found a way in Carolina, and we have to find a way (in Detroit)."
That Week 5 game against the Panthers is the only time Seattle won on the road this season. The Seahawks have been close, having the ball with a chance to tie or take the lead in the final 2 minutes of all three road losses. But close doesn't count toward anything other than regret in the NFL.
Seattle faces a Lions team that won 10 games and went to the playoffs last season, but is now 2-4.
Yet Detroit is one of four NFL teams that ranks among the top 10 in both yards gained and yards allowed.
Detroit ranks fourth in total offense. Seahawks defensive coordinator Gus Bradley looked back to the Lions' regular-season finale last year, when they rang up 575 yards and 41 points on Green Bay.
 "I probably shouldn't have done that before I came out here," Bradley said after Thursday's practice.
Seattle's offense hasn't shown it possesses that kind of firepower, especially not on the road, where the Seahawks have scored a total of three touchdowns in four games. The biggest question Seattle faces in Detroit is where it will find its offense.
"I don't think we need to go searching for anything," quarterback Russell Wilson said. "I think we have all of the talent, all of the right plays and the guys; we just need to make the plays at certain times."
The Seahawks forced only one turnover in a road loss to San Francisco last week.
Carroll wants to see his defense do a better job of setting up Seattle's offense.
"We're trying to hawk the football all weekend and see if we can get it," Carroll said. "And I think that will make a big difference for us and how we play."
Today, the question is whether Seattle can get ahead. A win would put the Seahawks in strong position heading into the second half of the season, and it would also show progress for a team that has not played as well as Carroll would like on the road.
Local journalism is essential.
Give directly to The Spokesman-Review's Northwest Passages community forums series -- which helps to offset the costs of several reporter and editor positions at the newspaper -- by using the easy options below. Gifts processed in this system are not tax deductible, but are predominately used to help meet the local financial requirements needed to receive national matching-grant funds.
Subscribe to the sports newsletter
Get the day's top sports headlines and breaking news delivered to your inbox by subscribing here.
---