News > Nation/World
Thousands gather at City Hall to celebrate Giants
Sun., Oct. 28, 2012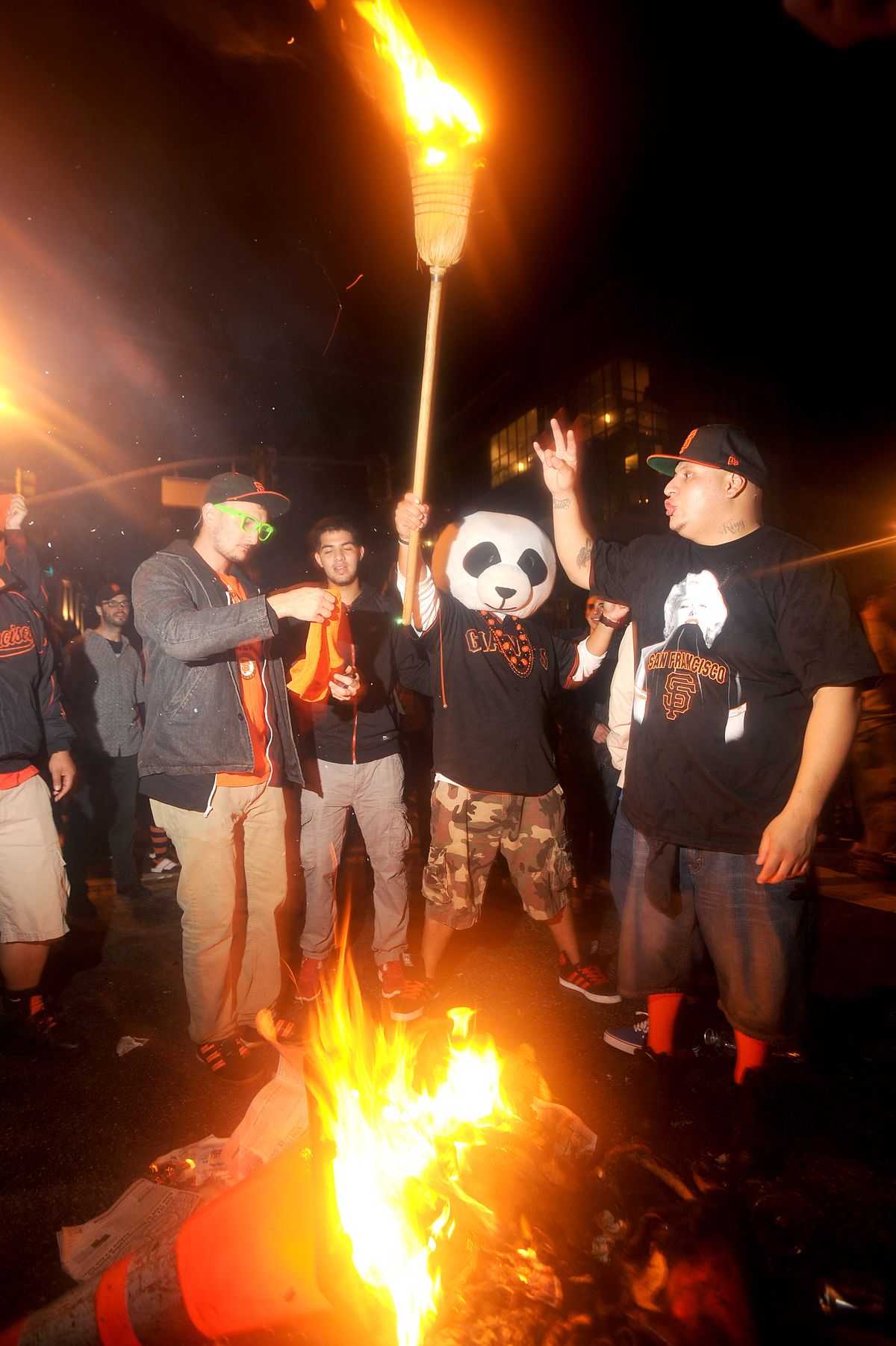 San Francisco Giants fans celebrate outside PacBell Park on Sunday, Oct. 28, 2012, in San Francisco after the Giants swept baseball's World Series against the Detroit Tigers. (Noah Berger / Fr34727 Ap)
SAN FRANCISCO (AP) — They came from all corners of the region and screamed louder with each strike and every out in the bottom of the 10th inning as the San Francisco Giants closed in on a second championship in three years Sunday.
The 2,000 fans assembled to watch the game on a Jumbotron a park across from City Hall grew in numbers and volume throughout the chilly and foggy night, exploding in unison with a roar with the final out.
Fans across the city left their televisions and raced into the streets, where they were greeted by diners and bar patrons who raced outside to celebrate as well. Car horns blared long into the night and revelers blocked traffic in front of popular watering holes around town.
At Polk and Bush streets in the city's Polk Gulch neighborhood, hundreds of fans sprayed champagne, set of off firecrackers and blocked traffic for at least two hours after the game.
Several blocks away, police clad in riot gear looked on as revelers danced around Civic Center plaza where they watched the game on the Jumbotron.
Anthony Yos, 10, hugged his brother Luciano Yos, 15 and the two danced in an embrace with their parents.
"This is the greatest thing," Anthony said with a smile that could go no wider. "The Giants are my favorite team."
Someone in the crowd launched fireworks a few minutes after the game and the park was awash with revelers, strangers hugging strangers and wine bottles and marijuana cigarettes being freely passed through the crowd despite a heavy police presence.
"This is San Francisco, "said Laura Chu. "We know how to party."
Sara Vivas brought her 6-year-old daughter Briana Cepeda from Oakland to view the game and join the celebration. They were both clad head-to-toe in Giants garb.
"This is something she will remember forever," Sara said.
Bars of all stripes, from the Castro to Chinatown were packed with supporters of the beloved Giants.
So-called pedicabs whisked fans down roads blocked to traffic and revelers enjoyed a New Year's Eve-like freedom to roam up and down streets usually clogged with traffic.
Small fires broke out in trash cans here and there, but the violence and vandalism appeared to have been kept to a minimum a few hours after the last pitch.
Mayor Edwin Lee announced the ticker-tape parade would be held Wednesday at 11 a.m., down Market Street to Civic Center Plaza
"The rain in Detroit couldn't dampen the drive, talent and determination of the San Francisco Giants team tonight. Once again, the Giants brought our City together as we all cheered on our hometown heroes to another remarkable World Series victory," he said.
The 2010 parade drew hundreds of thousands fans, who lined the streets of downtown San Francisco. The parade ends at City Hall.
The party started early in Civic Center park, with many showing up hours before the 5 p.m. game on a nice Indian Summer day in San Francisco, wearing shorts and t-shirts. The blankets and sweaters came out when the sun went down and the fog rolled in, but the chill didn't damper the enthusiasm. Many in the crowd were carrying brooms in hope of the series sweep that came to be.
"We they were going to sweep," said Elizabeth Choy-Lau, 32, of San Francisco. She and her husband were carrying brooms.
"There was no doubt," said Steve Lau, 30.
The city's ubiquitous food trucks did a brisk business and drummers of all types beat their instruments throughout the game.
"Where else in the world do you want to be tonight," replied Dave Wormald of Toronto. Wormald and two other colleagues were in town for a business meeting and were watching the game at their hotel when they decided to embark for City Hall.
"This is the place to be," said Jim Vliet, Wormald's colleague.
Local journalism is essential.
Give directly to The Spokesman-Review's Northwest Passages community forums series -- which helps to offset the costs of several reporter and editor positions at the newspaper -- by using the easy options below. Gifts processed in this system are not tax deductible, but are predominately used to help meet the local financial requirements needed to receive national matching-grant funds.
Subscribe now to get breaking news alerts in your email inbox
Get breaking news delivered to your inbox as it happens.
---