News > Nation/World
Tsunami warning for Hawaii, canceled in Alaska
Sun., Oct. 28, 2012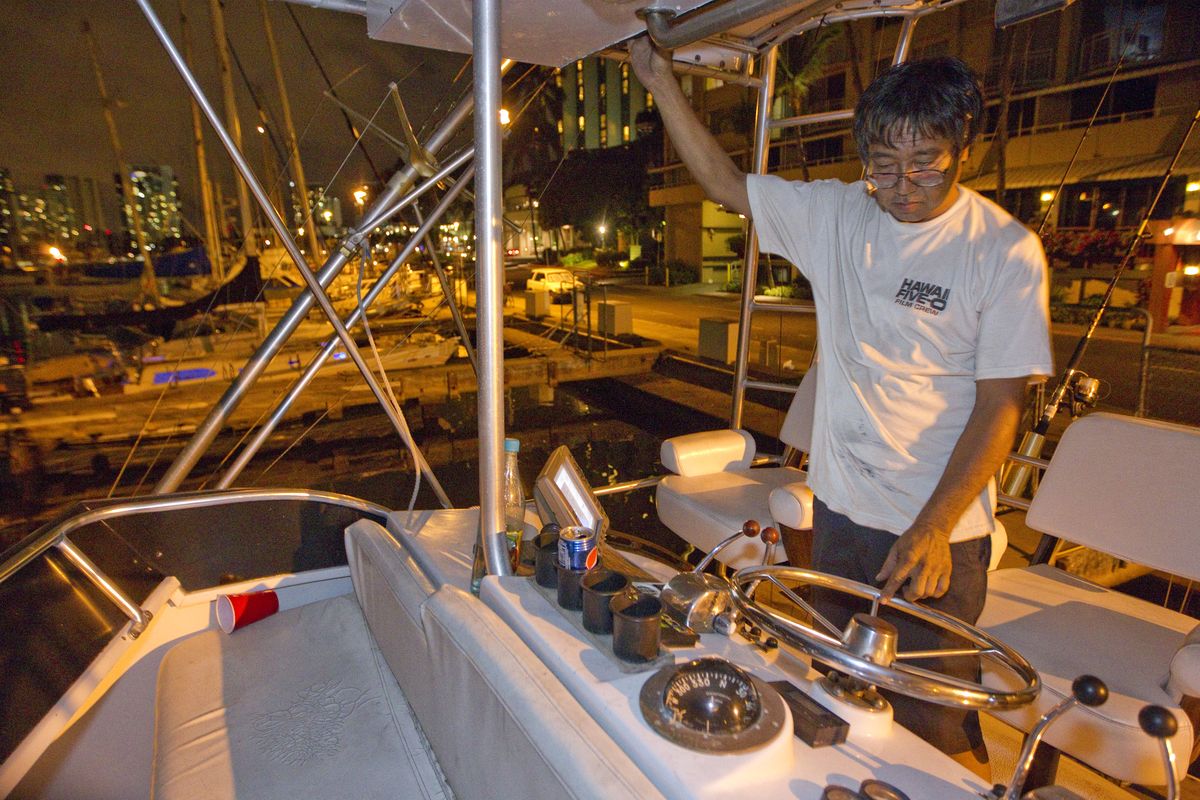 Mike Nakamoto of Honolulu prepare's his client's boat moored at the Ala Wai Harbor to take it to deep water after learning of a tsunami warning Saturday, Oct. 27, 2012, in Honolulu. A tsunami warning has been issued for Hawaii after a 7.7-magnitude earthquake rocked an island off the west coast of Canada. The Pacific Tsunami Warning Center originally said there was no threat to the islands, but a warning was issued later Saturday and remains in effect until 7 p.m. Sunday. A small craft advisory is in effect until Sunday morning. (Eugene Tanner / Fr168001 Ap)
ANCHORAGE, Alaska (AP) — Emergency sirens sounded around Hawaii late Saturday warning about an oncoming tsunami, after a powerful earthquake struck off the coast of Canada.
Even as many people along Hawaii's coast rushed to higher ground, officials downgraded a tsunami warning to an advisory for southern Alaska and British Columbia. They also issued an advisory for areas of northern California and southern Oregon.
A small tsunami created by the magnitude 7.7 quake was barely noticeable in Craig, Alaska, where the first wave or surge was recorded Saturday night.
In Hawaii, Gov. Neil Abercrombie proclaimed an emergency, mobilizing extra safety measures.
Warning sirens blared while residents drove away from coasts and tourists were evacuated from lower floors of beachside hotels. Incoming bus routes were shut off into Waikiki and police shut down a Halloween block party in Honolulu.
The center said the first tsunami wave could hit the islands by about 10:30 p.m. local time (1:30 a.m. PDT Sunday).
At first, officials said the islands weren't in any danger of a tsunami, but they later issued a warning, saying there had been a change in sea readings.
In Alaska, the wave or surge was recorded at 4 inches, much smaller than forecast, said Jeremy Zidek, a spokesman for the Alaska Department of Homeland Security and Emergency Management.
The U.S. Geological Survey said the 7.7-magnitude earthquake hit in the Queen Charlotte Islands area, followed by a 5.8-magnitude aftershock several minutes later. The quake was felt in Craig and other southeast Alaska communities, but Zidek said there were no immediate reports of damage.
The West Coast and Alaska Tsunami Warning Center issued a warning for coastal areas of southeast Alaska, down the western Canadian coast to the tip of Vancouver Island.
Later Saturday evening, the warning for those areas was downgraded to an advisory, while a warning was issued for Hawaii. Early Sunday, the advisory was canceled entirely for Alaska.
In addition, officials issued an advisory for areas from Gualala Point, Calif., about 80 miles northwest of San Francisco, to the Douglas-Lane county line in Oregon, about 10 miles southwest of Florence.
A tsunami warning means an area is likely to be hit by a wave, while an advisory means there may be strong currents, but that widespread inundation is not expected to occur.
The U.S. Coast Guard in Alaska said it was warning warn everyone with a boat on the water to prepare for a potential tsunami.
The first wave hit Craig about two hours after the earthquake.
"It started off where it might be a 3-foot wave, and it kept getting downgraded," Craig Mayor Dennis Watson said. "And the last time we heard, it was less than 1 foot."
It actually was recorded at 4 inches. Watson said he was downtown on the waterfront, and had his car lights shining on pylons.
"I didn't even see the surge. I watched the pylons. And the tides came in about four or five inches. The surge would leave a wet spot as it would go back out, and we never did see that," he said.
There could be subsequent waves in Craig, but an official with the tsunami warning center didn't think it would amount to much.
The first wave "typically is not the largest but nevertheless we don't expect the maximum wave height to be large," said Bill Knight.
The state Department of Homeland Security and Emergency Management activated its emergency operations center and notified officials in southeast Alaska communities.
Lt. Bernard Auth of the Juneau Command Center said the Coast Guard was also working with local authorities to alert people in coastal towns to take precautions.
Lucy Jones, a USGS seismologist, said the earthquake likely would not generate a large tsunami.
"This isn't that big of an earthquake on tsunami scales," she said. "The really big tsunamis are usually up in the high 8s and 9s."
She said the earthquake occurred along a "fairly long" fault - "a plate 200 kilometers long" in a subduction zone, where one plate slips underneath another. Such quakes lift the sea floor and tend to cause tsunamis, she said.
In Craig, officials implement an emergency plan, and took fire trucks, ambulances and heavy equipment to higher ground.
"If nothing else it was a good exercise in determining how well our disaster plan works. I thought it came off quite well, really," he said.
Watson said he did receive calls from townspeople about the tsunami.
"There's supposed to be a big Halloween party downtown. People are calling, 'Did the wave hit yet so we can go to the party?'" he said.
___
Oskar Garcia reported from Honolulu. AP reporter Chris Weber in Los Angeles contributed to this report.
Local journalism is essential.
Give directly to The Spokesman-Review's Northwest Passages community forums series -- which helps to offset the costs of several reporter and editor positions at the newspaper -- by using the easy options below. Gifts processed in this system are not tax deductible, but are predominately used to help meet the local financial requirements needed to receive national matching-grant funds.
Subscribe now to get breaking news alerts in your email inbox
Get breaking news delivered to your inbox as it happens.
---