News > Spokane
WSU research tracks orchards' cold tolerance
Work focusing on critical apple, cherry varieties
Sun., Oct. 28, 2012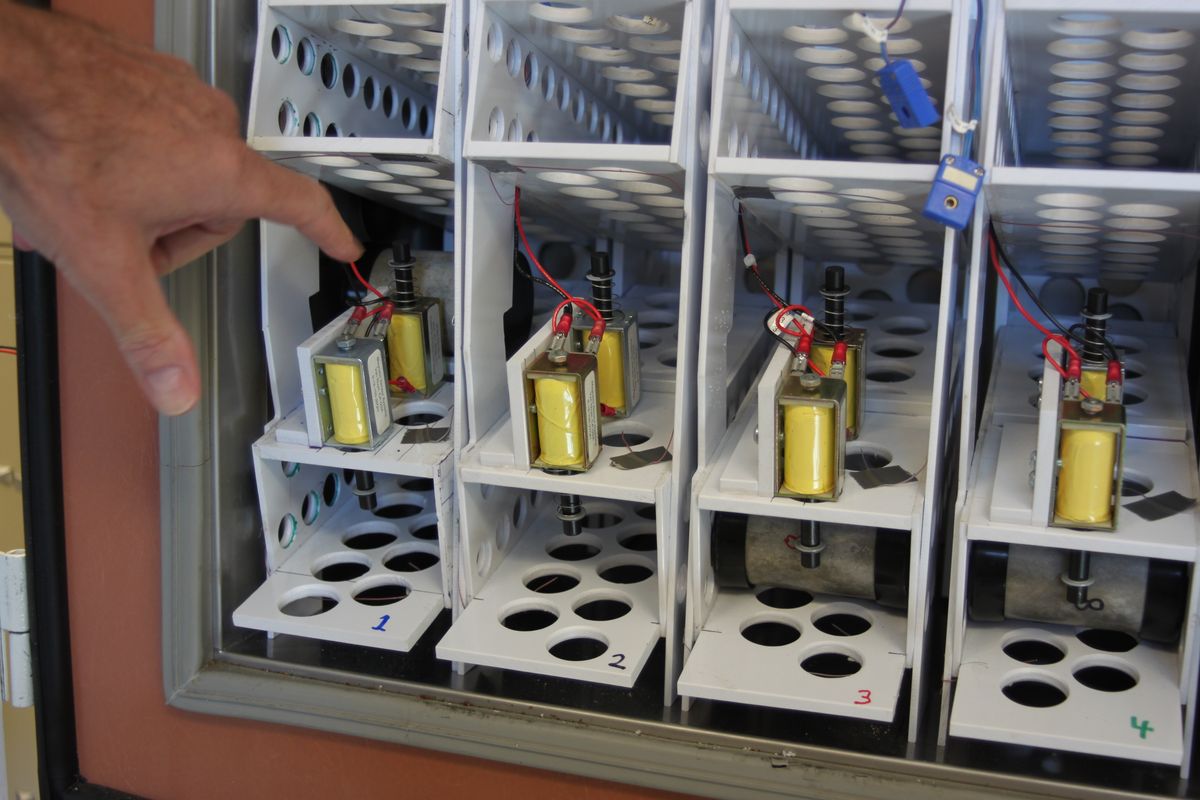 WSU researchers are developing a new measurement system to determine cold hardiness of apple and sweet cherry buds and blooms during early spring. The system's foundation is an automated freezer sampler that can process smaller samples faster. (Associated Press)
PROSSER, Wash. – Finding a more accurate way for apple and cherry growers to determine how their orchards will withstand frost is the goal of a team of researchers in Prosser.
The result of the three-year study by AgWeatherNet Director Gerrit Hoogenboom and research associate Melba Salazar-Gutierrez will be a new tool for farmers to use on WSU's online AgWeatherNet.
AgWeatherNet is the access point for information that WSU collects from 139 automated weather stations across the state. Those stations monitor air temperature, relative humidity, rainfall, wind speed, wind direction and soil temperature and update the data every 15 minutes, said Hoogenboom, who works at Washington State University's Prosser Irrigated Agriculture Research & Extension Center.
The models created by the study will allow growers to understand the condition of their crop at a given time and if their trees are susceptible to damage, said Jim McFerson, manager of the Washington Tree Fruit Research Commission.
"We can take measures to prevent or suppress the amount of damage," he said.
Farmers can use propane heaters, wind machines and under-the-tree irrigation to protect their trees from frost damage, McFerson said. When irrigation water freezes, it releases heat.
It also will help farmers decide how much or little to prune and thin, he said.
Right now, McFerson said, researchers are focusing on the varieties of critical commercial importance – Red Delicious, Gala and Fuji apples and Bing, Chelan and Sweetheart cherries.
Hoogenboom said each variety has its own unique characteristics, but there will probably be some similarities. Looking at more varieties would require additional funding, he said.
The cold hardiness study is being paid for by a $255,000 grant from the Washington Tree Fruit Research Commission. Hoogenboom said he reports progress to the growers every six months.
The study is just getting started, Hoogenboom said. While researchers did some initial work this spring, they didn't have the vending machine ready yet.
The vending machine is a standard environmental chamber with a built-in slot at the bottom of the door. It was created by John Ferguson, a staff member at the Prosser center, as part of a cold-hardiness model for grapes.
The vending machine has four plastic racks that hold perforated cylinders for samples.
Hoogenboom said it allows them to expose cuttings, buds and flowers to a specific temperature, and then slowly drop the temperatures. The machine can be programmed for the specific degree and duration of exposure.
Then, the buds will be dissected under a microscope to see if there is damage, he said.
Before, researchers used a freezer, Hoogenboom said. But the vending machine allows them to better control freezing and get more detailed information. They also will be able to analyze more samples.
The goal is to have data for both fall and spring, since damage to the crop can occur from freezing in both seasons, Hoogenboom said.
Salazar-Gutierrez said in a news release that the models currently being used by growers were based on research done more than 30 to 40 years ago with older varieties.
"So far, little is known about the hardiness of new cultivars under local weather conditions," she said.
The study will expand what AgWeatherNet provides to Washington farmers. There is already a cold hardiness model for grapes, and the research Hoogenboom and his team is working on will create a model for cherries and apples.
McFerson said it's important to take the data provided on AgWeatherNet and turn it into knowledge that will help farmers make a decision.
Hoogenboom's research is filling in a hole, McFerson said. There are new cherry and apple varieties, and growers are now managing their crops more intensively than in the past.
And Hoogenboom has tools that weren't available before, which will be able to update old charts with new, more efficient and accurate information, McFerson said.
The model will tell growers how hardy their trees are to low temperatures based on what weather conditions the trees have experienced, Hoogenboom said.
For example, as plants start to develop in spring, the plant loses its cold hardiness, and if there is a late frost, the crop could be harmed, he said.
Hoogenboom hopes the tool will be available by the end of the three-year study. Then, a farmer will select the weather station closest to his or her orchard, and choose a certain variety of apples or cherries.
Local journalism is essential.
Give directly to The Spokesman-Review's Northwest Passages community forums series -- which helps to offset the costs of several reporter and editor positions at the newspaper -- by using the easy options below. Gifts processed in this system are not tax deductible, but are predominately used to help meet the local financial requirements needed to receive national matching-grant funds.
Subscribe now to get breaking news alerts in your email inbox
Get breaking news delivered to your inbox as it happens.
---