Sports
Leach has praise for Tuel in defeat
Tue., Oct. 30, 2012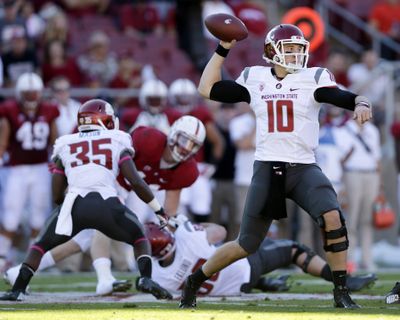 PULLMAN – For once, coach Mike Leach didn't have to field questions Monday about who his starting quarterback might be come Saturday.
Washington State senior Jeff Tuel took hold of the position by throwing for a career-high 401 yards and two touchdowns in WSU's down-to-the-wire 24-17 loss at Stanford.
Leach said he was especially impressed by Tuel's 43 completions in 60 attempts because he was under siege from a Cardinal defense that collected 10 sacks.
"They generated more pressure than anybody we've played all year," Leach said. "Based on what I've seen on film and based on what I've experienced, they have the best front in the conference and one of the best fronts in the country. I don't think there's any question about that. I thought (Tuel) did respond to the pressure really well, took what they gave him and just kept the ball in play."
Said Tuel: "We kept ourselves in it. We grew a lot. We just need to build on it."
WSU needs a win against Utah on Saturday (12 p.m., Rice Eccles Stadium) to preserve its infinitesimal hope to attain bowl eligibility. And the Cougars are also the last Pac-12 football team without a conference victory this season.
"A win is a win," Tuel said. "That's the only kind of victory (Leach) knows, is when we have more points than the opponent. That's what we're really trying to get to right now."
What might've been
Last season's game between WSU and Utah, played in snow and freezing temperatures, ultimately helped change the course of the Cougars' program.
You'll remember, of course, that with WSU trailing by three points in the game's final seconds, Connor Halliday – unwittingly playing with a lacerated liver – completed a pass to Marquess Wilson near the goal line.
Wilson was ruled down at the 1-yard line, WSU settled for a game-tying field goal and eventually lost in overtime, dropping its record to 4-7 and eliminating the Cougars from bowl eligibility.
Replays showed Wilson may have crossed the goal line on that now-infamous play, though no angle provided a conclusive view. Had the play been ruled a touchdown, WSU would have taken at least a 3-point lead with about 17 seconds left and most likely would have won, improved to 5-6 and had at least a shot to earn a bowl bid, and potentially save coach Paul Wulff's job by winning the Apple Cup.
"I'm sure we'd like to get them back for last year, and show that we should have won that one," Tuel said about some incentive.
As it was, that loss to Utah more or less sealed Wulff's fate. He was fired, Leach was hired shortly thereafter and the face of the Cougars' program is entirely different.
But the Utes (3-5, 1-4 Pac-12) aren't. Not from a style standpoint, anyway.
"It was a tough game; it was a physical game," senior linebacker Travis Long said. "We're going to have to kind of do the same sort of thing, try to out-physical them against the run."
Leach wanted OT
It didn't matter in the end, because Tuel was sacked on the game's final play and no decision needed to be made.
But Leach said Monday that if the Cougars had scored a touchdown on their final possession of Saturday's 24-17 loss to Stanford, he'd have opted to kick the point-after instead of attempting a 2-point conversion.
"We had momentum. We'd been doing a good job stopping them," Leach said. "I would have gone for overtime.
"If we weren't moving the ball at all I might try to ambush 'em, go for two. But we were moving the ball all day. If we weren't stopping them I might go for two but we were stopping them."
Waiting game
It could be a few days before WSU fans can make their travel arrangements for the Nov. 10 game against UCLA at Martin Stadium.
Typically, kickoff times and TV information are announced about 12 days before each game is played. But the Pac-12's official Twitter account noted Monday that five of the six games scheduled for Nov. 10 haven't been selected for TV yet, though times will be known by Nov. 5 "at the latest."
Depending on when the WSU-UCLA football game is played there may be a conflict with the WSU men's basketball team's season-opener against Eastern Washington that day. The Cougars host EWU on Nov. 10 in a 4:30 p.m. game scheduled to air on the Pac-12 Networks.
The only Nov. 10 football game already selected for television is Colorado vs. Arizona, which will air at 10:30 a.m. on FX.
Local journalism is essential.
Give directly to The Spokesman-Review's Northwest Passages community forums series -- which helps to offset the costs of several reporter and editor positions at the newspaper -- by using the easy options below. Gifts processed in this system are not tax deductible, but are predominately used to help meet the local financial requirements needed to receive national matching-grant funds.
Subscribe to the sports newsletter
Get the day's top sports headlines and breaking news delivered to your inbox by subscribing here.
---