News > Idaho
World-renowned aircraft designer at home in Coeur d'Alene
Sun., Sept. 2, 2012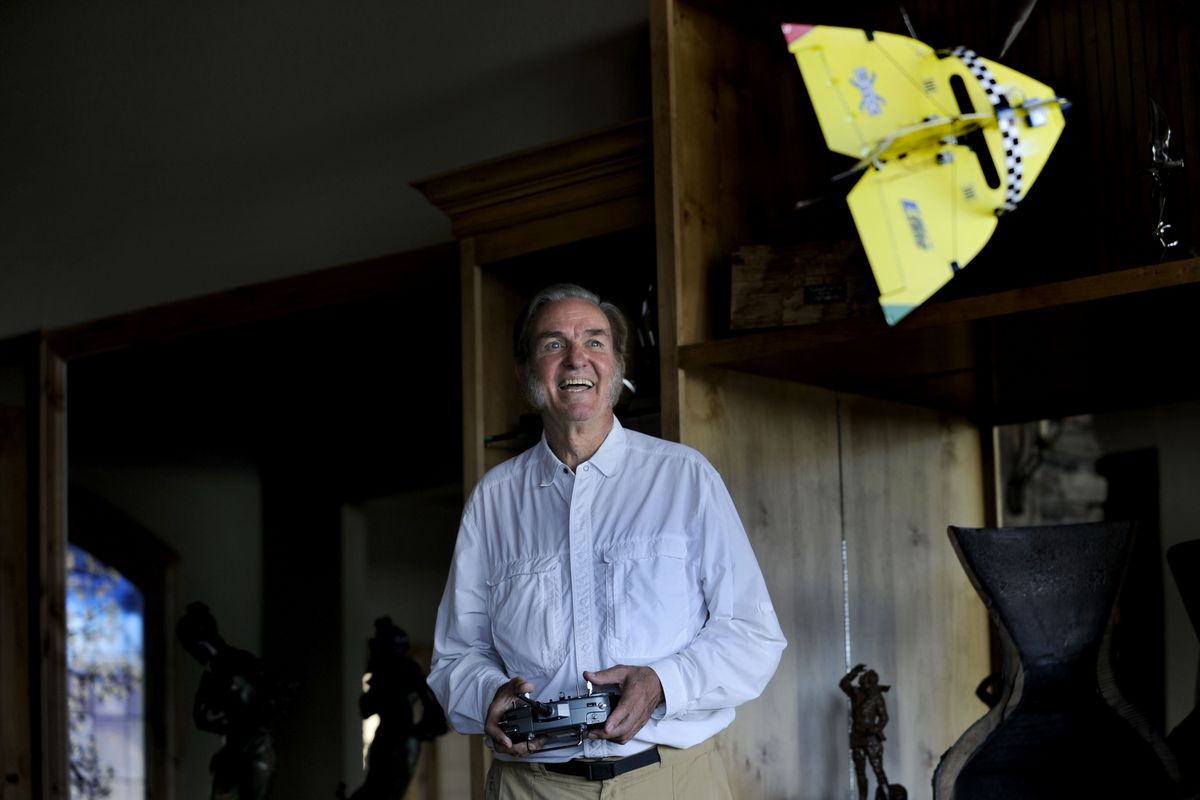 Burt Rutan flies his radio-controlled, tethered model airplane at his home in Coeur d'Alene on Aug. 15. He now envisions developing a hybrid plane that could also navigate rivers and lakes. (Kathy Plonka)
Burt Rutan is the ultimate fly guy.    After creating innovative and eye-catching aircraft for 40 years, Rutan has amassed enough awards and aerospace trophies to fill two wall bookcases in his Coeur d'Alene home.   Like many pilots and space jockeys who grew up during the 1960s American space program, Rutan lets his deeds do the talking.    But if people get him started on the best way to design new aircraft or why commercial space travel is right around the corner, Rutan has plenty to say.
A search for his name on YouTube finds 688 videos showcasing his aircraft or featuring Rutan talking about his projects.Now retired, the 69-year-old aerospace engineer and his wife Tonya bought a home last year overlooking Lake Coeur d'Alene.
Word traveled fast and it didn't take long for Rutan to establish celebrity status among the region's aviation community.
At a recent air show at Coeur d'Alene Airport, more than a dozen people surrounded him near a single-propeller airplane parked off the runway.
Rutan was standing next to the Catbird, a plane he developed in the 1980s that set distance and speed records. It's still renowned among airplane buffs.
Rutan talked and answered questions, telling stories, sharing thoughts on aircraft he's worked on. Once he gets a crowd, friends of Rutan know he'll speak at length about airfoils, propeller designs or close calls in the cockpit when something didn't go according to plan.
The Rutan highlight reel
In 1965, after getting an aeronautical engineering degree at California Polytechnic State University, Rutan took a job as a civilian flight engineer for the Air Force at Edwards Air Force Base. In 1974 he started his first company, Rutan Airplane Factory, which designed and sold kits for home-built small airplanes.
A series of aircraft he designed at RAF became popular build-at-home kits for amateur airplane pilots. Instead of using metal, his kits allowed builders to construct airplanes with foam and fiberglass.
At the same time, Rutan's focus morphed from designing home-built aircraft to taking on more challenging, technically sophisticated projects. He said he realized he was mostly getting letters and calls from "the F students" who bought his planes but needed help.
He wanted, from that point on, to develop planes for "A students" and for companies that wanted high-end, specialized aircraft.
In 1982 he did that by starting a second company, Scaled Composites, based in Mojave, Calif.
During his 30 years at the helm of Scaled Composites, Rutan designed dozens of aircraft – including two of the five planes he designed that are now display at the Smithsonian air museums in Washington, D.C.
That list includes SpaceShipOne, the first manned civilian spacecraft; and Global Flyer, a plane that improved on the design of his first fuel-sipping international success, Voyager, the first plane to be flown around the planet without stopping or refueling.
After retiring from Scaled last year, Rutan agreed to be part of one of the largest private efforts to use airplanes to lift rockets into space.
In December, Seattle billionaire Paul Allen announced he and Rutan were joining forces in Stratolaunch Systems, a private company that is building a supersized aircraft to haul rockets or spacecraft to the upper atmosphere. The goal is a commercial delivery system to lift cargo or possibly space passengers into Earth orbit.
For once Rutan is not involved in the design of the huge Stratolaunch aircraft, which will have six engines the size of those on a Boeing 747. His role, he said, is adviser and design reviewer.
Rutan's own explanation for success is simple; he said he's always looked for unconventional approaches to a design problem, and then he relied on a small team to help him get results.
As a teen growing up outside San Francisco, Rutan was consumed with building model aircraft. Early on, Rutan said, he threw away the how-to manual, trusting his own instincts. "I never built from a kit," he said. "I bought balsam wood and invented a new airplane."
Now living with lakes all around him, Rutan has one more out-of-the-box idea. He talks about developing a hybrid plane that could also navigate rivers and lakes. It would vary from the traditional seaplane by incorporating Rutan touches for more efficient handling and flight.
The aerospace designer with trademark mutton-chop sideburns looks like he's got more to add, but says: "That's all I want to reveal until it flies. Stay tuned."
Big moment No. 1: Voyager
The first design to earn Rutan international acclaim was Voyager, the twin-engine, dragonfly-styled aircraft flown around the world without stopping.
His innovative design provided unusual flight efficiency in part because of a sandwich construction for the airframe and wings. The plane's skin was two layers of graphite fiber composite with a paper honeycomb in between.
There was barely room for a pilot and co-pilot. The aircraft's body weighed 939 pounds, but it carried 7,000 pounds of fuel.
After failing to find a sponsor for Voyager, Rutan said he had to proceed "basically self-funded," mostly using his own money to complete the project.
In December 1986, Burt's older brother, Dick Rutan, and co-pilot Jeana Yeager took off in Voyager and flew nonstop around the globe in nine days.
It landed with just 107 pounds of fuel left.
There was no cash prize for the accomplishment. But Voyager demonstrated Rutan's ability to take an unconventional idea and get amazing results.
That reputation led to his next big thing and an arrangement with one of Washington state's wealthiest space junkies.
Big Moment No. 2: SpaceShipOne
Allen, Microsoft's co-founder, met Rutan in the 1990s. He was intrigued by the Proteus, a one-of-a-kind Rutan aircraft designed for NASA that could climb above 60,000 feet and fly for up to 14 hours.
Allen's brainstorm was to have a fleet of Proteus aircraft flying over large cities, beaming down broadband connections for companies and users below.
The plan fizzled, but in the late 1990s Rutan approached Allen with the idea of competing for the Ansari X Prize, a challenge created by a California foundation offering $10 million to the first company to fly a manned spacecraft into suborbital space twice within a two-week window.
They discussed the challenge, and at first Rutan felt that he wasn't ready to strike a deal. "I told Paul the only way I'd do this is if I know I can be successful. At that point, I didn't know that," Rutan said.
Rutan had, over the previous few years, begun toying with designing a space-launch system using a large aircraft to piggyback a smaller rocket vehicle to high altitude.
Unlike the NASA approach to launches, Rutan's plan avoided the complications and challenges of blasting off from the ground.
But there were other challenges in his design, such as how to get the launched rocket or spacecraft back to Earth. One choice was parachutes, but that choice prevented a controlled precision landing. Another unacceptable choice was to add heavy heat shields to protect the craft as it fell back through the atmosphere.
In mid-2000 Rutan went to Seattle and told Allen he had developed a spacecraft design that solved the problem of landing safely.
The trick was the ability of the spacecraft to "feather" its wings on re-entry. Feathering was the ability of the vehicle's wings to hinge upward at a 65-degree angle on the return trip.
That allowed the vehicle to slow down during re-entry shuttlecock-style. The design provided a more controlled descent and avoided the heat shield systems used by the space shuttle or the Russian space program.
"I can do this," Rutan said he told Allen, and the two shook hands.
"That's the only 'begging' I ever did for a project. It took about 10 seconds," Rutan said. "But it took us another eight months for his lawyers to work out a contract we could sign."
In June 2004 the team invited the public to watch the first test flight into space by the new SpaceShipOne, the vehicle that would win the prize. The 26-foot-long craft was hauled aloft by a Rutan-designed mother ship, the White Knight.
With more than 10,000 people on hand at Mojave to watch, the spacecraft did what a lot of aerospace experts thought was impossible: It rocketed to above 100 kilometers (62 miles), the first time a manned civilian vehicle had done that.
In September of that year, with celebrities and thousands more on hand at Mojave, SpaceShipOne won the X Prize with two flights five days apart. Based on a half-share agreement they'd signed, Allen pocketed a $5 million payback for a project that ended up costing him $28 million to finance.
Per Wimmer, a Danish investment banker and advocate for commercial space travel, met Rutan the day he won the X Prize. A fan of Rutan for more than a decade, Wimmer said Rutan's success stems from a combination of smarts and talent.
"He has an innovative vision and is persistent," Wimmer said in an email from his London office. "That's important, but so is his ability to find a quality team to work with, and then also the know-how to find very good customers, such as Paul Allen."
Landing in Idaho
Two years ago Rutan told his co-workers he planned to retire in 2011. For one of the few times in his life, he decided to avoid airplanes and take an extended car trip to look at places to retire. All he knew was he wanted out of the dry, dusty Mojave Desert, where he'd worked since the 1970s.
The Rutans visited several cities including Coeur d'Alene, which was on his list because of its golf courses. After suffering a heart problem seven years ago, Rutan took up golf as a way to keep active.
Upon returning to California, the Rutans studied their choices. The location that seemed best, said Tonya Rutan, was Coeur d'Alene. "It called us back," she said.
Among their friends in North Idaho is Brent Regan, a pilot, plane-builder and head of Coeur d'Alene avionics engineering company Regan Designs.
When Regan first read that Rutan decided on Coeur d'Alene, he sent his friend an email. Subject line: "There Goes the Neighborhood."
Regan, like Rutan, is a regular at the annual summer Experimental Aircraft Association air show in Oshkosh, Wis. The show is one Rutan visited almost yearly and where he introduced many of his earliest aircraft.
The year after Rutan won the X Prize, Regan went to Oshkosh, where a major attraction was the public display of SpaceShipOne.
Once they got to Oshkosh that summer, the Rutans were dismayed to learn show organizers planned to rope off the spacecraft to stop people from putting hands on it.
"Burt insisted they take away the rope line," Regan said. "He wanted people, and especially children, to come up and touch it," he added.
"That was the one time I saw him get choked up," Regan said. "He thinks events like that help inspire the next generation. It can inspire kids to go on and become the next generation of innovators. "That's important to him. That's something he wants as a legacy."
Local journalism is essential.
Give directly to The Spokesman-Review's Northwest Passages community forums series -- which helps to offset the costs of several reporter and editor positions at the newspaper -- by using the easy options below. Gifts processed in this system are not tax deductible, but are predominately used to help meet the local financial requirements needed to receive national matching-grant funds.
Subscribe now to get breaking news alerts in your email inbox
Get breaking news delivered to your inbox as it happens.
---