Sports
Coen makes most of his first Cougar start
One-time walk-on outside linebacker earns his keep
Sun., Sept. 9, 2012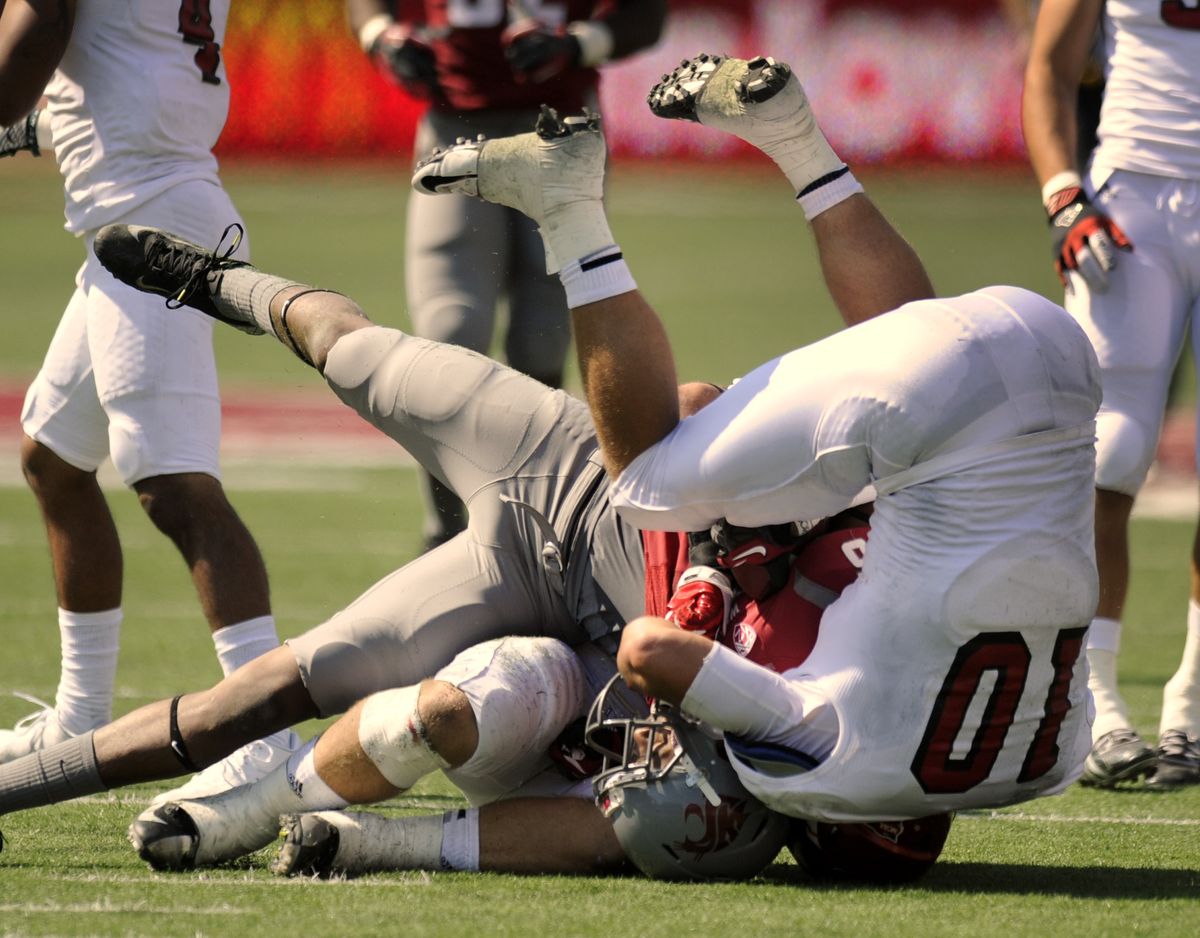 Marquess Wilson is tackled by EWU's Zach Johnson (10). Wilson had a TD catch nullified by a holding call for the second straight game. (Colin Mulvany)
PULLMAN – Once a walk-on, outside linebacker Cyrus Coen was rewarded for his hard work during the spring with a scholarship once the school year began.
He earned it in Washington State's 24-20 win over Eastern Washington on Saturday.
Starting for the first time in his career, Coen made three tackles and a key interception that led to a touchdown, and was part of a disruptive WSU pass rush that led to four sacks and a number of hurried passes by EWU quarterback Kyle Padron.
Coen blitzed incessantly, helping to force a few incompletions along the way.
"In practice we're always working on pass rush almost every day," Coen said. "It was real nice that Coach gave me the opportunity to go."
Coen, a sophomore from Pearl City, Hawaii, is the nephew of legendary WSU quarterback Jack Thompson. It was Thompson who advised Coen to walk-on at WSU.
"My senior year in high school I got hurt and hadn't had much opportunity, but he told me to come over here and try it out," Coen said. "So I did, and here I am."
Furney gets his kicks
The first 60-yard field goal Andrew Furney made on Saturday was during pregame warm-ups.
The second wound up being the second-longest made field goal in school history.
Some were surprised to see the WSU field-goal unit trot out with two seconds left in the first half and the ball at EWU's 43-yard line. But Furney hit it straight and just long enough to clear the crossbar.
"I was like, oh my God, this might actually go in," Furney thought as the ball approached the goalpost. "Time really slowed down. When I heard the crowd I just started running."
The only kick longer by a Cougar was Jason Hanson's 62-yarder against UNLV in 1991.
"It's an honor," Furney said. "He's been kicking in the NFL for 20 years."
Hold on
Marquess Wilson might someday catch a touchdown pass that isn't called back because of a penalty.
Saturday wasn't the day, though. Wilson caught what appeared to be a 42-yard score late in the game that would have put it away, but a holding penalty on center Elliott Bosch negated it.
Holding wiped out a long touchdown run by Leon Brooks earlier in the same drive. And last week, Wilson had a touchdown grab and a long catch inside the 5-yard line called back for the same reason.
"Our offensive line's got to be tougher people," Leach said. "Right now they're a little too quick to feel sorry for themselves and let their technique break down, or oh, they get tired so rather than responding with great technique we're going to hold. That'll be addressed tomorrow and it'll be an experience they won't forget. They'll be talking about it when they're my age."
The Cougars used a new-look offensive line that featured senior Wade Jacobson at right tackle, Dan Spitz at right guard and Jake Rodgers at left guard.
Jacobson, who had played only guard this season but has played tackle in the past, said he wished he'd had more time to prepare for the move back outside.
"It's totally different from last year. We've got all different sets," Jacobson said. "We're out there on an island by ourselves. It's a lot different than guard. I hope as the week goes on, I'll get a little bit more snaps, a little bit more reps in a tackle stance and be ready to go again."
Sold out, but not full
WSU announced Saturday's game as a sellout with an official attendance of 33,598. It was the first sellout for a home opener at Martin Stadium since 1952, and the first of any kind since Oct. 6, 2007.
But it was hardly full. Large sections of aluminum bleachers gleamed in the Pullman sun throughout the game, especially after halftime when many fans apparently didn't return to their seats.
Still, the Cougars appreciated the showing, especially from the student section. That part of the stadium was nearly full by the time the game kicked off.
"You can tell it would be a blast to be a student in that section," coach Mike Leach said. "That's an incredible setting."
Local journalism is essential.
Give directly to The Spokesman-Review's Northwest Passages community forums series -- which helps to offset the costs of several reporter and editor positions at the newspaper -- by using the easy options below. Gifts processed in this system are not tax deductible, but are predominately used to help meet the local financial requirements needed to receive national matching-grant funds.
Subscribe to the sports newsletter
Get the day's top sports headlines and breaking news delivered to your inbox by subscribing here.
---