News > Business
Worthys announce plans to build headquarters hotel
Site by Convention Center would include 700 rooms, meeting space, skywalk
Thu., Sept. 13, 2012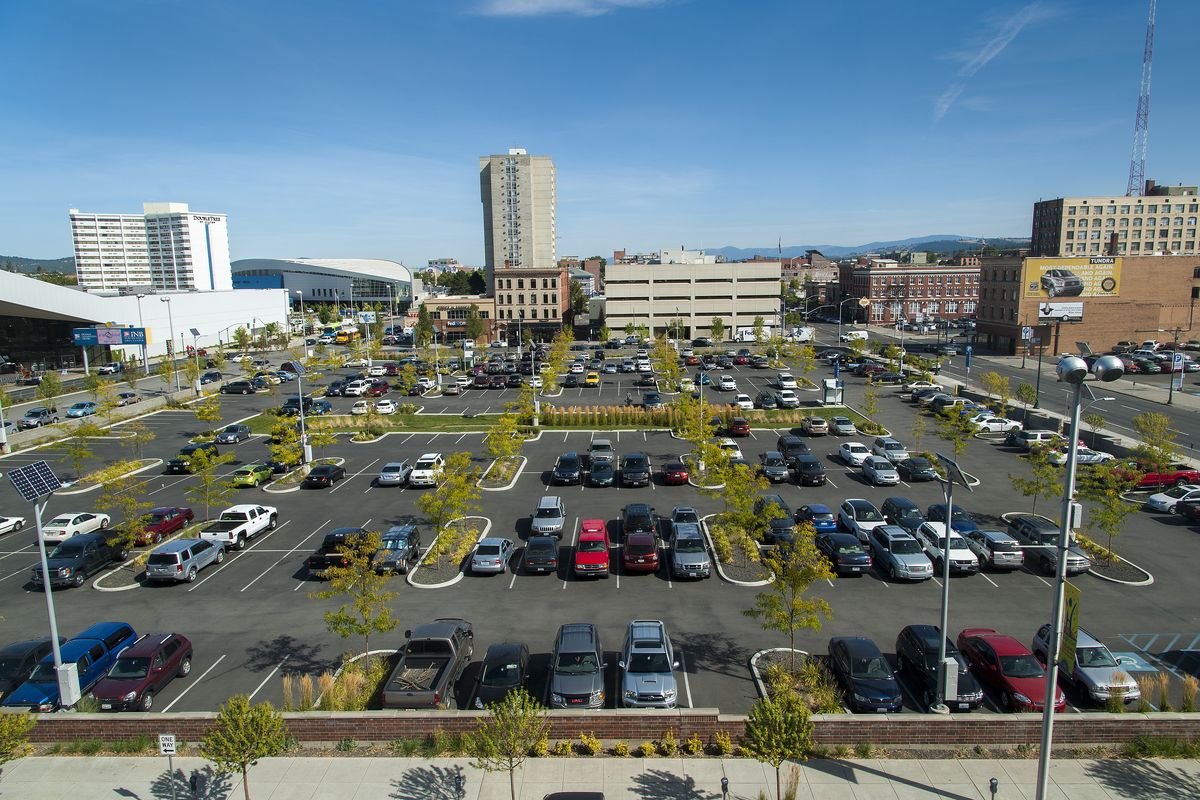 Davenport Hotel owners Walt and Karen Worthy on Wednesday announced their intentions to build a 700-room, 15-story hotel on property that encompasses this parking lot just south of the INB Performing Arts Center in downtown Spokane. A skywalk would connect the Convention Center to the hotel. In this view looking east, Spokane Falls Boulevard is to the left and Main Avenue is to the right. (Colin Mulvany)
In the span of four weeks Walt and Karen Worthy pieced together ambitious plans to build the city's largest hotel: a 700-room, 15-story showpiece connected to the Spokane Convention Center.
The hotel and an adjoining parking garage would fill an entire block, with plans to compete for the status of headquarters for conventions.
The Worthys have an impressive downtown record. They renovated and restored the historic Davenport Hotel and later added the nearby Davenport Hotel Tower and acquired the boutique Hotel Lusso.
During a sunny Wednesday press conference across the street from the proposed site, the Worthys said they've decided to tackle a project with 550,000 square feet of hotel and meeting space.
Walt Worthy declined to provide a cost estimate for what he said would be "the largest (commercial) building in Spokane by far." He is not working with other investors to bankroll the project.
Groundbreaking is expected in first quarter 2013, with completion the following year.
Returning from a Florida vacation, Walt Worthy decided to tackle one more project.
"I'm not getting any younger," he said.
What he does best are offices and hotels, he said, and Spokane "doesn't need more office space, so we decided to put this together." Preliminary plans call for building a U-shaped hotel with a main entrance directly opposite the INB Performing Arts Center and the Convention Center.
The plans include a parking garage with 900 spaces on the east side of the block. There will be a separately managed parking area with at least 318 spaces set aside for the Public Facilities District, the municipal corporation that owns the land.
The city acquired the property and then deeded it to the PFD over the past several years. It has been folded into the district's 20/20 Master Plan for future development.
Those plans call for expansion of the Convention Center and for building a major convention headquarters hotel as the next step in developing the full potential of the Convention Center, PFD Chief Executive Officer Kevin Twohig said in a statement.
Twohig said the PFD had not been pushing forward with the hotel idea.
"We didn't think we'd be at this step at this point," but the Worthys came forward and the project received the green light, he said.
Worthy acknowledged that 700 new rooms will cut into downtown hotel occupancy rates.
"It will hurt our own business at first," he said. The Davenport Hotel has 284 rooms; the Davenport Tower – constructed in 2006 for about $40 million – has 328 rooms; and the Hotel Lusso has 48.
"But over time the goal is to see the pie become bigger for everyone" as the hotel attracts more events and conventions to downtown, he said.
It was clear at Wednesday's event that the Worthys work together and give each other support. In his first sentence at the lectern, Walt thanked his wife "for staying with me. I've put her through lots of questionable paydays."
His wife joked that a co-worker asked her if the big new project meant she'd add a divorce lawyer or marriage counselor to her phone's speed dial.
Karen Worthy said: "I told her, 'We're in this for the long haul.' "
The Worthys said the design plans for the project are still evolving. They're committed to having multiple meeting rooms, large ballrooms, an outdoor terrace and a skywalk directly connected to the Convention Center building. It will include the usual modern hotel amenities, including restaurants and workout areas.
Work on the new hotel could start in early 2013, with completion expected in late 2014.
Walt Worthy noted that the hotel will establish a brand affiliation with a national chain, such as Marriott or Hilton.
"For a Convention Center hotel, you need to use the marketing and booking assistance of someone that has a national reputation," he said.The hotel, however, will be run by his company: "We'll operate it. Our marketing team will market it."
Cheryl Kilday, president and CEO of Visit Spokane – formerly the Spokane Regional Convention and Visitors Bureau – said the proposal would create a "headquarters hotel" for the convention trade.
Kilday said surveys and interviews with meeting planners have indicated they see Spokane needing that larger facility, since many events booked downtown over the past year required sending visitors to five or more hotels.
Downtown Spokane has 18 hotels with 2,800 rooms. Some recent conventions have brought in guests needing more than 2,300 rooms, forcing planners to scramble to find accommodations across the city. Since the hotels also are booking rooms for other events or guests at any given time, high-volume conventions have forced planners to work harder to take care of the need for rooms, she said.
Over the past 12 months, Spokane's downtown hotels have averaged 61 percent room occupancy, Kilday said, citing hotel industry reports. The national average is just slightly above that, she said.
June this year was the highest-occupancy month, with 75 percent of Spokane rooms booked.
"Our business is very group-based," she said. So far in 2012, 19 groups have booked national conventions in downtown Spokane. That ties the previous mark for national conventions reached in 2010.
"So our customers (the planners who book events in different cities) say they prefer seeing Spokane move toward building a headquarter hotel," she said. "We knew we would need a headquarter hotel in the future, but I'm surprised it's happening sooner than later.
"And it's the view of meeting planners that it will certainly help book more events here," Kilday said.
Local journalism is essential.
Give directly to The Spokesman-Review's Northwest Passages community forums series -- which helps to offset the costs of several reporter and editor positions at the newspaper -- by using the easy options below. Gifts processed in this system are not tax deductible, but are predominately used to help meet the local financial requirements needed to receive national matching-grant funds.
Subscribe now to get breaking news alerts in your email inbox
Get breaking news delivered to your inbox as it happens.
---