News > Spokane
Riverfront Park's entrance may receive a new look
Despite budget shortfall, Parks Department moves forward with plan
Sat., Sept. 15, 2012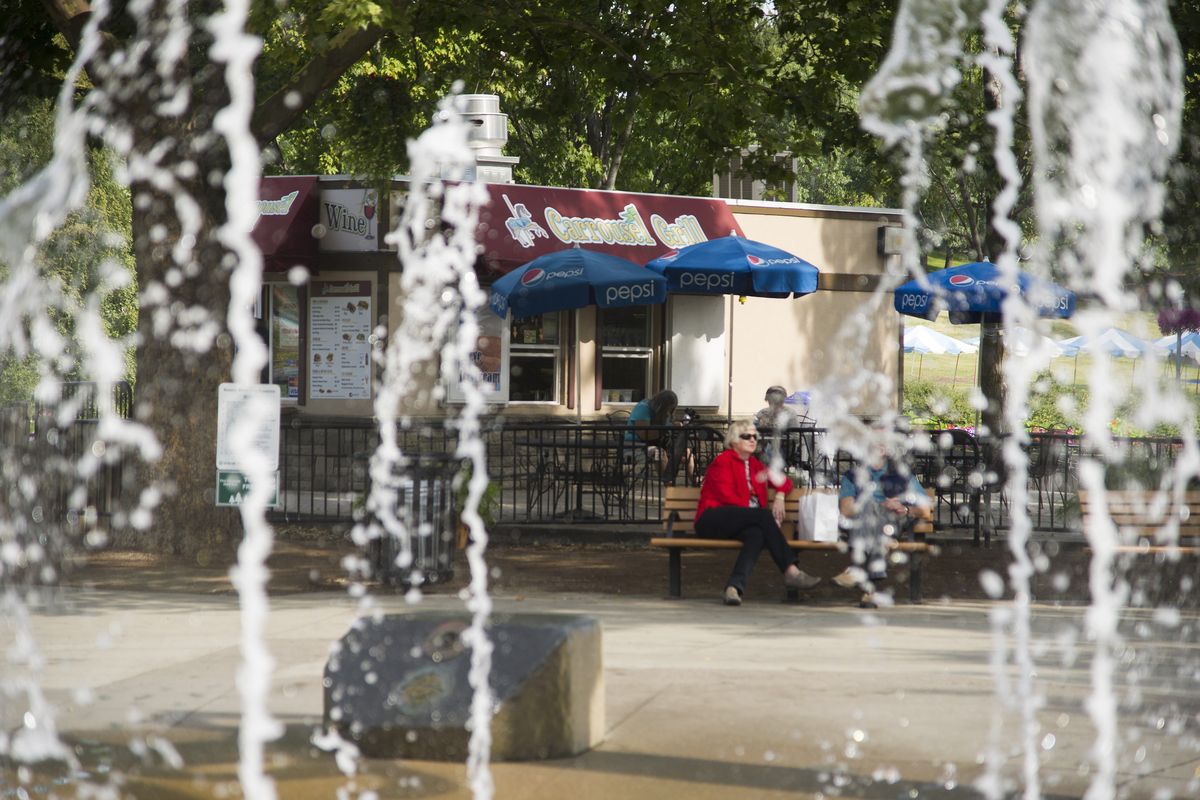 The Park Board has agreed to spend money to plan a permanent building for restrooms and concessions near the Riverfront Park fountain. (Colin Mulvany)
The front door of Riverfront Park could get a significant facelift next year – just as some park programs deal with $1 million in cuts.
The Spokane Park Board this week approved its 2013 spending. The main part of the budget, which includes operations, will fall from $18.7 million this year to $17.5 million next year.
Despite the cuts, a plan is moving forward that could cost more than a half-million dollars to build a permanent restroom and spruce up the area around the Rotary Fountain, which parks officials see as the main entrance to the park.
Parks Director Leroy Eadie said cuts in operations shouldn't put a halt to all long-term projects.
A decline in the parks budget "doesn't mean that we don't keep doing capital projects or make improvements," he said. "You don't stop maintaining the park system."
Last month, the Park Board voted 6-3 to approve a contract to design the new building that will sit west of the Rotary Fountain and replace the Carrousel Grill, a trailer that sits north of the fountain. The new structure also will include an area that will allow park employees to add chemicals into the fountain without going below ground. Eadie said the current setup is a safety concern.
In 2010, the parks department bought a $50,000 mobile restroom to meet state health standards requiring a restroom within 100 feet of the fountain. At the time, officials said they would build a permanent restroom within two years. Restrooms in the adjacent carousel building are not handicapped-accessible.
"I don't want to see this temporary bathroom there another season," Park Board member Ross Kelley said at a meeting last month. "We're into our third season. If we don't get this thing going we'll get into our fourth year for our temporary bathroom."
Park Board members, who have the final say on park policy and spending, generally agree that a permanent restroom is needed, but they have disagreed on timing and spending.
Board member Dr. Sam Selinger said last month that he was concerned that spending up to $69,000 on the design contract would make it difficult not to approve construction, which has been estimated as high as $479,000.
"These are hard economic times, and I think that we need to demonstrate to the public that we have fiscal discipline," Selinger said at the August meeting.
This week, Selinger said he's more confident that the end result will be fiscally responsible. The board has continued to meet and consider costs and design, he said.
"We are paying very special attention that we maximize value," he said.
This summer, the Park Board after years of work approved a long-term plan for Riverfront Park, setting goals and creating a general vision for many aspects of the park. Eadie said the new building does not conflict with the plan, which envisions a new building to house the Looff Carrousel in about the same location it is now.
Councilman Mike Allen, who is the City Council's liaison to the board, said he generally supports construction of a new restroom and bistro building.
"That is the primary gateway to Riverfront Park, which right now has two trailers," he said. "Is that what we want to greet people as they enter?"
Local journalism is essential.
Give directly to The Spokesman-Review's Northwest Passages community forums series -- which helps to offset the costs of several reporter and editor positions at the newspaper -- by using the easy options below. Gifts processed in this system are not tax deductible, but are predominately used to help meet the local financial requirements needed to receive national matching-grant funds.
Subscribe now to get breaking news alerts in your email inbox
Get breaking news delivered to your inbox as it happens.
---