News > Spokane
Wildfire closes road, casts haze over area
Sat., Sept. 15, 2012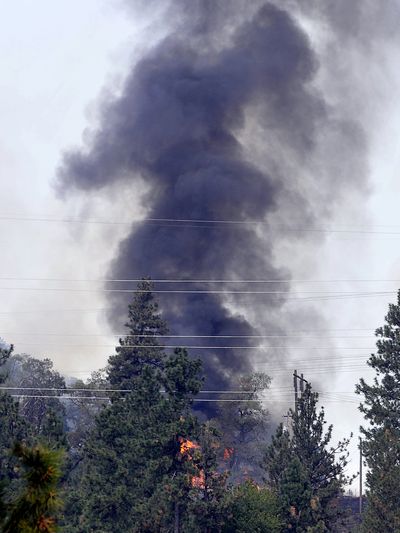 Smoke from a three-alarm wildfire on the north side of Spokane Valley filled the air around Spokane with a haze Friday afternoon.
Air quality dropped into the moderately polluted category during the afternoon but was starting to improve by evening.
The fire burned along a ridge north of the intersection of Trent Avenue and Harvard Road, sending up thick, dark smoke.
Sixty-five personnel with 27 rigs from seven fire agencies fought the blaze, said Spokane Valley Fire Chief Mike Thompson.
The first alarm at 12:20 p.m. was followed by a second at 12:39 p.m. and a third at 12:52 p.m. The blaze spread over 12 acres and took two hours to control.
An unoccupied farmhouse and an outbuilding were destroyed. A mobile home was saved, Thompson said.
No one was injured by the fire, though a firefighter had a bad allergic reaction to a bee sting during the incident.
The cause was under investigation.
Northbound Harvard Road was shut down at Trent.
The National Weather Service said the smoky haze that drifted into Spokane on a light northeast wind came from that fire, not wildfires burning to the west of Spokane near the Cascades.
To the south, a smoky haze settled over the Palouse from larger wildfires to the west and southwest.
Local journalism is essential.
Give directly to The Spokesman-Review's Northwest Passages community forums series -- which helps to offset the costs of several reporter and editor positions at the newspaper -- by using the easy options below. Gifts processed in this system are not tax deductible, but are predominately used to help meet the local financial requirements needed to receive national matching-grant funds.
Subscribe to the Coronavirus newsletter
Get the day's latest Coronavirus news delivered to your inbox by subscribing to our newsletter.
---